Kids Demand Climate Action While Colorado Politicians Blow off Urgent Need to Transform Urban Transportation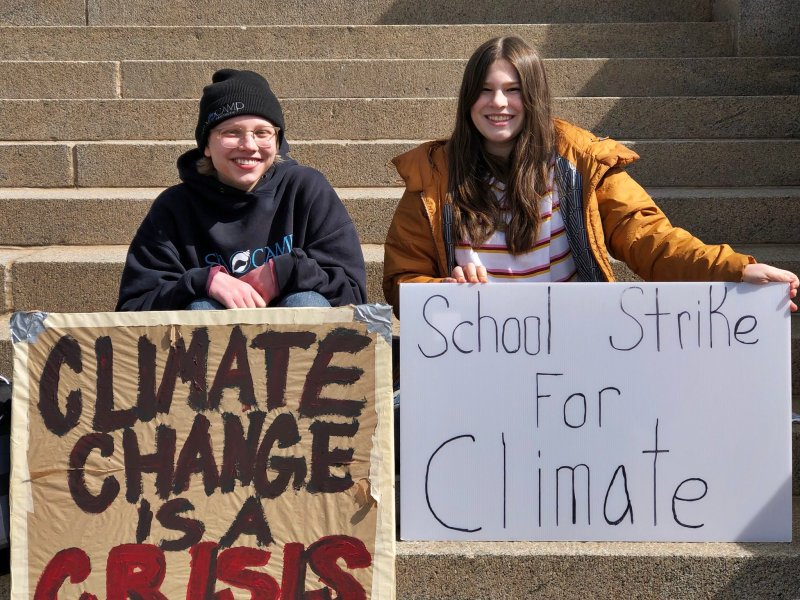 On Friday, students from more than 100 countries walked out of school to demand action on climate change, including in Denver, Boulder, Ft. Collins and Telluride. But state and local officials seem to have little interest in sustainable transportation.
The Global Climate Strike, organized in part by Haven Coleman, a 12 year-old Denver girl, prompted transportation advocates to highlight the need to transform urban transportation. The demonstration came two weeks after Denver's brown cloud choked the region with toxic air and last week's "bomb cyclone," the extreme weather event that some say could be related to climate change.
With up to 60 percent of a city's emissions coming from transportation, Colorado's recent back-to-back crises focused attention on the need to cut pollution. But elected officials at all levels of Colorado government appear to be shrugging their shoulders, offering political agendas that fail to envision a better transportation future.
And the kids are not alright: They don't mind cutting class because they are losing hope.
"Why would we go to school if there's going to be no future for us to live in," said CU Boulder freshman Emilie Craig in an interview with Fox31.
"Youth are powerful and strong. We know right from wrong. We will not back down, we will not lay down, we have the right to speak, the right to act, and we will win!" – me today

Thank you for showing up across the US! We made history!! #YouthClimateStrike @climatestrikeUS pic.twitter.com/s3o6lLFLrv

— Haven Coleman (@havenruthie) March 16, 2019
A look at politicians' transportation priorities around the state offer little reassurance.
In Denver, the city has called for an expansion of its high-frequency bus network, but there is no proposal to fund the program yet. In the Colorado state house, Democrats appear to have no plans to increase funding for transportation. And Gov. Jared Polis seems to have little imagination about how to fix an inadequate public transportation network, roads that are gridlocked with single-occupancy vehicles and a 75 percent increase in pedestrian deaths.
The Governor and mayors across the state need a new vision for the state's transportation future: 
We must stop forcing car dependency on Coloradans. We need land use policy that concentrates new neighborhoods around public transportation. (transit-oriented development)
We must give people better transportation options. It's time to reverse the decline in transit ridership. Even as the Denver Metro's population exploded, the Regional Transportation District carries 6.6 million fewer trips than it did in 2014. This is a predictable result after a failure to invest in the system forced multiple service cuts.
We must invest in livable streets. Traffic fatalities and pedestrian deaths won't stop increasing without critical safety improvements on highways and local streets. Colorado officials must put pedestrians and cyclist safety above the desire to move traffic as fast as possible. We know how to do it through the Vision Zero movement, and CDOT must finally come to the table with a commitment to cut injuries on its urban highways.
We must continue chipping away at TABOR and other laws that prevent critical investments in our state's future.
Three amazing young women—Isra Hirsi, age 16; Haven Coleman, age 12; and Alexandria Villaseño, age 13—have organized youth climate strikes around the country tomorrow. Their demand: a livable future for their generation.

Find a strike and spread the word: https://t.co/AXx41ldvsR pic.twitter.com/i5FVRrGh5u

— Hillary Clinton (@HillaryClinton) March 14, 2019
It's also time for Colorado officials to stop putting their hopes into shiny, new technologies, like electric vehicles and Hyperloop. Neither will solve our problems anytime soon.
Hyperloop is a sick joke. The promise of an exciting, new mode of transportation that boosters said would be cheap to build has fooled too many Colorado officials, including at Colorado Department of Transportation.
People at CDOT allowed themselves to get distracted from finding real transportation solutions when they trusted Brogan BamBrogan, a man whose preposterous name is just as ridiculous his promise to build Hyperloop test track in Colorado. Today, BamBrogan is nowhere to be found and Arrivo, his startup, closed without even breaking ground in Colorado.
Hyperloop is an unproven technology that won't start carrying passengers for decades, if ever. Now it's clear: Hyperloop is not a short- or medium-term transportation solution. Colorado officials must now get back to work solving traffic problems in a sustainable way with existing technology. Buses and trains may not be as sexy as squeezing ourselves into pods that move at 600 mph. But we know they work.
Electric vehicles aren't the only answer, either.
It's disappointing that the Governor has made just one move on transportation so-far. It's an executive order that expresses support for EVs. While electrifying cars will certainly cut some emissions, they are no magic bullet.
Electric vehicles will not solve:
Traffic on I-70 or anywhere else
Traffic and pedestrian fatalities
The 57,298 distracted driving crashes in Colorado (between 2012 and 2015)
The mobility needs of the growing number of people who would prefer to read or use their smartphones while in transit
The mobility needs of people who cannot afford or operate a vehicle
Costly parking requirements, which drive up the cost of multifamily housing
Carbon and brown-cloud-causing PM 2.5 emissions, because coal still generates 54 percent of Colorado's electricity
I know that what I've called for isn't easy. Getting the public to support buses, trains, bike lanes and fewer parking places takes a lot of political capital. It requires visionary leaders who have grit, determination and creativity. Elected officials not only must to sell such a vision, but they need to stand by it when constituents complain about it. (As Michael Bloomberg has done.)
"We are the first generation to feel the sting of climate change," Washington Gov. Jay Inslee told the Ezra Klein Show last week at South by Southwest. "But we are the last generation that can do something about it."
Inslee knows that when high school and college students look back at today's weak political action  around climate change, they will make judgements.
Will young people look at today's leaders today and see politicians who merely "presided," looking down on their jurisdictions and doing whatever it took to stay in power?
Or will they see officials who stepped up to solve the defining challenge of our time?
The answer is in the hands of Colorado's governor, legislators, mayors and city council members. What they're doing today isn't good enough. But they can change that. Because when Haven Coleman and the rest of her generation step into the voting booth for the first time, they'll do it with climate change in mind.