Pedestrian Deaths up 75% in Colorado, 35% Nationally; Smartphones & SUVs Partly to Blame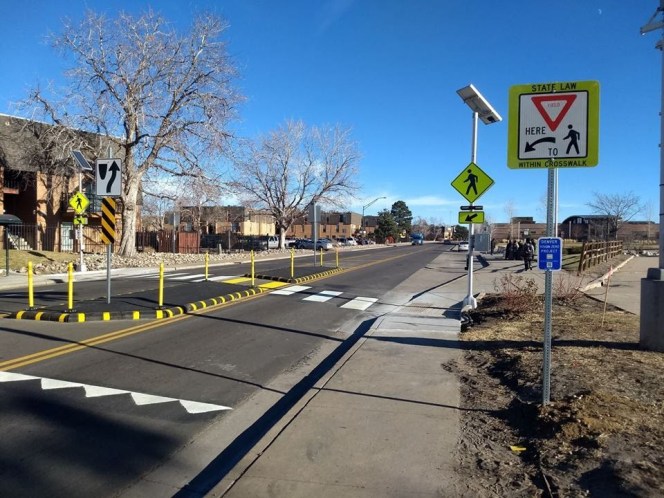 Drivers killed 35 percent more pedestrians in the U.S. than they did a decade ago — and in Colorado the number of fatalities grew by an astonishing 75 percent over a similar period.
Colorado drivers killed 89 pedestrians last year compared to 51 in 2009, according to the Colorado Department of Transportation. Nationally, there were 5,977 pedestrian deaths in 2017 compared to 4,414 in 2008, according to the newest Spotlight on Safety report from the Governor's Highway Safety Administration.
"Crossing the street should not be a death sentence," said report author Richard Retting in a statement.
The report cites several possible reasons for the growing number of fatalities, including population growth, people driving more miles per year, driving at night and the growing popularity of SUVs and smartphones.
To boost safety, Retting suggests that states increase safety education, intensify law enforcement and change road designs.
"It's crucial to do everything we can to protect pedestrians utilizing a broad approach," says Retting.
In Denver, a five-year action plan demands many of these measures to fulfill the city's Vision Zero pledge to end all traffic fatalities by 2030.
Although increased safety education and law enforcement would be welcomed, Jill Locantore, executive director of WalkDenver, says that Denver should focus on upgrading its roads.
"People are going to get distracted," she said. "We know how to design roads that are forgiving to human beings that get distracted. Let's design the system so that those mistakes don't become fatal."
Some of the street design changes mandated in Denver's Vision Zero plan include redesigning crosswalks, adding bike lanes and narrowing roads. Locantore offers traffic circles as a possible change to streets that can save lives. If a driver blows through one, there's a good chance they will run into the circle before a pedestrian, she says.
But such changes are coming too slow, say advocates. When the Denver Streets Partnership evaluated the city's progress toward its Vision Zero goals in January, Denver earned a "C" on the annual report card.  
Another factor in Colorado's alarming increase of pedestrian fatalities could be the growing number of Sport Utility Vehicles here. The larger vehicles are more deadly when they hit people, according to the GHSA report.
The report also calls out distracted driving. A graph from news site Axios showed  pedestrian fatalities remained steady for several years — but started shooting up in 2007, when Apple introduced the first iPhone.
In Colorado, state legislators will consider a distracted driving bill later this spring. Last month, a committee in the state house killed another bill that would have banned red light cameras. But Locantore says Denver's growing population demands more significant changes.
"There's an influx of people in urban areas," she said, noting that more people are getting around by walking, biking, and using mass transit. "We've got more and more people out walking but the streets are still unsafe."