Commentary: Death of the perfect bike lane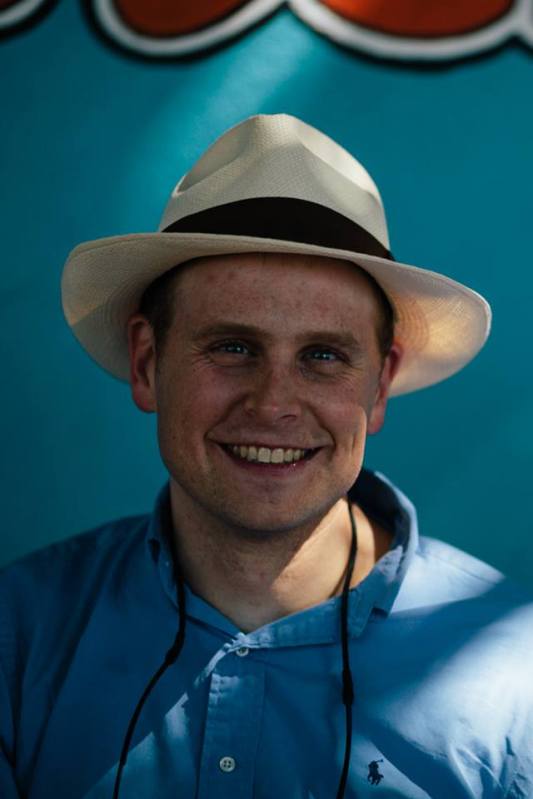 This guest commentary is by Allen Cowgill, a Denver advocate focused on safer streets and sustainable transportation. He is a member of the Denver Bicycle Lobby and is on Twitter at @AllenCowgill.
---
The proposed Gray Street bike lane was quite possibly the perfect bike lane. Yet the original design never saw the light of day.
Since the 2011 Denver Moves Bicycle Master Plan, the Denver Department of Transportation and Infrastructure (DOTI) had identified Gray Street in the Inspiration Point neighborhood as a needed part of the bike network. The street is a connection for the Clear Creek Trail, one of the Denver metro area's major off-street paths for people who bike and walk. The route connects people from Golden, Arvada, and Wheat Ridge on the west side to Denver, unincorporated Adams County, and the South Platte River Trail on the east. The Clear Creek Trail stops at 52nd Avenue, where people on bikes have to ride on Gray Street car lanes for about 1,000 feet before they can return to the Clear Creek Trail. It is one of the few streets in Denver that almost has as many people bicycling on it as people driving on it. DOTI conducted a traffic count and found that 650 people drive cars and about 400 people ride bikes on Gray Street each day.
In 2015 and 2018, DOTI again identified Gray Streets as a candidate for a bike lane. Finally, in 2021, DOTI proposed Gray Street to get a bike lane in conjunction with the scheduled repaving. 
DOTI's Coordinated Bike Lane Striping and Installation program is a smart one. It times bike lane installations to coincide with repaving streets that need repairs. It's been a great way to fill in some of the missing holes in the Denver bike network when upgrading utilities. 
In March 2021, DOTI held a virtual community meeting. Staff presented the Gray Street bike lane design, and there was time for Q&A and comments. It was a good design that I thought would be installed. It removed parking on one side of the road and preserved parking on the other side. (It's worth noting that almost all of the homes on Gray Street have driveways, so not many people park on the street.) The design featured one side of the street with a buffered bike lane and no parked cars next to it, and the other side of the street had a buffered bike lane adjacent to parked cars.
DOTI staff presented a compelling case why the bike lane was needed. They cited safety studies and average speed studies. They talked about why the city needs to build out a network of safe bike lanes to fight climate change by systematically enabling sustainable transportation. They explained the City's goal of Vision Zero, or zero traffic deaths by 2030. It was a strong presentation by DOTI transportation planners.
I thought the Gray Street bike lane installation was a sure thing. It had a high volume of people that biked on the street and low on-street parking usage.
It was not a sure thing.
A few months later (May 2021), DOTI held another virtual meeting and presented a new design: a "neighborhood bikeway." The new design on Gray Street had a few plastic posts at the intersections, but did nothing more to Gray Street than painting sharrows. As a justification for killing the bike lane, DOTI cited lots of negative feedback about the bike lane, concerns around pedestrian safety. There were 17 comments opposing the bike lane design and saying that the street was fine as it was. To their credit, DOTI staff did propose an on-demand flashing light at 52nd Avenue to make it easier for people walking and on bikes to cross the busy street. That would be a massive improvement to the crossing.
Still… What a disappointing, missed opportunity.
The commenters who shared concerns around pedestrian safety and a poor sidewalk network had a point. We need safer and more connected sidewalk networks. Inspiration Point has substandard and missing sidewalks, and lacks safe walking connections to the rest of Denver. The neighborhood needs safer crossings onSheridan Boulevard to connect to the rest of Denver.
It is a false choice to imply we must choose between painting the street for a bike lane, and improving pedestrian safety. We can and must do both. Pitting pedestrians and people that bike against each other is a long-held strategy of car culture. Total funding for bike and pedestrian networks ($11.7 million) in Denver's 2022 budget is less than the budget for just one of the car-related projects, expanding the I-25 and Broadway interchange (about $13 million). When you consider that Denver and the State of Colorado will spend nearly half a billion dollars on a potential central I-25 highway expansion, it's clear that people who walk, roll, and bike are fighting over table scraps.
In the bigger picture, our community engagement process is broken. It gives too much influence on residents who live on the street as opposed to the greater benefit of having a network of connected bike lanes for residents across the entire city. Did DOTI survey the 400 people biking up and down Gray Street each day? Did DOTI survey people who might bike on Gray Street if it had had better bike infrastructure? Or did DOTI only listen to people who live on or right next to the street?
If we can't stripe a bike lane on a street that has 400 people biking on it per day because residents in 18 houses on that street refuse to "give up" half of the publicly-owned public street space (that they mostly don't use anyway because they have driveways), we will never end our dependence on cars. If Denver is to truly shift to multimodal transportation, we must make it more safe and comfortable for people who bike through high quality bike infrastructure. 
Check out this video I recorded when I biked down Gray Street after the repaving. Does this look like high comfort infrastructure that will incentivize the ~59% of Denverites who would like to bike but are afraid that the streets are too dangerous? It does not. Would you be comfortable sharing the lane or being passed by the massive pickup truck with a trailer that I recorded? Would you want your child riding on this street? The video also shows that parking concerns are completely unfounded; there were only seven cars parked on the street. Denver's neighborhood bikeway design standards currently do little to improve comfort, and we must revisit their design criteria and usage on streets like this. 
I hope we as a city can learn from this. After a summer where Denver had some of the worst air quality in the world, we must prioritize a high quality network of comfortable bike lanes, transit, and pedestrian infrastructure for all ages and abilities to fight climate change and end our horrible air pollution. The Gray Street bike lane died an unexpected and unfortunate bureaucratic death. Please don't let it be in vain.