CDOT Aims to Widen I-25 in Denver Soon, with Long-Term Sights Set on More Highway Changes Through Urban Core
The Colorado Department of Transportation turns its attention to Denver's other interstate now that a wider I-70 through minority neighborhoods is en route.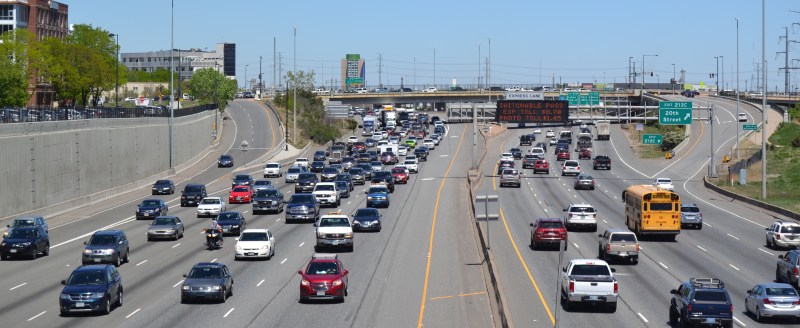 The Colorado Department of Transportation has broken ground on a $2.2 billion expansion of I-70 that's taken people's homes and businesses while promising to shove more cars and pollution through north Denver. Now state transportation officials are setting their sights on widening I-25 in the short-term while seeking ways to curb highway congestion in the long term.
Governor John Hickenlooper's roads department has plans — but not funding — to add a continuous "auxiliary" lane in each direction along I-25 between Alameda Avenue and 6th Avenue. (Auxiliary lanes are the ones between highway exits and entrances.) They're part of a larger widening project, which is mostly complete, approved in 2007.
Taxpayers would fund the $134 million widening by approving proposition 110, also known as "Let's Go Colorado," according to documents from the Statewide Transportation Advisory Committee [PDF]. (The ballot measure would also fund projects like Colfax Avenue bus rapid transit and pedestrian improvements on Federal Boulevard.)
The short of it: Decision-makers continue to prioritize driving as the city grows, while sustainable transportation options lag far behind.
There's more. While CDOT readies to widen I-25 in the near future, officials have their sights set on creating "options to improve travel time and reliability in this highly-congested corridor." Specifically, the six-mile stretch between Santa Fe Drive and 20th Street in the heart of the city, according to CDOT's website. Creating better pedestrian and bicyclist crossings over the highway are part of this study, too.
This initiative, dubbed the I-25 Central Planning and Environmental Linkages Study, is in its infancy. The roads department has held just one public meeting so far for what is essentially a 20-year vision. But the I-70 widening through low-income, minority neighborhoods began with a similar process.
So you have to wonder what's in store. Tim Lopez, a rep from the Baker Historic Neighborhood Association, does.
"We should learn from all the mistakes from I-70," Lopez said in an interview. "We talked about I-70 for 20 years. It kind of went away for 10 years and kind of came back. And is it the best plan? No. Everybody did what they could do, and in the end, the community didn't win."
Lopez wants to involve way more people, way earlier, in whatever happens on I-25, he said. Consultants, city and state transportation officials, and neighborhood reps attended the study's first meeting, according to sign-in sheets. CDOT has heeded Lopez's suggestion to reach farther and wider into neighborhoods that will be affected by whatever officials ultimately decide.
"Let's reach out to those people… let's make sure that we've done the right pieces because they're gonna be using buses and other things and won't necessarily have cars," Lopez said. "So we want to make sure that they have access to things that are worthwhile, because if not it serves no purpose to those communities. And those are the communities that are in the most need, kind of like communities with I-70."
The last time CDOT widened I-25, congestion came back after four years, because that's how induced demand works — you make more room for cars, and more cars come. Moving more people in less space via bus lanes, or congestion pricing to ease traffic in the city, would make more sense than attracting more cars with a widening.
A wider I-25 is technically no guarantee. The I-25 Central study is to come up with several options and eventually rule most out, according to Tamara Rollison, a CDOT spokesperson.
"We're at the beginning phases of this visioning for this corridor," Rollison said. "We only can go so far because we don't have funding identified to actually do the improvement, but, we will be thinking ahead to the future so that once funding does become identified, we do everything we possibly can to get a project ready for next steps."
Lately these processes have resulted, eventually, with more lanes for cars. On I-70, yes, but also on I-25 south of the city, where Rollison said the option for light rail was nixed early on. After this study, the next step would be an environmental assessment, Rollison said.
You can track the project and get involved at CDOT's website. The more people who watch this thing, the less room there is for another 20th-century "fix."