North Denver Neighbors Sound Off on CDOT I-70 Expansion as Federal Court Case Ramps Up
Pollution from the freeway is literally sickening, and Denverites don't want their health to suffer even more.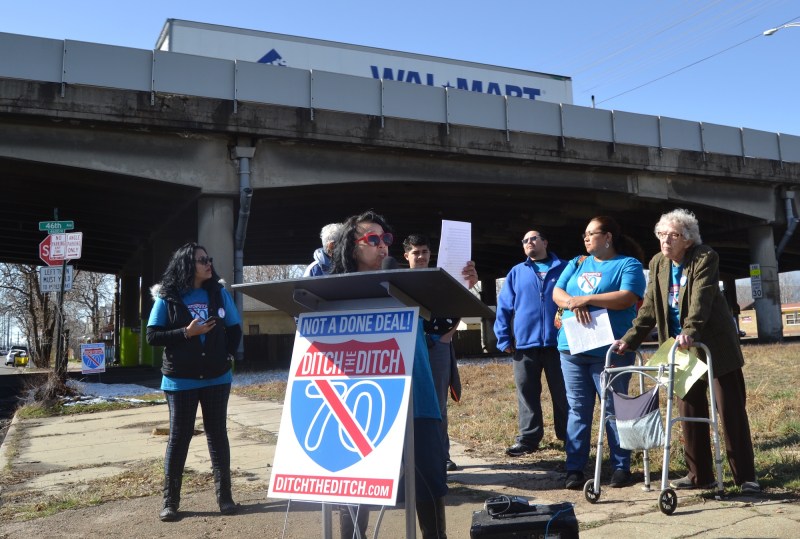 Pollution from I-70 is already too much of a health hazard, residents of Elyria, Swansea, and Globeville told reporters today, and they don't want the Colorado Department of Transportation's highway widening to make the problem even worse.
CDOT plans to rebuild this elevated stretch of I-70 as a wider, sunken highway. With four more lanes and triple the current footprint, the expanded I-70 would bring more traffic and pollution through north Denver.
"That means a lot more of these particles in the air that are gonna be hurting us," said Davita Sanchez, a 15-year resident of the neighborhood.
Sanchez, along with her three children, suffer from asthma, but she didn't until she moved to the neighborhood.
Residents like Sanchez are fighting the highway expansion in federal court. On Wednesday, attorneys representing neighborhood groups and the Sierra Club presented their argument that CDOT has failed to accurately convey the effects of a wider highway on public health.
These neighborhoods are already among the most polluted in the city, with the highest rates of chronic disease. "I was living here when the first I-70 was built," said Mary Hernandez, whose family has a long list of ailments that she attributes to freeway pollution. "I can say it destroyed a lot of people's lives."
Colorado Latino Forum Director Ean Tafoya called the I-70 expansion "our Flint, Michigan."
"This is the woeful disregard by the government of people who live in neighborhoods who they represent," he said.
Yesterday, attorney Bob Yuhnke argued at a federal courthouse that CDOT failed to fully account for the environmental health hazards created by more traffic and the construction of the highway itself, which he said will require moving 3.9 million cubic yards of dirt and debris. The entire amount of pollution that CDOT projected the highway to create by 2040 could in fact be generated by just the construction phase, Yuhnke said.
He wants the judge to allow more robust air quality modeling, performed independently of CDOT, to be considered in the case. At issue is CDOT's failure to fully vet the risk of fine particulates known as PM 2.5. This type of pollution, 30 times smaller than the average human hair, is directly linked to asthma and cardiovascular disease, which north Denver residents already experience at high rates.
CDOT's record of decision says the department was not under an obligation to address PM 2.5 pollution beyond a cursory examination. Yuhnke says otherwise, pointing to an independent analysis that found the I-70 project would put Denver out of compliance with the Clean Air Act. Unlike CDOT's model, the analysis modeled where the PM 2.5 would go once it leaves the highway, and how it will interact with pollutants from other sources.
"It's already been happening as a result of 50 years of exposure to this pollution," Yuhnke said. "But the pollution will be worse — that much we know. But what they don't account for is how many more funerals you all are gonna have to go to. And that should be known and should be revealed so this can be part of the public discussion about what needs to be done in this neighborhood."