WTF Is Blueprint Denver? Join Streetsblog and Local Advocates for a Happy Hour Conversation October 4.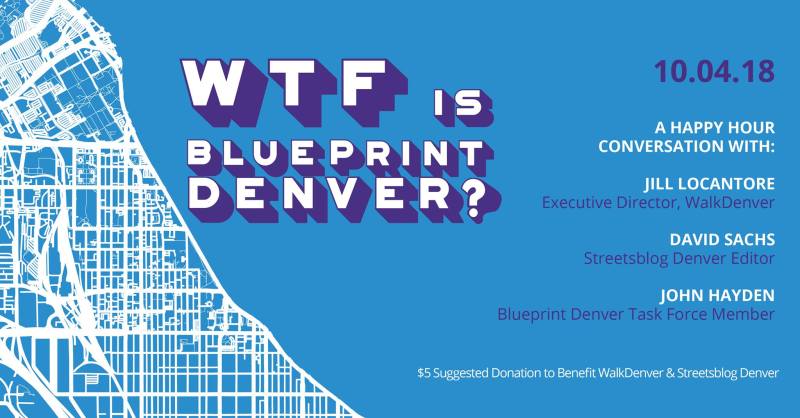 For the last 16 years or so, Denver's neighborhoods and streets have been shaped by "Blueprint Denver," a planning document meant to manage growth without overwhelming city streets with cars. That hasn't happened — the vast majority of Denverites drive — but cities are messy and don't come with an IKEA manual.
This summer the Hancock administration released a newer, 283-page version of Blueprint. It's meant to shape the next 20 years of development with a more pointed effort, at least in writing, to ween Denver off of its damaging dependence on cars. The city government is accepting comments on the draft through October 31.
That's why Streetsblog Denver is teaming up with the Denver Streets Partnership and WalkDenver to host one of our WTF happy hour conversations on October 4.
We'll discuss and demystify the document over food and drinks with plenty of time for you, the public, to officially weigh in. Blueprint is supposed to work in tandem with the city's new pedestrian and transit plans, as well as the long-established bicycle plan, so we'll touch on those things too.
So: Head to the Alliance Center, 1536 Wynkoop St., at 5:30 p.m. on Thursday, October 4. You'll hear from longtime neighborhood advocate John Hayden, who helped shape Blueprint as a task force member, WalkDenver Executive Director Jill Locantore, and me, about what's in the draft and why you should care about it. You'll hear from your neighbors, too, during what's sure to be a lively discussion.
A suggested donation of $5 for the drinks and snacks will benefit Streetsblog Denver and WalkDenver, but register beforehand for free. In the meantime, catch yourself up with some of our recent reporting: