Draft Pedestrian Plan Diagnoses Denver's Walkability Problem But Falls Short on Solutions
Without an implementation timeline to hold city officials accountable, there's a risk the document will collect dust instead of provoking change.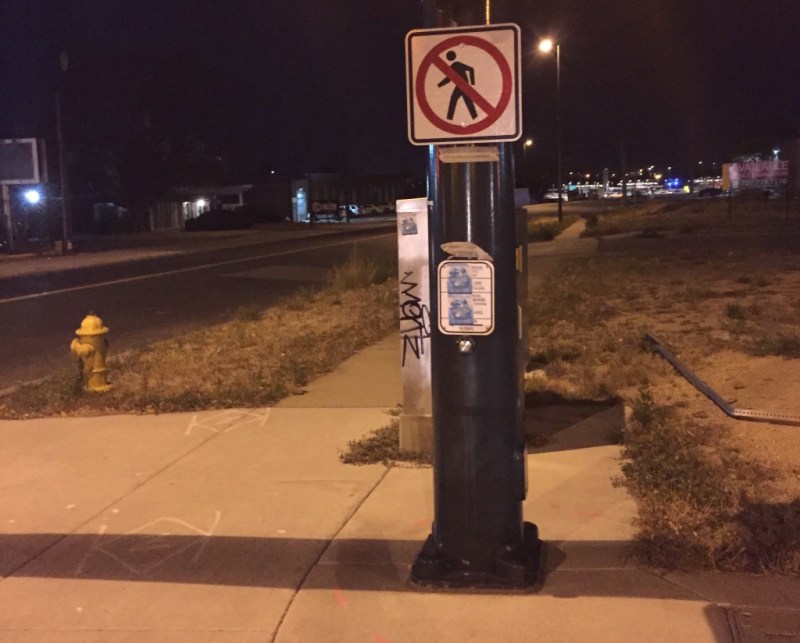 It will take Denver 440 years to create a seamless citywide sidewalk network at current funding levels, but don't look to the Hancock administration's draft pedestrian plan for a commitment to get there this century.
Billed as the blueprint for a walkable city, the "Denver Moves Pedestrians & Trails" draft plan [PDF], part of Mayor Michael Hancock's Denveright planning initiative, does a good job identifying the breadth of Denver's walkability problem. It maps out where the city needs to build new sidewalks, upgrade existing one, add signalized crossings, and build pedestrian bridges.
What it lacks is a specific timetable for implementing these much-needed changes.
"We think the document does an excellent job of positioning the city to be more proactive about building out the sidewalk network and creating safe pedestrian crossings," said WalkDenver Associate Director Jill Locantore. "I mean, that's a huge step forward for the city of Denver. It does fall short in setting out a target time frame by which it will actually build out the network."
Locantore said the document is also "incomplete" because it fails to address the need to reduce speeding and calm car traffic. A continuous sidewalk network is just the starting point for a walkable city — people also need to feel safe and comfortable while they're walking around. If you've got sidewalks but people still have to cross wide, high-speed streets where drivers whip around corners, you don't have a pedestrian friendly city.
Notably, there's nothing in the plan that suggests Denver will make treatments like the new pedestrian-friendly redesign on East Colfax Avenue standard practice citywide.
"Obviously sidewalks and crosswalks are essential, foundational pieces of a walkable city, but there's so much more that goes into creating a great pedestrian environment," Locantore said. "Things like trees and way-finding and traffic calming and pedestrian scale lighting. And this plan says virtually nothing beyond sidewalks and crossings."
Even the basic infrastructure needs identified in the draft plan would cost $1.3 billion to implement. Current funding levels won't be nearly enough to deliver those improvements in a reasonable amount of time.
Mayor Hancock allocated $2.5 million for new sidewalks in this year's budget. The transportation bond measure recently passed by voters will provide about $48 million over the next 10 years for sidewalk infrastructure (with $17 million reserved for Globeville, Elyria, and Swansea).
The Peds & Trails plan does lay out hypothetical implementation scenarios in an attempt to provoke discussion of funding needs. Even at the rate enabled by the bond, it would take 220 years to complete the sidewalk network.
"We know it's a long road, so let's at least provide information on how long it's gonna take," said Charlie Alexander, a consultant with Fehr & Peers who worked on the plan. "And those are gonna be the sorts of decisions that get hashed out in future budget cycles."
Jaw-dropping stats on how hard it is to walk around Denver
The Peds & Trails plan quantifies what people who walk Denver streets experience every day, whether they're heading to the bus or just out for a stroll. The stats aren't pretty:
40 percent of the sidewalk network is either missing or too narrow for people using wheelchairs.
The average distance between signalized crossings on arterial streets (think Federal Boulevard, Colorado Boulevard, and Colfax) is 1,130 feet.
47 percent of sidewalks in low-wage neighborhoods are either missing or too narrow.
39 percent of sidewalks within a half-mile of schools are either missing or too narrow.
31 percent of sidewalks within a half-mile of grocery stores are either missing or too narrow.
39 percent of sidewalks within a half-mile of light rail stops or one-fourth of a mile of bus stops and bike-share systems are either missing or too narrow.
The average distance between crossings for major barriers is massive: 3,380 feet for freeways, 3,150 feet for railroads, and 3,600 feet for rivers.
Denverites can comment on the draft plan through December 11. The final version is expected to be released early in 2018.