How Future Development Could Make Denver More Walkable, Bikeable, and Transit-Rich
As the city grows, Blueprint Denver envisions denser, more diverse land use and less parking to connect neighborhoods and curb displacement. But pulling it off will take urgency and political will.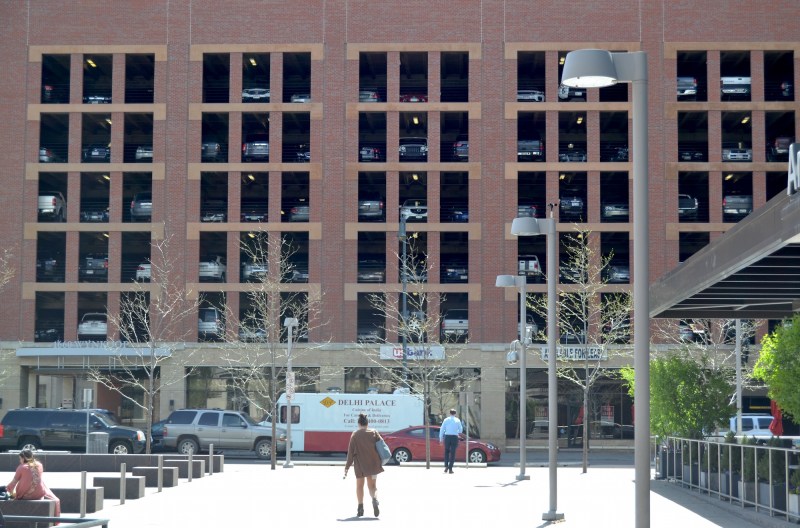 The last 60 years of Denver's development has tethered entire generations of people to personal cars. The next 21 will be, supposedly, about cutting that cord. This post is the third in a series examining how the city's "Denveright" plans might — or might not — make walking, biking, and transit legitimate options for everyone. These plans are still drafts. You can comment through October 31.

The best transportation plan is a great land use plan, former Vancouver city planning chief Brent Toderian often says. Well, Denver just released one after a two-year process. It's called Blueprint Denver, and it lays out where and how the city should grow in order to shed its dependence on cars.
Walking, biking, and transit play starring roles in Blueprint because you can't sustain growing neighborhoods without connecting them to themselves and to one another. Changing the streets themselves is one way to do that. So is changing what's along them. That's where land use comes in.
Done right, the city can incentivize and regulate development that makes driving unnecessary and other modes more convenient. Clustering more homes and businesses together, for example, creates a neighborhood that makes walking easy. But spreading homes out, far away from daily destinations, compels driving and generates traffic.
Blueprint makes plenty of recommendations to curb driving trips. They should be effective — if they're implemented. In typical Denver form, this plan recommends even more plans and studies before many changes happen. So making these proposals reality hinges on urgent political will from the Hancock administration and the Denver City Council, as well as buy-in from private developers.
"I absolutely believe that this document is gonna provide clearer plan guidance and should make City Council's job easier," said Denver Community Planning and Development Director Brad Buchannan in an interview with reporters last week. "Will Blueprint cure politics? No. But it sure provides, we think, extensive and clear guidance around land use decisions."
Adding density, especially near transit
People get priced out of Denver, in part, because there aren't enough homes for everyone who wants to live here. If the city sees 90,000 new households and 136,000 new jobs by 2040, as Blueprint predicts, they'll have to go somewhere. But right now zoning rules limit where future residents can live.
"Corridors" — think Federal Boulevard and Colfax Avenue —  would get a lot more places to live, work, and socialize because that's where a lot of frequent transit will be located down the line, as prescribed in the Denver Moves: Transit plan.
Blueprint says policymakers should "pursue implementation of regulatory land use changes, such as large rezonings along transit corridors, to be concurrent with decisions on transit investment." In other words, allow more stuff to be built where people can take advantage of frequent bus and rail lines.
Blueprint also found that developers aren't building densely enough around rail stations, even though zoning allows it. To make the most efficient use of transit-rich land, the plan calls for density requirements, like building height minimums, around RTD stations. When developers want to build higher or denser, the plan recommends creating a policy that incentivizes affordable housing units in exchange, like what we've seen at 38th and Blake.
Infill in traditionally single-unit neighborhoods
There's still a lot of single-unit (aka single-family) zoning prescribed in Blueprint. The document, however, recommends allowing — and sometimes incentivizing — more apartment buildings, condos, and other multi-unit homes in neighborhoods where they aren't allowed now. That goes for developments like grocery stores, dry cleaners, and other daily destinations, too.
Accessory dwelling units (aka granny flats), are smaller homes built adjacent to existing houses. They add to the city's housing stock, but are banned in a lot of neighborhood contexts and can be cost-prohibitive because of a highly bureaucratic process.
Blueprint recommends allowing them pretty much everywhere. Normalizing ADUs would streamline the building process while creating a wealth-generating tool for longtime residents who are at risk of getting displaced by high property values, according to the plan.
Some density will come from new development, but Blueprint also recommends allowing more duplexes and fourplexes, converted from single-family homes, where they weren't allowed before.
Enough. With. The parking.
One reason that traffic swamps Denver streets is all the real estate we've dedicated to parking over the years. In fact, the city requires off-street parking for new developments in almost every neighborhood. As a result, the city is rife with monolithic parking structures and asphalt lots that beckon to people with cars. All that parking creates a vicious cycle by degrading the pedestrian environment, generating traffic that slows down buses, and driving up housing costs.
Officials have been considering parking maximums for a while now. Blueprint — drum roll please — recommends we keep considering them! Verbatim:
"For centers and corridors downtown and in the urban center contexts, where access to transit is high, study and implement maximums for off-street parking in private development to encourage the use of alternative modes of transportation.
Blueprint also recommends easing parking requirements for buildings with income-restricted affordable units.
This plan isn't finished
Remember, this is a drafts for the public to review and comment on before being finalized.
Stay tuned for upcoming articles in this series that will examine how Blueprint could curb displacement caused by growth.