Joey Bunch Thinks Downtown Denver Has a Parking Problem. He's Right, There's Too Much.
The fact that downtown parking spots are proliferating doesn't stop a columnist from saying otherwise.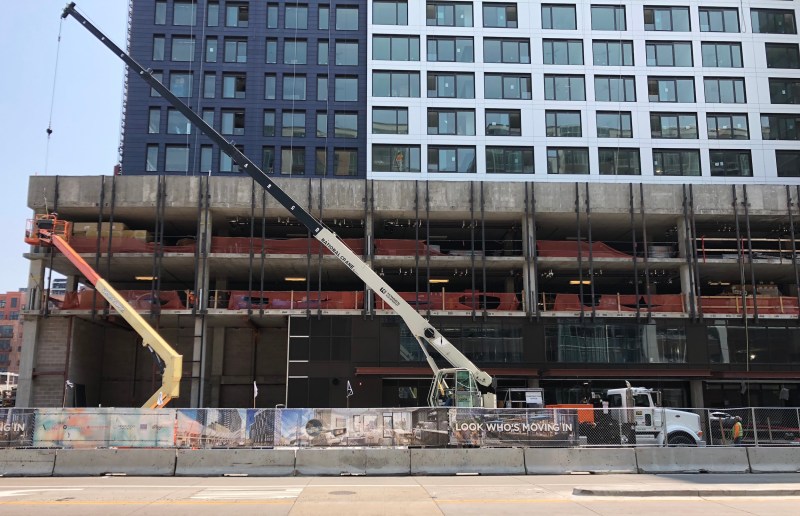 It's hard to say which claim in a Colorado Politics column by Joey Bunch is more ridiculous: The idea that downtown Denver's parking stock is shrinking (it's growing) or the farce that our current parking situation is undermining the economy.
Bad takes on parking run rampant in local and national media. It's like, a genre at this point. The takes usually spawn from a negative personal experience and distend into a full-fledged news piece that serves to, well, get clicks. Bunch wrote one earlier this week called, "INSIGHTS: Denver's dwindling parking is in a free fall."
In this gem, Bunch chooses not to take a meeting downtown because, in his words, "The parking is ridiculous." See, Bunch lives in Jefferson County, "where the parking lots are plentiful and freedom rings." In reading the column, it sounds like he would like to drive in from the suburbs and park right in front of a cafe or a restaurant. He and his online friends find that difficult (his complaint-laced Facebook post got 55 likes!). So naturally Bunch calls into question Denver's economic prowess.
"If people can't get to where they need to be in a suit and tie or a skirt and heels when time is money, it becomes increasingly harder for Denver to call itself the business hub of the West," Bunch writes.
Actually, thousands of people get downtown everyday, especially from the suburbs, where downtown-bound rail and free RTD parking abound. Once in the Central Business District, you can take one of two free buses to within walking distance of any destination.
Meanwhile, Forbes ranked Denver fourth nationally on its annual list of "Best Places for Businesses and Careers." The city ranks high on other economic indicators as well, and the Central Business District is in the midst of an investment boom worth nearly $3 billion, according to the Downtown Denver Partnership.
Quick, get this reporter a parking spot before investors pull out!
Denver does have a parking problem: There's too much of it. Developers are making short-sighted plays to appeal to motorist convenience, and the city government has mostly failed to intervene, overwhelming our streets with traffic and hurting our housing supply.
Say it with me now: Denver's downtown parking supply is growing, not shrinking!
"Even when new developments replace a surface parking lot, the new development almost always has much more parking than the surface lot it replaced, so overall our parking capacity in downtown is going up," said Aneka Patel, with DDP, the last time this narrative reared its head.
Bunch yearns for the days of former mayor John Hickenlooper, who supposedly "understood the vital relationship between parking and foot traffic" in his 2010 parking plan. A decade after that plan got underway, we know that urban economies thrive off people-centric places anchored by transit, which parking undermines. Anyway, Hick's parking plan stresses "maximizing existing supply" with shared arrangements. There's nothing stopping owners of the 13-floor garage at 15th and Arapahoe, for example, from opening it to the public if the market demands.
Bunch also complains about "traffic choking the city." As a suburbanite expecting to drive unfettered and park with ease in the most constrained part of Denver, he's literally the definition of traffic. He also flies right by a major reason for congestion: The insane amount of space dedicated to parking downtown acts as a magnet for cars, enticing car commuters to swarm downtown like bees on a hive. That's why the city government will mandate parking limits near 41st and Fox, and why the city's new blueprint for growth recommends more parking caps down the road.
To the author's credit, at the butt of the piece, he gives a column inch or two to former Denver Post reporter Mark Obmascik. Obmascik asks, "Can you name a great city anywhere in the world where you can drive and park cheaply and easily downtown?"
Of course you can't. Fixing the supposed parking problem means giving people other options — making transit, walking, and biking convenient and dignified. Those options exist, but they take trade-offs on the street. They won't get much better if everyone expects to drive everywhere and have a parking spot waiting when they arrive.
It sounds like Bunch wants to go downtown more. But if we prioritize car storage any more, downtown will become a place so overwhelmed with traffic, he won't want to go at all.