Denver7 Got It Wrong: Parking Is Proliferating Downtown, Not Shrinking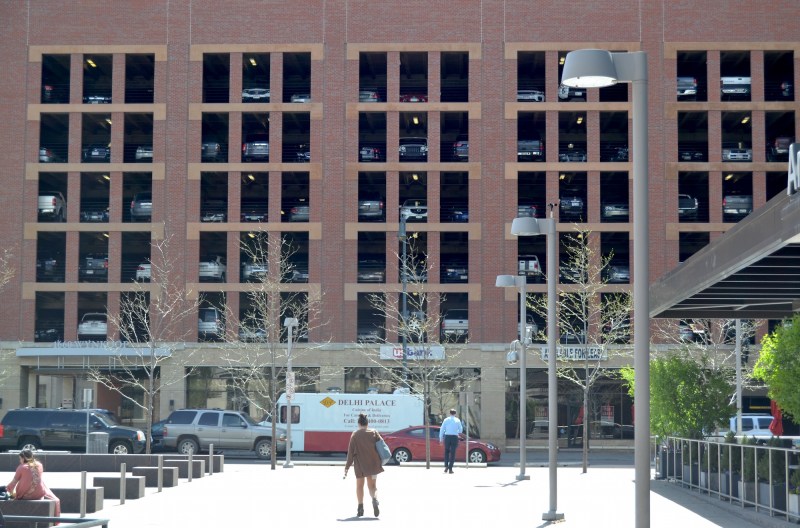 On Friday, local ABC affiliate Denver7 aired a news segment about the effect of growth on the downtown parking supply. The gist of the story was this: Useful buildings are supplanting surface parking lots, and that means fewer places to park cars.
If only!
Even though private vehicle storage already consumes a stunning amount of downtown real estate, parking capacity is ballooning, not shrinking.
"Even when new developments replace a surface parking lot, the new development almost always has much more parking than the surface lot it replaced, so overall our parking capacity in downtown is going up," Aneka Patel of the Downtown Denver Partnership, which keeps parking inventories, told Streetsblog.
That fact didn't stop Denver7 from saying otherwise, with no data to back up the claim.
Reporter Jason Gruenauer points to "Block 162," a proposed 30-story office building to be constructed on the site of a parking lot at 15th and California. The change "means fewer lots in the future for those who work or visit downtown," he says. "It's not the first, and won't be the last" high-rise to supplant a surface lot, Gruenauer intones over B-roll of an ominous looking crane. A nameless, frustrated parking seeker accentuates the fear factor.
Gruenauer failed to mention that Block 162 will have 12 floors of parking! That's 956 parking spots, according to documents from the Department of Community Planning and Development — around 750 more than the existing lot. Private garage owners can rent excess spots to the public, CPD told Streetsblog, like the Marriott at 18th and Champa does.
Tell us more about that parking shortage?
The irony is that scarcer downtown parking would be great for Denver, if it were actually happening. Baking mammoth garages into new buildings as if it's 1970 is not going to work out well — it's either going to generate driving trips and traffic jams, or a lot of parking spaces are going to sit empty and waste valuable land.
Denver is supposedly weening itself from car dependence, but the proliferation of parking downtown is taking the city in the opposite direction. All those parking spaces are competing with the RTD rail network the region has invested billions in constructing, and they will sap momentum from future efforts to improve transit or biking options downtown.
The real story is that developers are still making short-sighted plays to appeal to motorist convenience, and City Hall has failed to intervene, to the detriment of Denver's transportation system, air quality, and housing supply.
At 15th and Arapahoe, for example, the developer built 847 parking spaces for a skyscraper built atop a surface lot. None of those spots were required by city rules, nor is there any cap on parking in the area. The result will be a big magnet for cars, generating traffic that will slow down buses and make biking and walking less appealing.
Ridding the city of surface lots that undercut walkability is a good thing, and to Gruenauer's credit, he interviewed urban development expert Don Elliott, who said as much. But crucial omissions in reporting leave viewers with a false impression of what's happening in downtown Denver, and no appreciation for the ways in which the parking boom is undercutting efforts to improve transit, biking, and walking.
Anchor Anne Trujillo told viewers at the end of the segment: "Denver does not have any requirements that new buildings, including high rises, have any parking included in them at all. That makes a slim resource even slimmer." How objective of her to make the case for more government-mandated parking.
While it's true that there are generally no parking requirements in the Central Business District, that's not at all the case in most of the city. (The text on Denver7's website has since been changed, but the video remains published and incorrect.) And as a quick look at public development plans reveals, parking is not becoming a "slimmer" resource.
Trujillo framed the story as a journalistic endeavor to find "solutions while we deal with the pressures of change." No solutions were offered, just a binary of development versus parking. So here's a solution: Enact parking maximums downtown to prevent car traffic from suffocating the most transit-rich, walkable, and bikeable part of the city.