Parking Limits at 41st and Fox Would Be (Small) Win Against Government-Mandated Traffic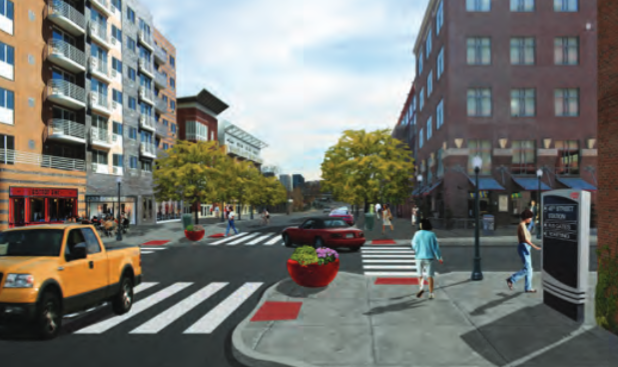 The City and County of Denver requires parking in nearly every neighborhood, but that won't be the case around the 41st and Fox RTD station. Instead, as developers build homes and businesses near the commuter rail, the area will probably become the city's first with parking limits.
It's not the sexiest subject, but you should be excited for parking maximums on what city officials call "Fox Island" in Globeville. If approved by the Denver City Council, they'll represent a small win against government-mandated car storage that's saddled our streets with traffic for decades.
"If you lease an apartment and it comes with a parking space, or you buy a condo and it comes with a parking space, there it is, it's sitting there, you might as well fill it with a car," says Chris Nevitt, the city's transit-oriented development manager. "But if it's a choice you have to make — 'Do I want to pay extra for the parking space?' — then you're open to saying, 'No, I don't want to pay more for having a parking space, and I won't have a car, or I won't have a second car.'"
Fewer than one parking stall per unit will be allowed for residential buildings, Nevitt said. He would not give an exact figure, citing the impending public process with developers and residents. Parking caps for commercial buildings will be based on square footage.
"We've calibrated what we think is a good number that is meaningful in that it will actually put downward pressure on parking supply without being draconian and putting developers and customers and residents in a real bind," Nevitt said.
The Fox Island moniker comes from the area's constrained layout, which is surrounded by I-25 and I-70, but doesn't have the road capacity for every future resident to bring a car. The 41st and Fox RTD station will serve the G Line when it opens. So frequent, reliable transit (one stop from Union Station), plus access to the Platte River Trail make this the ideal test for parking caps before rolling them out elsewhere, according Nevitt.
The Department of Community Planning and Development is not just looking to disincentivize driving — it wants to incentivize walking, biking, and transit. CPD will require Fox Island developers to submit a "traffic demand management plan" to encourage those modes. An apartment building could provide RTD passes, for example, or an office building might install a B-cycle station.
Traffic doesn't just happen. It's the result of policies that encourage driving. There's a reason economist Donald Shoup calls parking minimums a "fertility drug" for traffic.
CPD will take the idea to the public next month and it could go before the City Council this fall.