Denver Transportation Director Crissy Fanganello Moving On
Her decision, which she called "really, really hard and very difficult," comes amid changes at the city.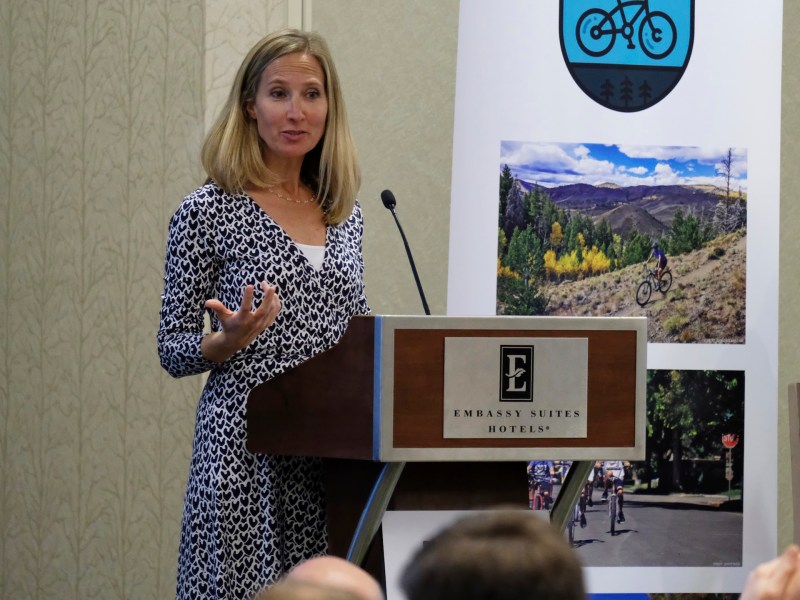 Crissy Fanganello, the head of the Transportation and Mobility division at Denver Public Works, will leave the position on June 1.
Fanganello has headed the transportation division for four-and-a-half years. After more than 12 years in total working for the city, she wants to spend more time with her family, she said in an interview.
The decision to leave was "really, really hard and very difficult," she said. "This is about me feeling I have a little bit more… ability to integrate whatever I do from a work perspective with my life, and to have a little bit more control. Working at the city is a hectic, crazy, insane pace, which on the one hand is addictive and super fun, but twelve-and-a-half years is a long time to do that."
Fanganello's departure comes amid changes at the city. The Hancock administration is in the process of separating the streets division from DPW to elevate transport as a policy priority and make more rapid progress on transit, biking, and walking improvements. Mayor Michael Hancock hired Eulois Cleckley to oversee the reorganization late last year.
Fanganello said it was unclear if she was in line to run the new streets department after Cleckley spins it off from DPW. "There is always a process to fill important roles, and no promises," she said.
As a senior staffer — not a political appointee — Fanganello has overseen a change in the trajectory of Denver transportation policy, focusing on moving people instead of just cars. The shift is far from complete, she admits, but she has set in motion potentially transformative changes through the city's Strategic Transportation Plan, the Vision Zero Action Plan, the roll-out of Denver's first protected bike lanes, and the blueprint for true bus rapid transit on East Colfax Avenue.
"Colfax BRT, followed closely by the Broadway bike lane, frankly, are such change agents for the city in terms of transportation and city-building," Fanganello said. "Until we do one of those fully, I don't think people will understand the vision. People need to see it and what the potential is, rather than being worried about what it might be."
Fanganello said that Denver's streets will be transformed only "when we see transportation as a means to an end, not an end in itself, and how transportation is building the city that we want." While major capital projects are important, sometimes that shift in perspective takes the shape of smaller traffic-calming projects, she said, like the ones on 26th Avenue and Colfax and Park, which she wants to see duplicated rapidly across the city.
Delivering change has sometimes been a slog. Fanganello believes she's streamlined the process of getting street redesigns implemented since she came on, but she still sees plenty of room for improvement. In particular, she thinks the city needs to stand more firmly behind its decisions, instead of letting a few grouchy people water down projects with citywide benefits. She pointed to the 29th Avenue bike lane, which is just paint on asphalt, as an example.
"While there's been a lot of push from the advocacy community to give us more money — not to say money's not part of the equation to success, it is — but the 29th Avenue bike lane took two years of process, it took less than five days to build, and it cost $30,000," she said. "We've gotta be able to say, 'We believe in what we're doing and we're gonna go do it.'"
A protocol to deliver street changes faster is something Cleckley says he's working on. And he's got plenty of resources for more employees, as well as an influx of funding for walking, biking, and transit.
"Eulois is coming in, he's got some progressive ideas, which I think is great," Fanganello said. "There's still a lot of opportunity there and it is an exciting time."