Eyes on the Street: Denver Public Works Tests Traffic-Calming on 26th Avenue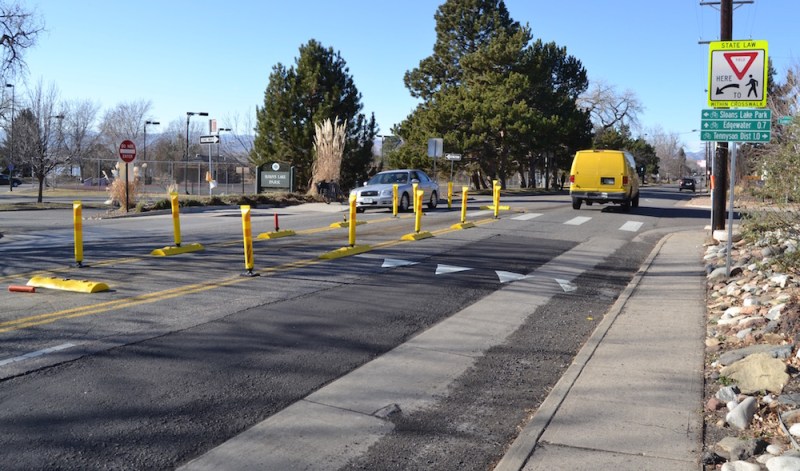 Denver Public Works crews just installed pedestrian islands at two intersections with a lot of foot traffic: 26th Avenue and Tennyson Street near Sloan's Lake Park, and 26th and King Street near Brown Elementary School.
Both projects are quick, low-cost treatments that make a big difference for people trying to cross a street that has mostly been ceded to speeding drivers. Motorists approaching the intersections slow down when they see the bright yellow plastic posts, which slim down the street and force drivers to take left turns more carefully. They also act as mid-street refuges for pedestrians if necessary. Bright yellow signs telling drivers to yield is a nice touch.
The crossing at Tennyson had been so dangerous that the community used guerilla tactics to keep people safe. Someone attached orange flags to the bus stop on one side of the street and to a post on the other side with a four-step guide on how to cross, using the flags to alert drivers. Any street that elicits a response like this, which amounts to people begging drivers not to kill them, has bigger problems. These treatments should help address them.
Some drivers have already snubbed their noses at the new design, however. They've run over and destroyed six bollards — and the treatment hasn't even been around for a week. "I'm hoping people get used to the bollards so we stop losing so many," DPW engineer Josh Jones wrote in an email.
Each intersection cost just $6,000 to remake (not counting the fallen bollards), Jones said. DPW installed them after residents asked for them, and hopefully they're prototypes for a permanent fix.
"Before we decided to design and build concrete pedestrian islands, we wanted to make sure we got the design right and wanted to give the community something faster," Jones wrote. "It was decided that we would install two temporary pedestrian refuge islands… so we could analyze both to determine if they were working. This summer we will decide if the design is working and what a permanent pedestrian refuge island would look like."
These treatments come in addition to new crossing beacons at 26th and Newton, which DPW installed earlier this year.