Eulois Cleckley, Hancock's New Head of Public Works, Lives Car-Free in Denver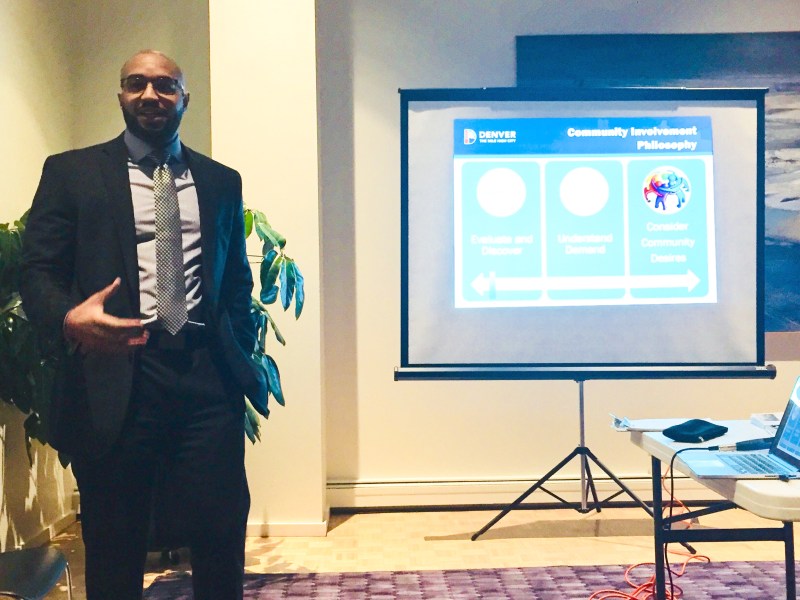 There's certainly one thing that sets apart Eulois Cleckley, the new director of Denver Public Works, from most local civil servants: He doesn't have a car. Cleckley moved here from Houston without one.
"It's interesting — when I tell people I take the bus to work, they act surprised," Cleckley said at the Inter-Neighborhood Cooperation Transportation Committee meeting Thursday. "Well, I can get to work in like 20 minutes. And I can listen to music or relax or get ready for work and I'm sure that you're frustrated behind the wheel."
As a personal choice, Cleckley's decision to get around Denver without a personal car is admirable. But it also has real stakes for policy making. His decisions as head of Public Works will be grounded in his direct experience of navigating the city on foot.
He says taking transit (the 83 most often) and walking helps him identify what needs to be improved in his new city. "I've experienced it myself — when I go to the gym at 24-Hour Fitness, how am I gonna get across Alameda to get back?" Cleckley said. "So I just think that it's a good way to experience how to get around in the city."
Mayor Michael Hancock brought Cleckley on for two main reasons: to get the ball rolling on a package of walking, biking, transit and other projects passed by voters in a November bond measure, and to create a stand-alone transportation department by breaking it out of public works. Right now the same department that manages trash, recycling, and sewage also manages crosswalks, bus lanes, and bikeways.
The idea is that a city department dedicated solely to streets and transportation will be nimbler, allowing for a faster pace of change. Cleckley should be familiar with the idea. He worked under Gabe Klein, the former director of DC's transportation department, who wrote an entire book about "getting sh*t done" in cities — streamlining the bureaucracy to rapidly create physical changes on the streets.
It seems like Cleckley is still getting his bearings in Denver, based on this answers at the Thursday meeting. He gamely answered questions in general terms, without providing much in the way of detail — though he made some encouraging remarks about parking reform.
Here's a look at what he had to say.
On the frustratingly slow pace of projects like the Broadway bike lane
"What we want to do when we make an organizational change is make sure that we're streamlining the process to accelerate the delivery of those projects. At the same time, because of the capacity of the work, you have to have the people who are in a position to execute that. You gotta have the people, you gotta have the financial resources, and you gotta restructure right to be able to accelerate the pace. At the same time, you have to understand that every single project has its complexity."
On making urban state highways safer

"I believe there have been some recommendations on Federal that have been talked about, but those recommendations have a heavy… price tag to them, so the question is how do we identify ways to actually pay for those improvements on our corridor to reduce the number of crashes along Federal.
"That's where executive level coordination takes place. At a staff level we're already working hard to identify what those recommendations are. But that would be one of my responsibilities… seeing how we can coordinate a little bit better to be able to move forward with implementing some of those infrastructure projects and those high-injury network roads that are primarily owned by the state."
On disincentivizing driving
"Traditionally, you come in with a development, and there's a requirement that that developmet has to have a certain number of parking spaces. But what other cities that are more dense have done is that they have actually instituted parking maximums, which actually caps the number of parking spaces, and that will automatically change people's behavior. And so these are initial discussions that we're having, and we're gonna have to be lock-step in how we move forward from an overarching policy perspective, and that's one thing that we're in discussions now."