City Council Approves Hancock's Budget — Here's What It Does for Walking, Biking, and Transit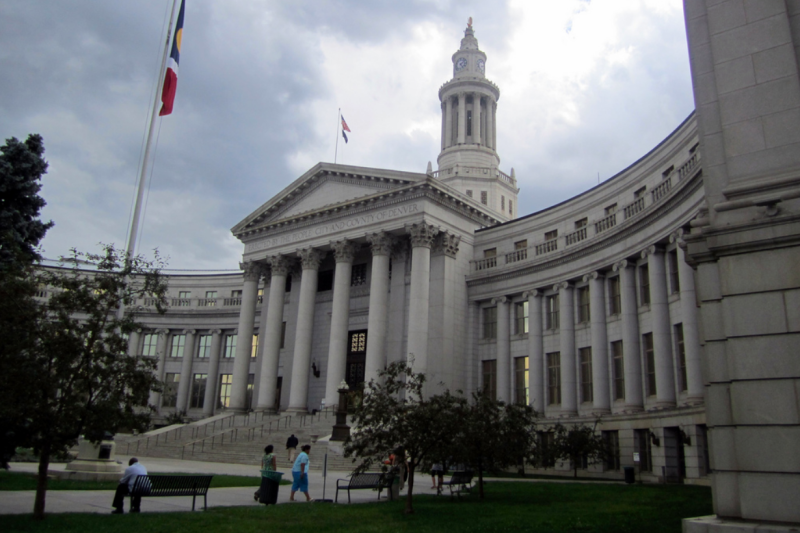 The Denver City Council voted 10 to 3 Monday to approve Mayor Michael Hancock's 2018 budget. Among the initiatives covered in the spending plan are 29 full-time employees to get a fledgling stand-alone transportation department up and running; $33 million for walking, biking, and transit improvements; and $75 million for standard street maintenance and paving.
The staffing for the transportation department should accelerate the pace of change on Denver's streets and expedite the use of $431 million in bond funds approved by voters last week — mostly for walking, biking, and transit.
Here's an overview of other budget items related to streets and transit.
No increase for bike infrastructure
Hancock's allocation to the Denver Moves bike plan is the same as last year — $2.2 million. At that rate, Denver won't finish building out the plan until 2042, even with the $18 million for bike projects included in the bond measure. Nevertheless, the City Council voted against asking Hancock for more bike money in October.
This year's allocation will fund two miles of protected bike lanes, 10 miles of striped bike lanes, and three miles of neighborhood bikeways — streets with traffic calming but not bike lanes.
Sidewalks and intersections
The new program to help low-income residents pay for sidewalk repairs is budgeted at $4 million.
The budget also calls for $1 million to redesign several dangerous intersections for walking:
Kentucky and Federal
13th and Broadway
12th and Broadway
Franklin/Park Ave/Colfax
20th and Market
8th and Zuni
8th and Wyandot
Some other line items in the budget for the pedestrian network:
$3.2 million for curb ramps to improve accessibility for wheelchair users
$1.5 million to construct sidewalks along city-owned property
$1 million for 48th Avenue sidewalks
$750,000 for safer crossings as identified in the Denveright pedestrian and trails plan
$750,000 for an intersection redesign at Colfax and Lipan
$500,000 for sidewalks on Sheridan Boulevard
$500,000 to make walking and biking routes around schools safer
Seed money for Denver's transit plan
The city's first-ever transit plan aims to make transit much faster and easier to access throughout Denver neighborhoods. The Denveright initiative is still in the planning stages, but there is an initial line item of $1 million for implementation in the 2018 budget.
This amount is small compared to the cost of the full plan (which is still to be determined), but it will likely help some ideas from the Federal Boulevard Corridor Plan get done.
Other transit items in the budget:
$400,000 for bus stops in Globeville, Elyria, and Swansea
$282,000 toward Colfax bus rapid transit design and implementation
More photo radar
To catch reckless drivers who speed and run red lights, the budget includes $3.5 million for photo radar technology and enforcement cameras — a 23 percent increase over last year. That will fund two full-time photo enforcement agents and bring red light cameras to three additional intersections, for a total of seven citywide. It's a small but positive step for a program that saves lives.
Any net increase in revenue from speeding and red light fines will fund Vision Zero projects.
Council members Robin Kniech, Rafael Espinoza, and Kevin Flynn voted against the spending plan. The Hancock administration did not give Kniech the details she wanted regarding the city's approach to maintaining and creating affordable housing, she said. Espinoza echoed those concerns. Flynn voted no because of a line item that spends public money on a legal defense fund for immigrants, which he doubts is legal, according to reporter Andrew Kenney at Denverite.
An earlier version of this article stated that the allocation for Denver's bike plan is slightly less in 2018 than in 2017. The total allocation in both years was $2.2 million.