Bike Lane Blockers Still Get a Pass From Denver PD and Public Works, Despite Hancock's Promises
The momentary convenience of drivers continues to take precedence over the safety of people on bikes.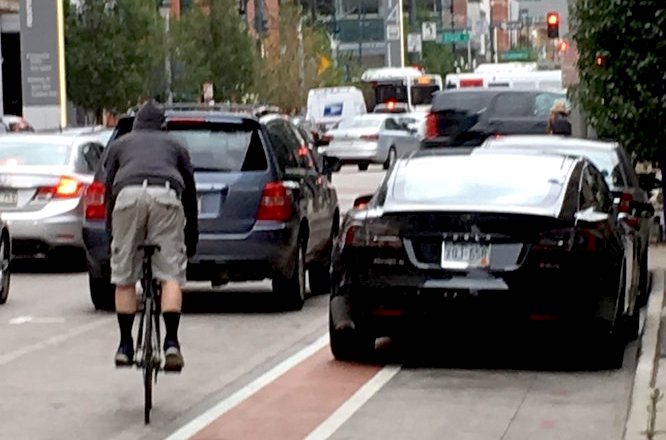 The Hancock administration has committed to dramatically reduce traffic injuries while making bicycling a comfortable choice for Denverites of all ages, but you'd never know that judging by all the cars parked in bike lanes.
Denver drivers constantly obstruct bike lanes, forcing bicyclists to swerve into traffic. Neither the Denver Police Department nor Denver Public Works, which are both responsible for enforcement, does much to deter the practice.
Asked whether the mayor's bike safety initiatives have led the department to focus more on keeping bike lanes clear, Captain of Traffic Operations Mark Chuck said he "cannot speak for the entire department."
"Each district has its' own priorities and are directed by their command," Chuck wrote in an email. (Streetsblog requested an interview but it was not granted.) "As the Captain of Traffic Operations, my personnel are sent to areas that show a statistical increase in traffic accidents and to areas where information is obtained via citizen concerns about their neighborhood."
That sounds like not much has changed since 2015, when a spokesperson said residents typically have to complain for officers to ticket a driver.
Denver Public Works spokesperson Allison Redmon said parking in bike lanes is "an ongoing conversation" internally, but the department has not stepped up enforcement. "Currently in the downtown area our enforcement agents are on a block about twice an hour, but sometimes it is difficult for our agents to issue citations, as vehicles are only blocking the bike lane for a short amount of time," she said.
The mayor's Vision Zero Action Plan does not identify bike lane blocking as a problem, but Redmon said DPW is looking into technology "to address what is a pretty complex logistical challenge" and exploring best practices in other cities.
Denver PD's enforcement is lenient — more lenient than DPW's, according to Chuck. Its policy to warn drivers before issuing a $25 ticket for the offense. "If the driver refuses to move, then we can cite the party," he said.
That policy might clear the immediate hazard, but it doesn't send the signal that drivers should avoid blocking bike lanes in the first place. They know they can get off with a warning next time.
If there's no driver in the car, Denver PD can tow it and charge the driver $100 — but only if a sign indicates a no parking/tow-away zone.
Making matters worse, the people endangering bicyclists are sometimes city employees, including police officers. Allowing emergency responders to stop in a bike lane is one thing — but how often is it really an emergency? "Often time it may appear that the officers are not responding in an emergent situation, when in fact they are," Chuck said. "We advise personnel when identified violations have occurred."
Neither Denver PD or DPW could provide statistics on the prevalence of bike lane violations or enforcement, though Chuck said officers ticketed three offenders on Wynkoop Street the day before he responded to Streetsblog.
Both departments clearly know it's a problem. If the city isn't going to enforce bike lane blocking, here's a suggestion: Build protected bike lanes that physically stop drivers from breaking the law. Concrete curbs and planters will work pretty well, even without anyone minding the store.
Streetsblog Denver will take a Thanksgiving break and return to its regular publishing schedule Monday.