What Hancock's 2018 Budget Does for Walking, Biking, and Transit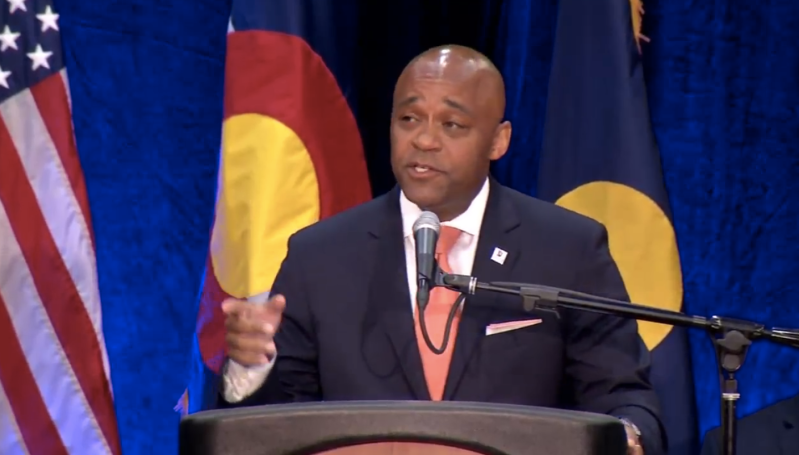 Mayor Michael Hancock unveiled his 2018 budget proposal Tuesday, which includes 29 full-time employees to prop up his budding stand-alone department of transportation and mobility and $31.5 million for the "Mobility Action Plan," Hancock's initiative to give everyone legitimate transportation options beyond driving. That money is on top of about $75 million for transportation spending, a figure that includes funds for road maintenance and paving.
Though Hancock pays sustainable transportation some attention, walking, biking, and transit investments fall short of the $40 million annually that the Denver Streets Partnership says the city needs to bring Denver up to snuff. Still, 29 new employees should accelerate the pace of change, Transportation Director Crissy Fanganello said, from the planning of a project to its implementation.
"How do we increase the velocity by which we can actually deliver those projects out to the community faster?" Fanganello said during a press conference. "That's really what we're focused on, so it's soup to nuts all the way through."
Asked about funding his four massive "Denveright" plans for transit, land use, pedestrian infrastructure, and parks, Hancock said residents should see this budget as a complement to the walking, biking, and transit funding from the November bond measure, assuming voters pass it.
"The unanimous referral of those ballot questions… by City Council is a very great step," Hancock said. "This general obligation bond is our first giant step toward meeting the $2 billion commitment around mobility action."
The redesign of eight dangerous intersections to prioritize pedestrians
The budget calls for $1 million to redesign eight dangerous intersections around the city that are particularly hostile to people walking and biking. The document does not identify which ones, though Denverite reporter Eric Meltzer cited these seven:
Kentucky and Federal
13th and Broadway
12th and Broadway
Franklin/Park Ave/Colfax
20th and Market
8th and Zuni
8th and Wyandot
Federal Boulevard does not receive any other funding specific to pedestrian needs, despite a fatality rate that's mind boggling for a booming city in an affluent country.
Sidewalks get a boost, but there's still no annual dedicated source
Hancock's budget includes $4 million for a program to help low-income residents pay for sidewalk repairs and replacements. A backward city policy dictates that individual private property owners are responsible for public walking infrastructure, so this program should help ease the burden.
The City Council and mayor are still ironing out the policy's details, Denver Chief Financial Officer Brendan Hanlon said in a press briefing. And no elected officials have identified a reliable, annual funding source needed for what should be high-priority infrastructure.
Other line items in the budget for walking:
$3.2 million for curb ramps to benefit wheelchair users
$1 million or 48th Avenue sidewalks
$750,000 for safer crossings as identified in the Denveright pedestrian and trails plan
$750,000 for an intersection redesign at Colfax and Lipan
$500,000 for sidewalks on Sheridan Boulevard
$500,000 to make walking and biking routes around schools safer
A status quo allocation for Denver's bike network to complement bond funding
Hancock's budget allocation to the city's Denver Moves Bicycles plan is just $2.2 million — the same as last year. That money, however, will complement $18 million from the November bond measure for bike infrastructure, assuming voters pass it.
City dwellers can expect two two miles of protected bike lanes, 10 miles of striped bike lanes, and three miles of neighborhood bikeways (streets that prioritize people on bikes with traffic-calming measures even if they don't have bike lanes).
Some seed money for the city's first-ever transit plan
The city's Denveright initiative includes an overhaul of the transit system, and though the planning process is ongoing, Hancock allocated $1 million in his spending plan for its implementation. RTD funds the vast majority of Denver transit, so it's significant that Denver is putting some skin in the game.
Transit improvements to Federal Boulevard "is top of the list," Denver Public Works spokesperson Nancy Kuhn said, and the department will use ideas from the Federal Boulevard Corridor Plan.
Other spending on transit in the budget:
$400,000 for bus stops in Globeville, Elyria, and Swansea
$282,000 toward the Colfax bus rapid transit design and implementation
Expansion of photo radar
Hancock's budget calls for $3.5 million to catch reckless drivers who speed and run red lights with photo radar technology and traffic cameras — a 23 percent increase over last year. The money will fund two full-time photo enforcement agents and bring red light cameras to three additional intersections, for a total of seven. It's a small but positive step for a tiny program that saves lives.
Funds netted from capturing more violations will fund Vision Zero projects.
The proposal is just the beginning of the process. Next the Denver City Council will wade through the document, hold hearings, and pitch trade-offs before adopting a final budget later this year. The Denver Public Works hearing is September 26 at 1:30 p.m. in the Parr-Widener room at the City and County Building.