Commentary: Before Changing I-25 in Denver, Is CDOT Really Listening?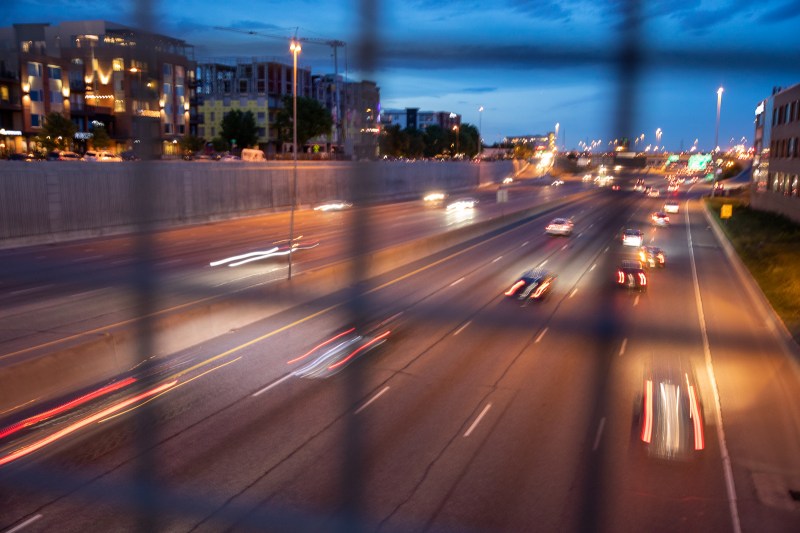 At an open house last night, officials from the Colorado Department of Transportation showed off ideas to fix a dangerous, congested stretch of Interstate 25 that passes through Central Denver. Despite the agency's recent announcement of a statewide "listening tour," the highway agency has already ruled out the most progressive concept it considered: Tearing down the highway and replacing it with an urban boulevard.
"Most of these [urban] highways are reaching the end of their lifespan," said Ben Crowther a transportation fellow with the Congress for New Urbanism in a phone interview. His organization has called for the removal of I-70 in Denver and counts 15 cities in North America that have taken out or committed to removing urban freeways. "This is the opportunity when communities get to make a choice and can advocate for a different solution than a highway."
But the opportunity to remove I-25 in Central Denver appears to have dried up and CDOT officials seem to never have taken the idea seriously.
In the agency's 165-page I-25 Central Denver study and other documents, illustrations help people visualize how highway lanes could be widened, exotic "braided intersections" could be installed and what a multi-level freeway might look like. But the documents show no illustrations of how the highway removal option might look and in the three public meetings held before last night's open house, there is not one agenda item that specifically made time to talk about it.
CDOT's highway removal option called, "Reroute / Urban Boulevard," was described in a slide from a December presentation.
"This alternative would include the rerouting of regional traffic around the urban core of the city and replacement of the existing I-25 with an urban boulevard," it reads. "Regional traffic would be rerouted east using I-76, I-70, and I-225. A signalized urban boulevard would be created from approximately 20th Street to US 85/Santa Fe Drive that connects to the existing surface grid."
If CDOT created renderings depicting the highway removal option and discussed it more seriously, the idea would have certainly generated community interest. Ahead of the I-70 expansion currently underway in the Denver neighborhoods Globeville, Elyria and Swansea, the community group Unite North Metro Denver proposed an alternative to the highway. They created an illustration (pictured) that offers a powerful visualization of how a tree-lined boulevard would "re-establish the community grid, free up land for development, and raise property values," according to CNU. But despite CDOT's listening tour, the state highway agency doesn't seem willing to hear much beyond the idea building more highways.
"We're studying traffic modeling," said Steve Sherman an engineer and project manager for the study. "We're trying to support the needs of everyone commuting through and within the area."
But what about the people who live and work around the area?
If CDOT officials truly want to listen to the needs Coloradans, they should examine their bias toward building urban highways, even when it hurts the surrounding communities. They should also have real conversations about how removing urban freeways could correct the devastation the agency caused when it first put them up.
Building I-25 and I-70 in Denver required demolishing homes and tearing apart neighborhoods. It left people in those communities with decreased property values, noise pollution, dirty air and connecting streets that are some of the most deadly in the city.
"No one wants to live by a highway," said Crowther.  
It's possible to undo these past deeds — and the option should be put back into the study.
---
Better walking. Better biking. Better transit. Support the nonprofit mission of Streetsblog Denver. Give $5 per month.
---