Report: Expanding I-70, One of Nation's Worst Urban Freeways, Is out of Step With Polis' Goals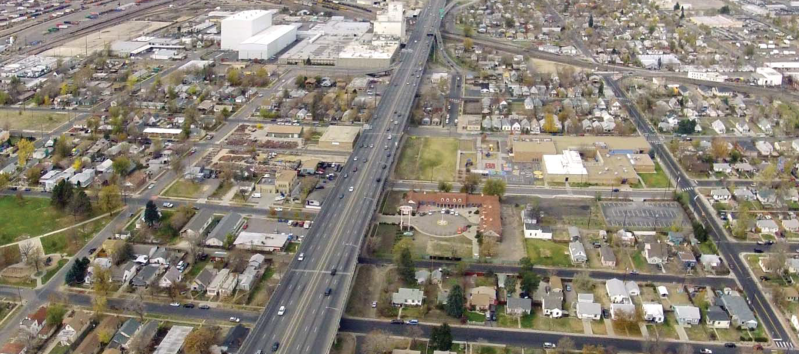 A new report calls for the removal of America's 10 worst urban highways, including Interstate 70 through Denver's mostly Latino neighborhoods of Elyria, Swansea and Globeville. 
The Colorado Department of Transportation will tear down the freeway soon, but under the leadership of Gov. Jared Polis, it will be rebuilt and expanded in a way that will kick out minorities from their homes, force elementary school students to breathe heavily polluted air and add pollution to an area already known for having the worst air quality in America.
These problems are highlighted in Freeways Without Futures, a report released today from the Congress for New Urbanism, an organization based in Washington D.C. Local activists see the report as a chance to renew their calls to stop the project — especially after electing Polis, who campaigned on cutting vehicle emissions and increasing mass transit.
"It's a great opportunity to reopen the conversation," said Brad Evans, who leads the Ditch the Ditch organization, which opposes the project and holds some hope the it can still be stopped.
The $1.2 billion Central 70 Project will remove the 55-year-old viaduct that cuts through the Elyria, Swansea and Globeville neighborhoods, replacing it with a sunken freeway whose 14 lanes will measure almost three times wider than the current highway. A park and soccer field will cover part of the freeway, despite an expected increase pollution in an area already afflicted with frequent air quality warnings that urge people to avoid physical activity.
Advocates for sustainable transportation offer several reasons for removing freeways in urban areas. They point to cities where doing so helped to heal communities once divided by massive infrastructure, traffic fatality reductions and air quality improvements. Removing highways also doesn't cause the apocalyptic traffic situations many might expect. And that's not the only transportation planning concept that's counterintuitive.  
One of the selling points of the I-70 expansion is a promise to cut the amount of time people are stuck in traffic through "minimized future congestion," according to CDOT's website for the project.
But traffic often gets worse after highway expansions, a phenomenon known as induced demand, which state transportation planners often fail to consider, according to Ronald Milam, the author of a 2017 paper on the subject published in Transportation Research Record.
Although the term "induced demand" sounds academic, just ask Los Angeles residents how things turned out after the $1.6 billion expansion of Interstate 405.
Widening the freeway increased its capacity somewhat, but two years after it opened in 2014, congestion got worse than it was before during the rush hours of 4:30 to 6:30 p.m., according to a report by the Los Angeles County Metropolitan Transportation Authority.
The CNU report also suggests looking at the 15 cities in North America that have removed or committed to removing urban freeways. When urban highways have been torn down, traffic disasters have not followed.
A recent example happened in January when Seattle shut down Highway 99, which carried 90,000 cars into the city per day. But after the closure, commute times barely budged, leaving a Seattle Times reporter asking, "Where did they all go?"
Removing freeways also helps cities heal from the division and blight brought about by massive highways, like after San Francisco's Embarcadero Freeway came down following the 1989 Loma Prieta earthquake.
"Boulevards replaced the freeways instead, opening up the waterfront and uniting neighborhoods in the City by the Bay," says the report.
Back in Elyria, Swansea and Globeville, the I-70 expansion broke ground in August and Evans fears it may be too late to stop the project. But he holds some hope, pointing to the revered urban advocate Jane Jacobs, who led a movement in the 1950s and '60s that stopped construction of the Lower Manhattan Expressway through New York City.
"They were under construction on that midtown freeway," he said.  
The CNU report suggests an alternative to widening I-70, too, which the community group Unite North Metro Denver proposed. It offers a tree-lined boulevard that would reconnect divided communities, open up land for development and raise property values. Or as the Brookings Institution suggested recently, "stop trying to solve traffic and start building great places."
If not, Evans asked: "Are we just going to widen our way to more roads — that need more, wider roads?" 
Gov. Polis' press office was not able to respond to a request for comment in time for publication of this story.
---
Streetsblog Denver informs the movement for sustainable transportation and a livable city. Give $5 per month.
---