Colorado Is No Longer a Place Where Careless Drivers Get Away With Hurting People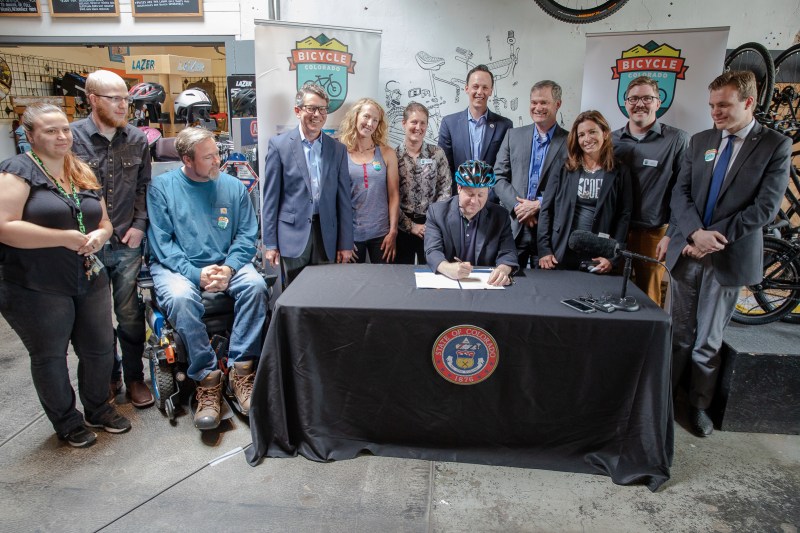 When careless drivers severely injure pedestrians, bicyclists, police officers and other vulnerable road users, they will no longer drive away from the scene of a crash with a light penalty. Under Senate Bill 19-175, which Gov. Jared Polis signed into law this morning at the Denver Bicycle Cafe, Colorado became the 10th state to enact legislation that defines vulnerable road users and sharpens the punishment for careless drivers who hurt them.
"At the end of the day, safety is what it's all about," said Polis. "Protecting people from injuries. Protecting people's lives. It's now the law of Colorado."
Before it took effect today, drivers could severely injure someone in a crash and receive just a four-point penalty on their license. If the driver had a clean record, they could have caused injuries in three more crashes before having their license revoked under the state's 12-point system. Now, such an offense is a class-one traffic misdemeanor that could result in a license suspension, paying restitution to the victim and other penalties.
Before signing the bill, Polis put on a bike helmet to show support for cyclists and spoke to street safety advocates and media about creating a safe environment for people who use mobility options other than cars.
"We want Colorado to be safe for people to get around," said Polis. "Whether that means biking to work, whether it means walking to work, whether it means you need a wheelchair to get around, we need to make sure that we're a safe state that gives people those choices."
Triny Willerton of Boulder came out to support the bill after a crash last May. While cycling, a driver hit her from behind, which catapulted her through the air, fractured 12 bones and punctured a lung. Before going to the hospital — conscious but unaware of how badly she was injured — she worried about her children.
"I have five kids. All I could think about how much my kids are going to need me," she said in an interview before the ceremony. "When I found out that the driver who hit me, if convicted, would only get four points on his record, to me it was just [mind-blowing]. I really wanted to change the law."
Willerton recovered fully but wants the law to make everyone in the state drive more safely.
"I'm just sick of hearing about people getting killed out there – and hurt," she said.
Other street safety measures failed in the legislature this year, including SB 19-012, the distracted driving bill.