Snow Removal: Denver Bus Riders Get Slush and Road Spray — but Few Bus Shelters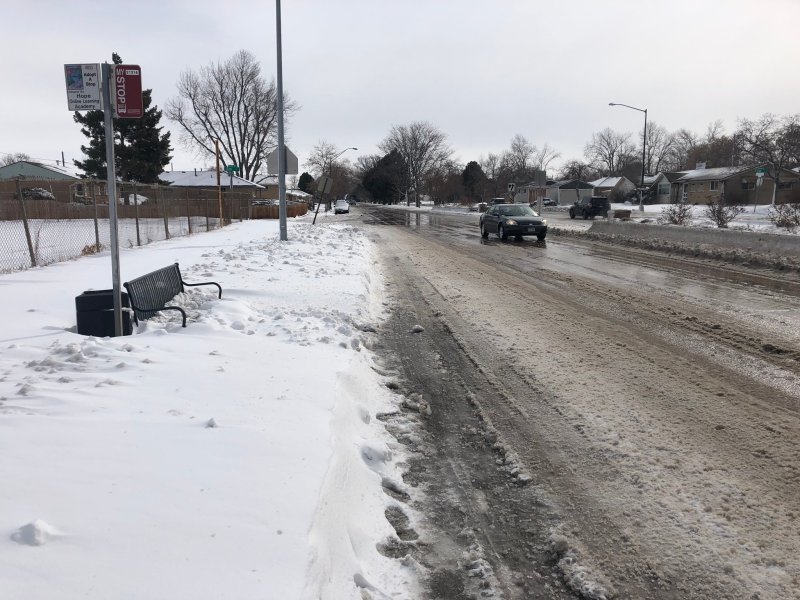 Yesterday's "bomb cyclone" blizzard covered Denver in at least six inches of snow. After the flakes stopped falling around 4 p.m., I toured five bus routes. All of the Regional Transportation District's buses managed to arrive within a few minutes. But it was not a good day to be a pedestrian.
Few sidewalks had been cleared. Workers plowed the streets — but they shoved the snow into tall piles along bus stops and in crosswalks.
With gutters along the streets clogged with gray, snowy slush, drivers splashed me with filthy road spray.
At crosswalks, huge puddles formed. I tried to hop over them. But several times, I failed to land on dry pavement. Both of my boots submerged entirely under water when just trying to cross the street.
"The city plows the streets but does nothing to ensure safe passage for pedestrians after snowstorms," said Jill Locantore of WalkDenver.
In Denver renters, homeowners and business owners must clear snow from sidewalks and bus stops, a responsibility that many shrug off.
But it's not like this everywhere. Other cities have stepped up to keep people on foot safe after snowstorms.
"They could follow the lead of other cities that are starting to be more proactive about snow removal on sidewalks and curb ramps," said Locantore.
Rochester, New York plows "all 878 miles of sidewalks whenever it snows four inches or more," according to Streetsblog USA. Syracuse; Burlington, Vermont; Duluth, Minnesota and the Twin Cities all take responsibility sidewalk snow removal, too.
In yesterday's extreme weather, I was even more surprised at the scarcity of bus shelters — and how poorly those I found were suited for typical weather conditions in Denver.
When I took the 15 East Colfax bus from Union Station to Colorado Blvd., we passed 18 stops across roughly five miles. But I counted just three bus shelters. And the shelters Denver offers leave much to be desired. Many are dirty and poorly maintained. And most don't offer much protection from the elements at all.
The bus shelter above does a good job of displaying advertisements. But with little more than a back wall, it it's not much of a buffer to snow coming down at two-inches per hour in "sustained winds of 35 m.p.h.," with gusts up to 80 m.p.h.
In Denver, that's on purpose, says Laurie Huff, a spokeswoman for RTD.
"Bus shelter walls are angled not to show ads," she said. "But to provide operators with a clear view of passengers waiting for buses."
In many cities, however, including New York, bus shelters have side walls that protect waiting passengers from wind, weather and road spray.
And who is responsible for Denver's messy shelter situation?
That's a good question.
Among RTD's 10,053 bus stops, it's never clear what organization a given shelter belongs to. RTD installed some. The City of Denver put in others. Property owners and advertising companies own a handful. And the Colorado Department of Transportation has a few, too.
With no single entity in charge of bus stops, it's impossible to hold one person's feet to the fire. (Or dunked in a slushy puddle.)
And how does the city keep RTD's bus routes clear of snow, so that the transit system runs smoothly after a storm?
The Department of Public Works does nothing special to prioritize snow removal along RTD's bus routes. Nancy Kuhn, a spokeswoman for DPW, says their standard procedures focus on the city's busiest streets — and that covers RTDs routes.
"Our priority is the main streets," she said. "That's most streets with stripes."
When asked about the storm that happened in January, when several articulated RTD buses jackknifed, she said that cold weather makes the roads icy, even with treatments intended to melt the ice and provide traction.
"It's a struggle," she said, noting that de-icers do not work well in low temperatures. "When we have single digits and temperatures in the teens, it's just it's just going to be slick conditions."
My tour ended on a hopeful note, however. Just two hours after the snow stopped, the city had cleared some of Denver's protected bike lanes — though not all of them.
---
Better walking. Better biking. Better transit. Support the nonprofit mission of Streetsblog Denver. Give $5 per month.
---