In Denver, the Bus Stops Make Me Sad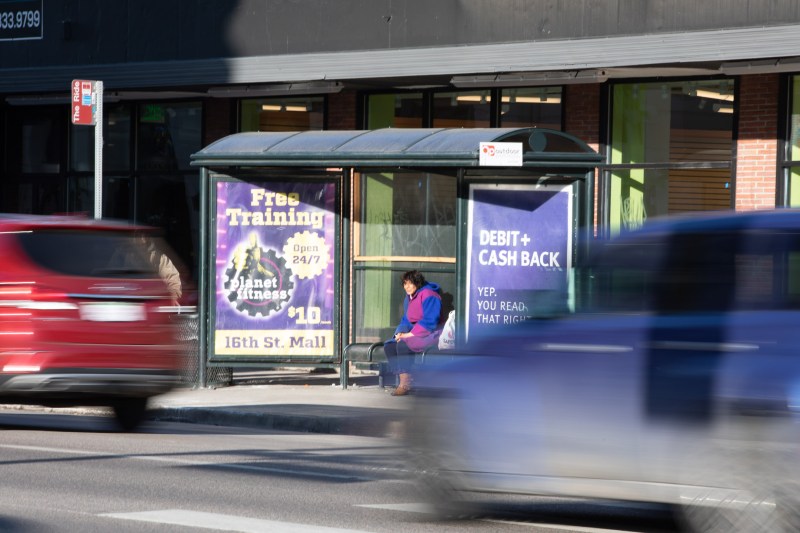 Waiting for the bus in Denver is unpleasant. Personally, I avoid using the word "sucks," but that would be an accurate term for most of city's bus stops. I checked out a few yesterday, this is a quick tour.  
First, Denver's bus stops often aren't much more than a pole with a small sign. Sometimes there's a lonely bench. Shelters are rare.
Often, Denver* puts its bus stops next to wide roads where hundreds of drivers rush past at highway speeds. The traffic  creates a combined whoosh that's so loud, talking to someone standing right next to you requires raising your voice. And while other cities win architecture awards for their bus stops, this city offers bus shelters that are universally ugly. Most that I've found have been badly maintained and dirty, too.
"They cleaned it once," said Liz Ruiz, a ninth grader at 5280 High School, who I met at a filthy bus stop on Lincoln at 9th St. yesterday.
I asked her what she thought about the shelter there, which has scuffed paint, rusty bolts, graffiti and a splotch of chewing gum stuck to one of its beams. It rests over a sidewalk that nobody bothered to clean up after a long-ago coffee spill. Cigarette butts, broken glass and road salt from a now-forgotten snowstorm litter the area. 
"I'm used to it," said Ruiz. "Because I live in a poor neighborhood."
When she said that, what should I feel?
Sad, of course.
I had just come from Union Station and an image of a rail stop there flashed in my mind. I thought about the contrast. The Regional Transportation District gives its mostly white, mostly middle-class light rail passengers a pristine, well-designed platform. But with Ruiz, and her brown and black schoolmates, I looked at the sad stop RTD* gives to the kids at 5280 High School.
The fast-paced traffic makes the stop dangerous, too. Before I left, some of the kids started running, chasing each other around the bus stop. It seemed completely normal— except for how close they were to highway-speed traffic.  
I chose that stop because I often use it when I go to meetings nearby. I stop there when getting my haircut, too. And I knew that on October 6, just two blocks away, a drunk driver caused a crash that killed a mother of four.
After the kids left, I hopped on the 0-bus and went to 15th & Champa for a connection to the 8. A major point for bus transfers, this stop was not on my list of unfortunate stops. But it is definitely unpleasant. (Insert your preferred word).
The stop consists of bench with a garbage can tied to it.
A sign with large "Z" indicates which of three nearby stops you're at. Even that is carelessly misaligned.    
The stop sits in front of two dilapidated storefronts which belonged to businesses closed long ago. Nearby is a neglected parking lot. 
And then there's 15th Street. With four lanes of one-way traffic, like Broadway, it moves uncomfortably fast.
After a few minutes waiting there with the temperature dipping below freezing, I was cold and ready to go. I asked a group of people the usual questions. "Are you waiting for the 8?" "Do you know when it will get here?"
Vaile Price and her friend Jen, who both smiled for pictures, assured me my bus would come. But when asked about the bus stop, Price said it's not a great on rainy or windy days.
"I miss the shelter," she said, adding that they were removed* because people were doing drugs there.
As I looked through my photos, I wondered what Littleton's two RTD stations look like. I've never been, but I they're very different from Price's bus stop.
Next stop: Park Avenue West and Delgany.
This intersection is on an enormous viaduct. It's a hugely expensive piece of infrastructure with nine lanes that carry cars over something you can't quite see. When you're in a vehicle, you just speed over places like this, never knowing exactly where you are or what you're on top of.
But at this place-that-isn't-a-place, there are a pair of bus stops.
As you get off the bus, the view isn't bad: The prairie sky on one side. Denver's skyline on the other. But then you get to the shelter.
Its paint is peeling away. Its seats are rusty, with tumbleweeds, plastic sacks and discarded fast-food cups stuck underneath.
There you find yourself, a pedestrian, a person who feels tiny, standing on this concrete plateau that's who-knows-how-many feet in the sky. You feel like you're at a place where people are not supposed to be. And you feel that way because the cars move at freeway speeds. And they move that fast because the road is designed like a freeway.
Over roughly 20 minutes, a handful of Flatiron Flyer passengers got off there. They walked down an onramp to the neighborhood behind the ballpark.
Getting cold, I hopped on the FF, which was one stop away from the sparkling new Union Station, where I started.
This story is but just a few observations about Denver's bus stops. It revealed a problem that Streetsblog will continue covering. Do you know of an unpleasant bus stop that I should check out? Leave a comment (and maybe a picture) below.
*This story may have implied that the City of Denver or RTD is responsible for bus stops. Actually, a future post will attempt to untangle who is responsible for them, which may include Denver, RTD, CDOT, neighborhood organizations, advertising companies or adjacent property owners.