Lyft Will Offer Denver Public Transit Options in Its App. But Will It Get More People on RTD?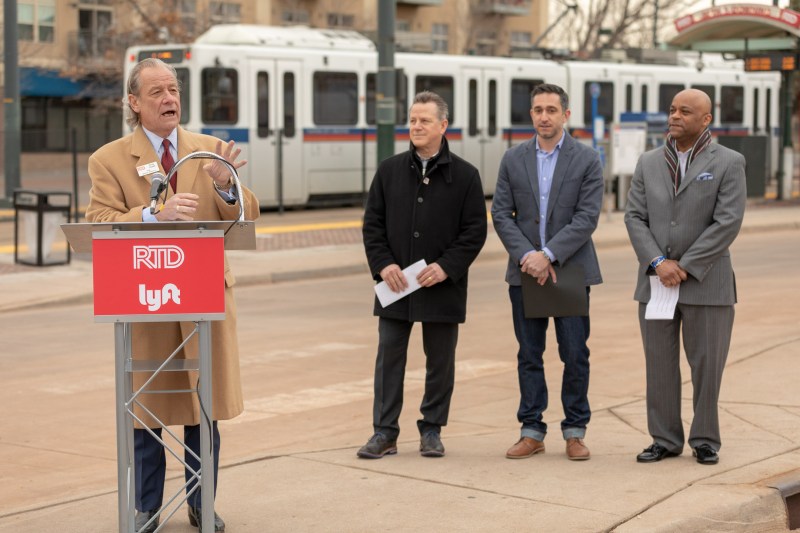 Lyft follows Uber again with a new feature that displays public transit options within its app. But the company's new "Nearby Transit" feature is almost as confusing to use as the Regional Transportation District's hot mess of a mobile app.
Mayor Hancock and officials from the Regional Transportation District and Lyft introduced the new service at a press conference this morning at the Regional Transportation District's 30th & Downing Station. The feature, which will roll out over the coming weeks, will soon allow Lyft users to see nearby RTD lines with real-time arrival information.
"Nearby Transit is a new feature that shows public transit routes and schedules directly within the Lyft app," said Gabe Cohen, the Region General Manager of Lyft Rockies.
The feature is similar to a new service in the Uber app that helps users plan door-to-door trips via RTD. But Lyft's is less useful. To use it, riders face a bewildering series of steps — and it does not offer trip planning.
Perhaps unaware of its usability problems, officials hope the new feature will boost the tiny number of RTD riders who already use ride sharing services to get to rail stations and bus stops. They say it could also help poor and underserved Denverites, especially when paired with "Shared Saver," a lower-priced service the company introduced last month. Very few RTD riders say they connect to transit with app-based mobility options, yet officials hope the new feature will cut the number of cars on Denver's roads . But first, Lyft users have to figure out how to use it.
Lyft's new feature is less useful than other mobility apps, like Google Maps, Transit and Uber. These apps allow users to choose a destination and plan a transit trip, even if it requires making transfers on RTD. But Lyft's transit feature makes little sense compared to how people usually use mobility apps, including its own.
Usually, when you open a mobility app, the first thing you do is enter your destination. But to see transit options in Lyft, you have to resist doing that. That's just not how new feature works.
Using "Nearby Transit"
Open the Lyft App
Do not enter a destination
Look beneath the "search destination" field
The "nearby" section shows options for scooters and transit
Select transit
Nearby bus stops and rail stations show up with each route and its estimated arrival time
Nearby Transit then shows users an overwhelming number of transit options. From Streetsblog's offices near Union Station, 18 transit lines show up. 
But which line (or two) will get me where I want to go?
If you already know the route and direction you need, the new feature might be useful. If not, you should open the Uber, Transit or Google Maps app instead.
One might expect significant design flaws like this in RTD's mobile app, which forces users to navigate a ridiculous number of steps and incomprehensible error messages just to buy a ticket. However, users should expect more from a company whose only product is an app, with many of its 5,000 employees focused on making the product easy and delightful to use.
But Hancock hopes the new feature will help the city reach an aggressive goal to cut the number of people driving solo on the city's streets by 2030.
"Today 73 percent of our residents travel in single [occupancy] vehicles," he said. "We must move at breakneck speed to bring that down to at least 50 percent, if not more in the coming years."
Hancock believes the Nearby Transit feature can help would-be transit riders avoid a long or dangerous walk to transit stops, especially among the poor. As rising housing costs push low-income residents further away from the city center, many move to neighborhoods with less transit service. The mayor suggested that Lyft's service could help these communities.
"If we can we can address the issue of the first/last mile, we begin to provide a level playing field for folks who are accessing transit," he said.
Cohen added that the company offers a new, more affordable pricing option, pointing out that the company already serves more disadvantaged riders than not.
In Colorado, "54 percent of Lyft rides start or end in a low-income area," he said. The company also introduced a lower-priced service called Shared Saver last month. It offers shared rides for a reduced price if riders walk a short distance at the beginning and end of each trip.
Some speculate that when the company issues stock on the NASDAQ exchange, which is expected next month, price rises for all of its services will soon follow. The company lost nearly $1 billion last year on $2.2 billion in revenue, indicating that the company heavily subsidizes each ride. Shareholders often expect tech companies to become profitable within a few years of their initial public offerings.
But even if Lyft remains affordable, its transit feature may not have much of an impact. Less than one percent of RTD's passengers said they use ride-share, car-share or bike-share services to connect to bus or rail lines, according to a survey of nearly 10,000 riders conducted in the spring of 2017.
Lyft offered numbers that paint a rosier picture about how it reduces car dependency and increases transit ridership, though they may be consistent with RTD's survey results.
"Lyft's 2019 economic impact report shows that 53 percent of vehicle owners in Colorado use their car less because of Lyft," said Cohen. "We also know that 21 percent of Lyft passengers already use public transportation more frequently, because they can rely on Lyft to help get to that first and final mile."
Denver is the only city where Lyft now offers all of its different pricing options and features, a point Mayor Hancock appreciates.
"I am proud that Denver is the first in the nation to deploy [Lyft's] full suite of options," he said. Denver is the first city where Uber offers transit directions within its app. 
The Nearby Transit feature is also available in Boston, Chicago, Los Angeles, Santa Monica, Seattle and Washington, DC.
---
Better walking. Better biking. Better transit. Support the nonprofit mission of Streetsblog Denver. Give $5 per month.
---