Hancock Lays Out Goal to Double Transit, Biking, and Walking By 2030
It's a good target, but Denverites have heard promises like this before. The question is whether the mayor will follow through and reshape city streets so more people can get around without driving.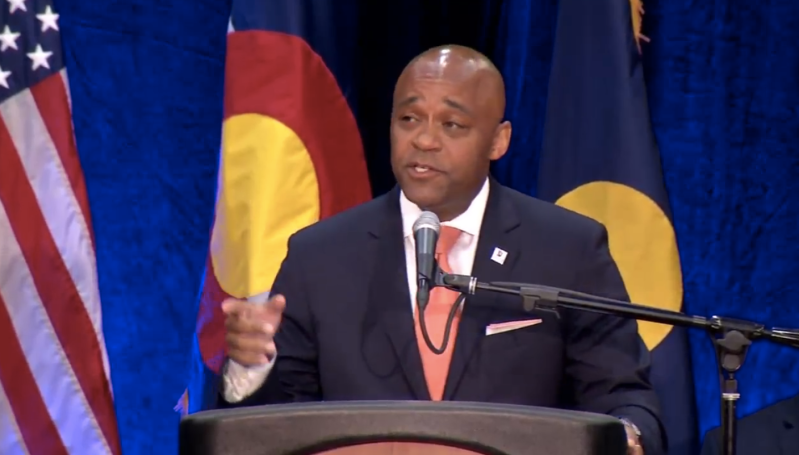 Today Mayor Michael Hancock announced Denver will aim to double the share of commutes by transit, biking, and walking by 2030 by investing in a $2 billion "mobility action plan." The plan aims to reduce the share of commutes by solo driving from 73 percent to 50 percent over the same period.
If Hancock follows through and achieves these goals, it would be a major shift. City transport investments have prioritized driving for decades, leaving transit, biking, and walking in the lurch. That's why only around 14 percent of commuters walk, bike, or take transit to work today, and solo car commuting is still on the rise.
"[Solo driving] is something that we really all have to agree to work to reduce in our city," Hancock said in an interview with Streetsblog. "In order to do that, the city has to make sure that people have choices. And that means our infrastructure must be built out so those choices can be exercised, and that's really what our mobility action plan is all about."
The goal is not to force people out of their cars, Hancock said in today's State of the City address. It's to give people attractive options other than driving — or, as the mayor put it, to offer "mobility freedom for all," including people who can't afford cars or are too young or old to drive.
To make good on the city's mobility agenda, streets will have to be redesigned to prioritize buses, bikes, and pedestrians. A new, stand-alone Denver transportation and mobility department, announced last week as part of the plan, should accelerate those projects.
Monday's announcement is a high-profile message from the mayor that the city's transportation status quo has to change. But Denverites have heard similar promises before. There's a long list of plans and mobility initiatives that have been drawn up but have yet to make a dent in Denver's cars-first transportation system. The city already has a stated goal of lowering solo driving to 60 percent of commute trips by 2020, for instance, but likely won't come close to achieving that target.
Hancock insists this time is different. "At the end of the day, you have more of a focus and a priority on transportation," he said. "Administration after administration has had different plans, but we haven't grown at the clip we've grown at in Denver up until now." Denver's growth — and the need to avoid a scenario of ever-rising levels of car traffic — has provided the "impetus and motivation" to accelerate the implementation of transit, biking, and walking improvements, Hancock said.
The action plan is short on implementation details. It does say the Denveright planning initiative will help achieve the city's mode share targets, and hints that Denver will pay RTD to add bus service on at least five major streets. Beyond that, the document doesn't say much that's actually new — it's mostly a high-level funding strategy.
Hancock said he'll allocate more money for transport from the city's general fund — $27 million more per year, on top of the $75 million currently budgeted annually, according to the Denver Post's Jon Murray. About a quarter of the $2 billion will come from a transport-focused bond measure, should voters approve it in November. Rethinking the low price of on-street parking meters, which induces traffic, is also in the cards, the mayor said.
That leaves a funding gap of $350 million, and it's unclear exactly where that will come from.
Part of Hancock's plan is to aggressively pursue state and federal grants. At a time when cities are increasingly turning inward to fund transport, Hancock said the state and federal government "should not and will not be let off the hook."
With the Trump administration indicating that it wants to gut transit funding, federal and state support is far from assured. However, Hancock said he felt reassured after meeting with administration officials about infrastructure funding. "They're not talking particulars in terms of what they're not supporting," he said. "At the end of the day… it's gonna be up to the cities and the states to determine where we want to put those investments."
The funding unknowns will have to be settled another day. Right now, Hancock has given the city a solid target to aim for with its transportation policies. The question is whether he'll follow through and give transit, biking, and walking sufficient real estate on city streets to turn around Denver's car dependence.