Report: Denver Transit Riders Switch to Cars as RTD Fails to Get the Basics Right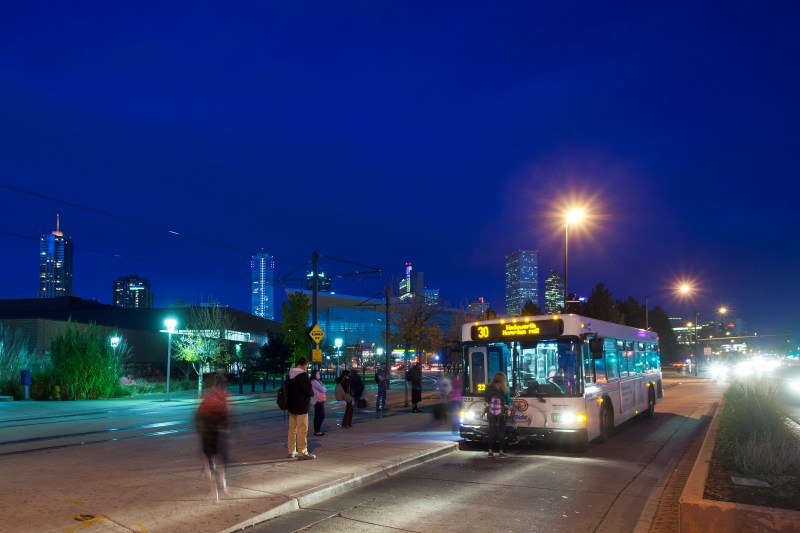 Disclosure: Transit Center, the foundation that produced the survey covered in this story, provides funding to Streetsblog Denver.
Regular transit riders are giving up on Denver's buses and trains and hopping into road-clogging cars instead, according to a new survey.
The Regional Transportation District keeps passengers waiting too long and its routes fail to go to the places where most people want to go, according to Transit Center, the foundation that asked riders about their experiences in seven cities in a report titled "Who's on Board."
"Transit can't get them to where they need to go," says Mary Buchanan, one of the researchers who looked at Denver. "It's faster or more reliable for them to drive."
Elsewhere in the country, some cities are growing transit ridership. But last year, RTD's boardings fell to 97.5 million, according to the agency. Despite a rapidly growing population, ridership has declined steadily since 2014 when riders took nearly 6 million more trips. Regular RTD riders used transit 30 percent less on average compared to two years ago, according to the Transit Center survey. But Denver is not alone: Ridership is declining in other American cities, too.
"Unfortunately that's a trend across the nation," says Pauletta Tonilas, the head of communications at RTD.
Reasons cited for the decline include cheap cars loans and lower gas prices, which makes driving less expensive. Uber, Lyft and scooters offer new mobility options. And people priced out of urban centers are moving to places with less transit.
But these explanations amount to excuses according to Transit Center.
"Gas and cars are cheap in Seattle, or Columbus, Ohio, or Houston," says David Bragdon, executive director of the organization. "But these are places that are either holding ridership steady or even increasing ridership."
In the cities where more people are riding trains and buses, officials focused on creating networks that often travel to the places where the most people live, work and play — often by creating rail and bus connections that complement each other seamlessly.
But since 2004, Denver invested billions in a regional rail network that extends far into the prairie, often stopping in sprawling towns that never wanted public transit in the first place. Meanwhile, RTD and Denver have not expanded service where it's needed most, often catering to political realities instead.
"If you're interested in ridership, you should be interested in where people are and where they want to go," says Bragdon. "A transit plan that's drawn to appeal to the voters in a ballot measure is not the same thing as a transit plan that's designed to really serve lots of riders."
RTD's current focus on suburban-to-downtown trips means that most of its riders use the system to commute to work and for no other reason. Only eight percent of people who ride RTD use it as their primary form of transportation all the time, says Buchanan.
"It really sticks out," she says. "This neglect of core bus service in Denver is inhibiting RTD from retaining riders."
RTD says it plans to address these issues. It is studying places where it could add bus rapid transit service, the "surface subways" where buses have dedicated lanes and stations with easy-to-board platforms like subways.
Later this year the agency will also start a top-to-bottom assessment of its bus network.
"The bus system is the workhorse of the agency and we have a responsibility to look at how we design [it] for the future," says Tonilas. "We will come out of it with a better picture of what our bus system of the future should look like."
Denver has a role to play, too. Its streets and traffic signals should be designed to move buses faster. It should make bus stops easier to walk to. And it must come up with the cash it would take to fund the high-frequency network it proposed in its Denveright planning process, says Bragdon.
"That's what Seattle does," he says. Like Boulder, the city of Seattle pays the regional transit agency to provide a higher level of service within its city limits. "The suburbs get one level of service commensurate with their needs, and then the city has a higher level of service."
According to the survey, just 35 percent of RTD's riders continue to rely on the system in the same way they did two years ago. The passengers who abandoned or decreased taking the system's buses and trains total 44 percent. But only 13 percent of the people surveyed left transit altogether, which means that most riders could be brought back to RTD if the agency, and the City of Denver worked to address the fundamental issues that make transit useful.
"Transit riders want reliable and frequent service in Denver," says Buchanan. "They don't want to be waiting for the bus forever."
Read more on the survey at Streetsblog USA: How Can Transit Agencies Win Back Their Riders?
---
Streetsblog is free to all. But we can't do it without you. Give $5 per month.
---