RTD's Robot Bus Launch: A video, 7 Pics and Mayor Hancock's Selfie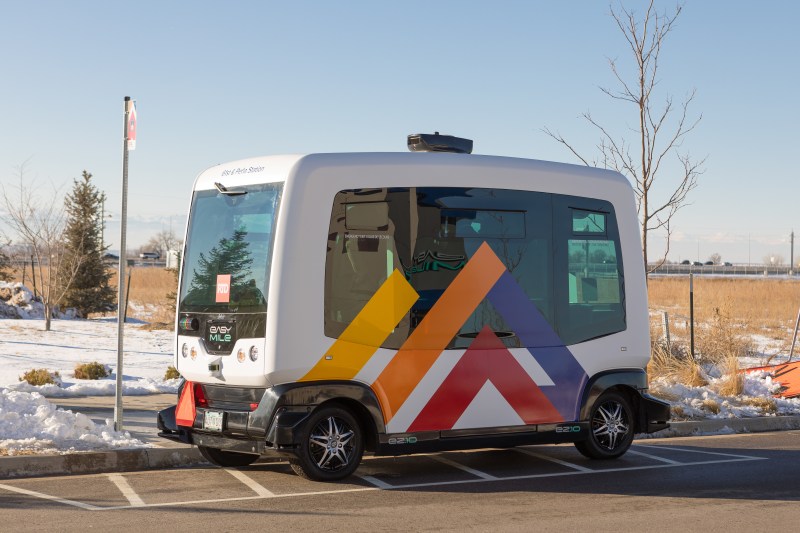 Yesterday, the Regional Transportation District kicked off the first-ever passenger service on a driverless electric bus in Colorado.
The little, futuristic-looking bus will carry up to 12 passengers at a time along RTD's newest route, the 61AV. It will originate at the Peña Boulevard transit station, go to a Park-n-Ride facility and hit three stops within the sparse Panasonic "smart city" campus near DIA. Rides will be free during the six-month trial period. Service will be every 15 minutes.
[Read more: Ride the Robot Bus: RTD Denver Will Launch a Driverless Shuttle Next Week.]
After a ribbon cutting ceremony, Denver Mayor Michael Hanccock was among the first to ride RTD's newest route, the the 61AV.
The vehicle, which is part of a six-month pilot project, will not be useful to many people as it circulates around a virtually empty tract of land near Denver International Airport. But the new mobility option could one day get people out of cars and onto buses and trains by connecting transit stops to destinations too far to walk.
"We're excited to see how driverless technology will work in Denver and to embrace new, innovative and better mobility options to move more people and improve travel for residents and visitors alike," Mayor Hancock said in a press release.
The robot-bus drives on city streets. Video: Denver Department of Public Works.
EasyMile, which makes the autonomous vehicle, says it has been tested over 200,000 miles in 22 counties and transported over 320,000 people with no accidents or injuries.
---
Get Streetsblog Denver's round up of daily transportation headlines delivered to your inbox. Sign up for our daily e-mail digest.