Ride the Robot Bus: RTD Denver Will Launch a Driverless Shuttle Next Week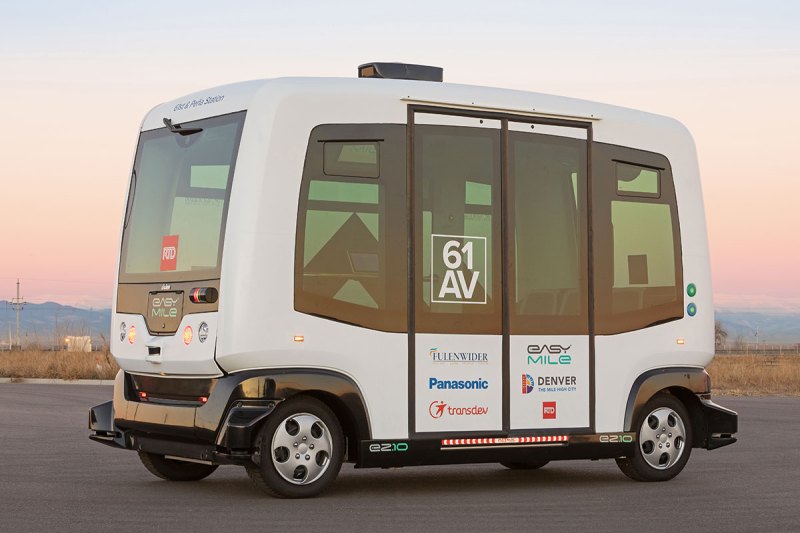 Starting next Tuesday, you will be able to hop off of the Regional Transportation District's A-Line train and into an automated electric shuttle. The vehicle, which is part of a pilot project, will not be useful to many people as it circulates around a virtually empty tract of land near Denver International Airport. But the new mobility option could one day get people out of cars and onto buses and trains by connecting transit stops to destinations too far to walk.
"The 61AV project … will introduce an autonomous vehicle on a public roadway through a pilot program as a possible first-last mile solution for transit riders," says RTD.
The little, futuristic-looking bus will carry up to 12 passengers at a time along RTD's newest route, the 61AV. It will originate at the Peña Boulevard transit station, go to a Park-n-Ride facility and hit several stops within the sparse Panasonic "smart city" campus near DIA. Rides will be free during the four- to six-month trial period.
The bus does not have a steering wheel or traditional brake pedals, but RTD says the technology is safe, even during this test period.
"The vehicle is constantly collecting, storing, and analyzing data from lasers, cameras, GPS [and other sensors] to operate safely in a predetermined environment," says RTD. "These vehicles have been operated in over 22 countries for over 200,000 miles and serving over 320,000 passengers – all with no accidents."
To prevent potential collisions, a human "safety ambassador" will always be aboard the vehicle as it navigates city streets on its own.
RTD hopes that shared autonomous vehicles like this could one day help it solve the "first/last mile problem," where potential transit riders choose to drive instead because bus and rail stops are not within walking distance from the places where they start or end their trips. In Denver, 73 percent of all trips happen in a car carrying just one person.
In this case, the shuttle connects rail and bus service to what the Japanese electronics company Panasonic calls Peña Station NEXT, a 400-acre site where the company tests how new technologies can improve cities. Today there is just one building there, but the company plans to build a larger neighborhood that will include 250 units of housing.
RTD partnered with several public and private organizations for the project. The French company EasyMile makes the vehicle; Transdev, a bus company, will operate the service.
The schedule for the 61AV route is available on RTD's website.
Support the nonprofit mission of Streetsblog Denver. Give $5 per month.