Suddenly Facing Competition, B-cycle Hires Former Car2go GM to Run Bike-Share Nonprofit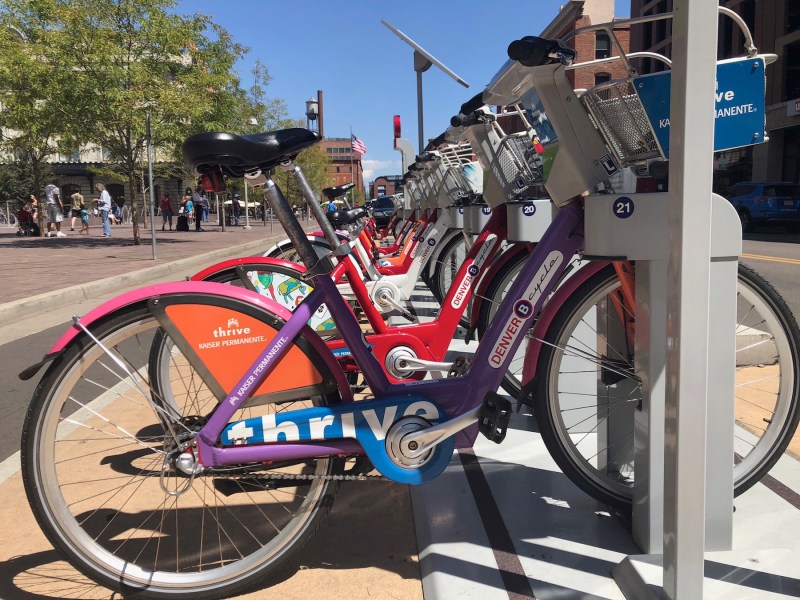 Former Denver general manager of Car2go Michael Pletsch is now running Denver B-cycle, the city's eight-year-old bike-share system, the nonprofit announced last week.
Pletsch takes over the executive director role from Nick Bohnenkamp, who announced his departure in April.
Pletsch, who headed local operations at the car-share company from 2013 to 2017, will helm B-cycle at a pivotal time for traditional, station-based bike-share models. The arrival of app-based, free-roaming bike and scooter rentals backed by venture capitalists means B-cycle faces competition that didn't exist even a few weeks ago.
Jump, a dockless and electric bike-share system owned by Uber, launched earlier this month. Lyft and Zagster aren't far behind. Those companies will combine for 1,150 bikes, compared to B-cycle's fleet of 737, by the first quarter of 2019, according to Denver Public Works.
"It's an exciting time for sure," Pletsch told Streetsblog. "And for now, no plans for a knee jerk reaction. With a landscape this dynamic we need to see how it all unfolds."
Competition comes from scooter-share companies, too. Denverites have been quick to adopt the zippy vehicles for daily trips. Between Lime, Bird, and three other companies looking to enter the market, we can expect nearly 1,750 scooters on city streets by the end of the year.
B-cycle's ridership fell for the fourth straight year in 2017 and has never enjoyed the success of super systems like Citi Bike in New York, where stations are ubiquitous and close together. The Denver nonprofit's annual report says it aims to deploy a fleet of "a few thousand bikes" with GPS and app-enabled locks, and "hundreds of hubs." But unlike the venture capital-backed companies, B-cycle doesn't have a seemingly bottomless well to pull funding from.
What the company does have is reliability, said Pletsch. Spin, Lime, and Ofo pulled out of Aurora after less than a year, leaving riders in the lurch. The dockless companies are getting a lot of attention now, but big uncertainties remain over whether their systems will attain profitability and outlast the initial burst of venture capital.
"We have the history of serving the Denver community with a reliable operation and will continue that," Pletsch said. "We have great sponsors and partners so going forward we will continue to work closely with the city to help them meet their mobility and sustainability goals."
B-cycle receives annual city funding — $400,000 this year, good for about a fifth of its total budget. If city officials wanted to, they could invest in a B-cycle expansion to provide better service to more riders in more neighborhoods. The Denver City Council made the verbal commitment years ago, but hasn't met it. Either way, Pletsch said the company will adapt.
"The shared economy landscape is ever changing and we continue to look at new technology to determine what is the best solution for the next iteration of 'us' within the community," Pletsch said.