Uber Launches Jump, a Dockless and Electric Bike-Share System, in Denver
The 250 electric-assist bicycles will share the road, but they're technically banned from Denver's trunkline trails, at least for now.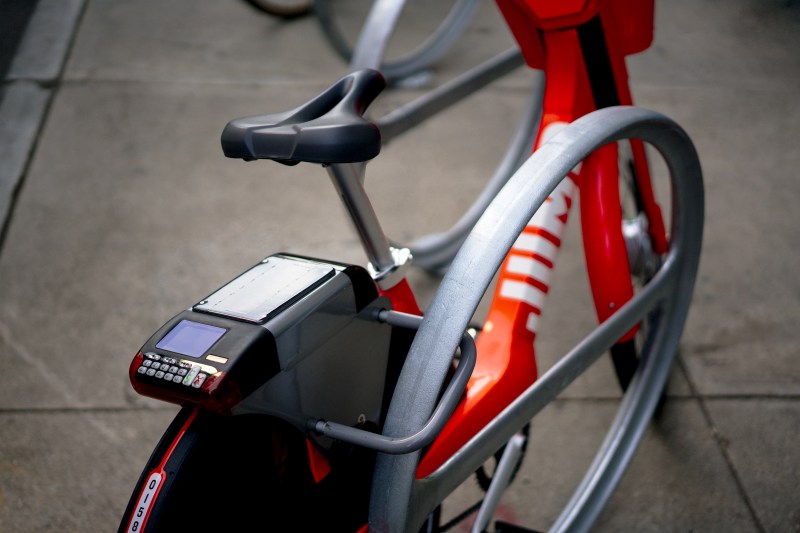 A new bike-share company hit the streets just after midnight.
It's called Jump, and it's a dockless system, meaning riders rent bikes through an app and can roam around without being tethered to stations. Uber owns Jump, which has a starting fleet of 250 bikes that can be checked out downtown and and in surrounding neighborhoods, but not citywide.
These bikes come with an electric boost that tops out at 20 mph. There's no throttle — you don't press a button and blast off. They're "electric assist" bicycles — you pedal to activate the boost, which helps riders push up hills and haul groceries more easily, or ride further without sweating as much.
"If you're a mom or a dad and you want to start biking your child to school, but it's just a little far, what a perfect solution to that issue," said Piep van Heuven, Denver director of Bicycle Colorado. "If you want to do the grocery shopping, but it's heavy or a little too far away, now all of a sudden instead of the perfect distance for your bike trip being two miles, maybe it's five."
E-bikes are allowed on Denver roads and in bike lanes. But they're technically banned from park trails like the Cherry Creek Trail and Platte River Trail, important pipelines that whoosh people on bikes around the city.
That rule could change pretty soon, according to Leslie Twarogowski, who sits on the Denver Parks and Recreation Advisory Board. Parks and Rec Executive Director Happy Haynes is looking at changing the regulation to catch up with people's habits, Twarogowski said. Haynes will assemble a committee to review the current rules.
"Until recently, electric scooters and e-bikes have been considered a novelty, a 'toy,' as far as parks regulations are concerned," Twarogowski said. "Now, as the public starts to use them for commuting, as viable last-mile solutions, it's time to take a fresh look at our regulations."
Jump is in seven other American cities with fleets of various sizes. Dave Nelson, the company's general manager, want to see Denver's fleet grow beyond 250. For comparison, Denver B-cycle has 737 bikes, though it covers a larger area.
"I'm very optimistic they will be used and we're poised to launch more vehicles as the demand increases," Nelson said. "Our supply chain is something where we don't have an unlimited number of bikes."
The bikes cost $1 to unlock and the first five minutes are free. It costs 15 cents a minute after that. Most people will access the bikes with a smartphone and a credit or debit card, but Jump has memberships for low-income residents at $5 per month and 60 minutes free per day, a spokesperson said. People without smartphones can access bikes as well, after calling or emailing the company.
Jump won't serve a lot of neighborhoods outside of the core, either (see the above map). While users can ride outside of the service area, they'll have to return the bikes to within the boundaries or face a $25 fine (after the second offense).
Jump riders have to park the bikes near a bus or train stop as laid out in Denver Public Works regulations created last month. The bikes also have locks that can be fastened to bike racks.
Here's another interesting bit: Uber, a company, that adds traffic and pollution to cities according to local and national studies, is selling Jump as a way to replace ride-hailing trips — a complement to their car service.
I asked Nelson how Uber can reconcile running a bike company that depends on bike lanes, while running a car company that consistently blocks them.
"From my perspective, we see this on the Jump side as an opportunity," Nelson said. "We realize there is a problem on the driver side and we've been working with the teams on how to best respect the local laws." He didn't get much more specific, but advocated for designated drop-off and pick-up zones.
Jump is Denver's third major bike-share company. Ofo, another dockless service, launched earlier this year, but it's only available to University of Denver students and staff.
This article was changed to include information on Jump's low-income membership.