Blind Spot on Brighton Blvd: Sidewalks Too Narrow While Cars Feast on 4 Lanes, Parking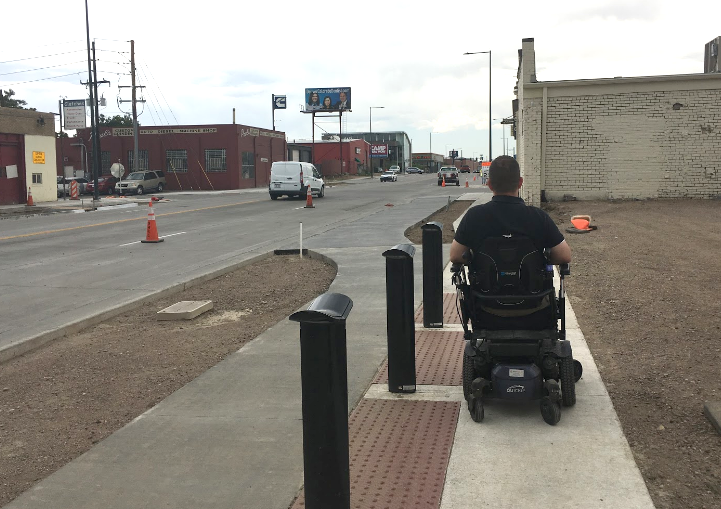 This column is part of Streetsblog Denver's Summer Reader Takeover, where we give you a platform to talk urban transportation. The author's views don't necessarily reflect those of Streetsblog Denver.
The facts on the new Brighton Boulevard are promising for its transformation from a street for cars to a street for people. When construction is complete, Brighton will have 2.6 miles of brand new sidewalks, a separated cycleway for people on bikes, and new traffic signals and medians to make crossing the street safer for people walking.
In reality though, it's clear after walking the new corridor that the City and County of Denver made serious trade-offs in pedestrian transit so Brighton could have four lanes of car traffic and parking.
I asked my friend Chris Hinds, who uses a wheelchair, to join me for a tour of the corridor so we could put the new pedestrian infrastructure to the test. Some sidewalks were so narrow that we couldn't travel side by side and have a conversation. Others didn't allow enough room for people to pass. Some sidewalks were so cramped, Chris's wheelchair barely fit. And several sections did not seem to comply with the sidewalk widths mandated in the Americans with Disabilities Act.
Narrow sidewalks are not only a problem for people walking and rolling down Brighton. The corridor's new sidewalks and raised bikeway are usually configured one of two ways: Either the sidewalk and bikeway abut each other, or are physically separated by landscaped trenches.
As Chris and I traveled, people walking in the opposite direction chose to exit the sidewalk entirely to get out of our way. Since there was not enough room for people to comfortably pass on the sidewalk, they naturally stepped into the bikeway to avoid other pedestrians. Where people were walking in the bike lane, we witnessed bicyclists leaving to ride in the street, defeating the purpose of the dedicated bikeway entirely.
In one of the most restricted sections for pedestrians and people riding bikes, the sidewalk and bikeway are separated by about two feet in height and temporary fencing. One of the people we encountered traveling in the opposite direction chose to walk down below on the bikeway rather than navigate the sidewalk with her companion.
The Hancock administration, business owners, and advocates are celebrating Brighton Boulevard as a triumph of complete streets, and in many ways they are right. This is a huge win for complete streets, with dedicated space for people walking, biking, and waiting for transit. However, it is clear that the walkability aspect of Brighton was sacrificed to keep Brighton a place for cars above all. People who walk and bike should not have to fight for space on such a wide street.
The city is not living up to its promise to make the Brighton Boulevard area "a safer, more walkable, and engaged community." Instead the redesign guarantees conflicts between people walking and biking and fails to give people the space to truly engage with one another.
Jamie Perkins lives in Capitol Hill.