Denver Officials to Celebrate (Unfinished) Brighton Blvd Transformation Today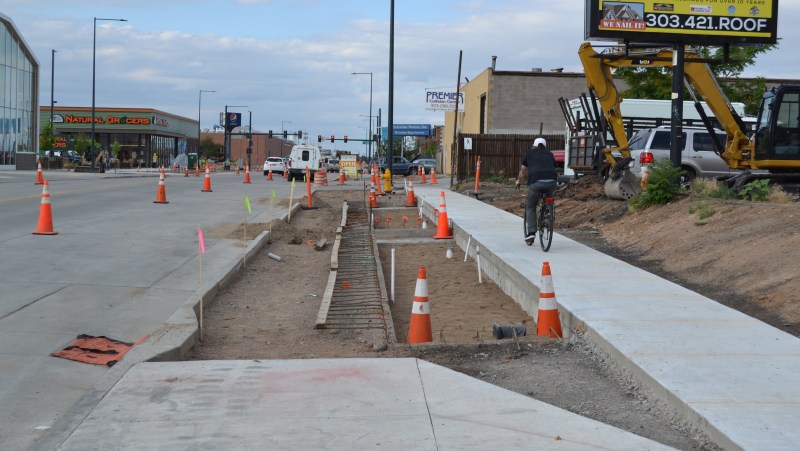 This afternoon, reps from the Hancock administration and elected officials will cut the ribbon at the "Brighton Boulevard Grand Opening."
The Brighton Boulevard bikeway is the most significant piece of bicycle infrastructure since Denver's first parking-protected bike lanes were installed back in 2015. The $41 million overhaul represents a commitment from Mayor Michael Hancock to build streets that prioritize walking and biking.
It's a great project worth celebrating — a gleaming new bikeway, wide sidewalks where there were none before. If you live or work in River North, you'll love it… when the project is actually complete.
From the looks of things, the Brighton Boulevard redesign has at least several weeks to go. By all means, enjoy the block party at 35th and Brighton after the grip-and-grin — local businesses have endured 20 months of construction and could use the foot traffic — but you may want to adjust your expectations.
While the roadbed looks more or less ready, the sidewalks and bikeway still have significant gaps on both sides of the street. The 2.6-mile stretch between 29th and 44th streets does not have a continuous walking or biking path.
The finished pieces look very promising, but for now, those pieces are disconnected and people are still navigating dirtwalks next to traffic:
Also: Don't expect to find the 100-plus benches for bus riders and other people who want to take a seat, or any of the 400 trees that will eventually provide shade. They're part of the plan, but they're not there yet.
So it's a little premature for the mayor to claim "mission accomplished."
The city has faced tons of pressure from River North business owners to finish the project, which broke ground 20 months ago and at one point was expected to finish in 2017. That's the reason for jumping the gun with a victory parade, Denver7 reports.
We'll have full coverage of Brighton's makeover when it's truly finished. Until then, salivate while watching this flyover video and read up on what's to come:
2.6 miles of sidewalks where none existed before, with pedestrian refuges at wider intersections
A 2.6-mile raised bike lane, protected by parked cars for about 25 percent of its length, with turn boxes at intersections
A pedestrian-only crossing at 33rd Street with a pedestrian hybrid signal to direct drivers to stop for people crossing
More than 100 benches
New traffic signals at 29th and 35th streets (29th is in place and will be upgraded with bike signals)
Narrower, 10-foot lanes to reduce dangerous speeding
More than 400 trees that will narrow the street visually and calm traffic