News Digest: Two Weeks of Urban Transportation Happenings in Denver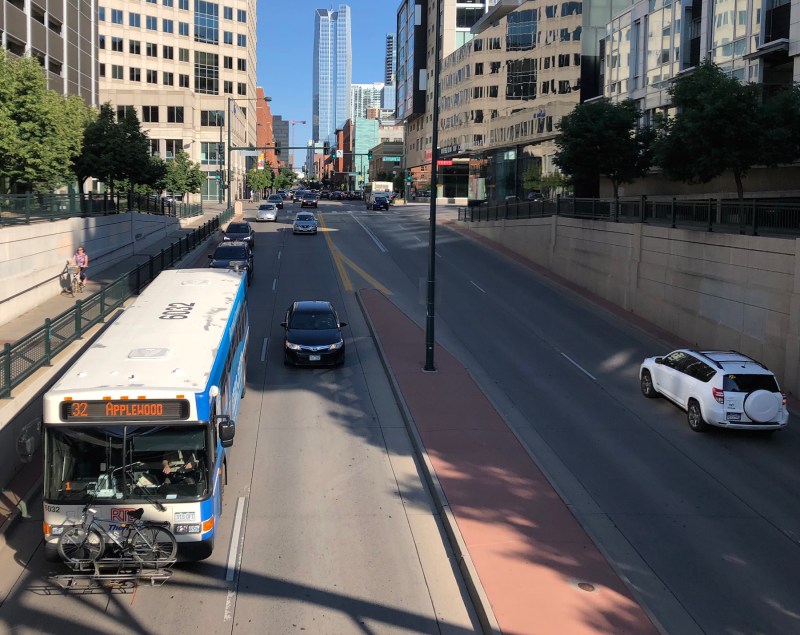 Streetsblog Denver is back after a vacation hiatus. While away, motorists killed people, the mayor made bike lane promises (so did his streets department), and the RTD election slate crystallized.
Here's a review.
Drivers killed two people walking, injured three more
Motorists killed two people walking between July 10 and July 25, according to the Denver Police Department.
Last Friday a driver killed a person walking near the 4600 block of N. Elm Ct. Last Saturday, a motorist struck and killed someone walking on I-25 near Park Avenue before driving away. Streetsblog will have more information on the identities of the victims and motorists next week.
Drivers seriously injured three people walking and one person biking on city streets between July 10 and July 25. One person in a car was killed over that stretch.
Mayor Hancock makes more promises

On July 16, Mayor Michael Hancock spent four minutes of his 42-minute State of the City speech talking about transportation.
The mayor endorsed free-roaming bike-share and scooter-share as "the next phase of shared mobility," talked up the city's nascent neighborhood sidewalk maintenance program, and urged the Regional Transportation District Board of Directors to adopt a new price structure that would give low-income residents a 40 percent discount and provide free transit for kids 12 and younger.
None of those things constitute news. But Hancock made a promise that does: Building 125 miles of bike lanes over the next five years.
If the mayor's streets department actually delivers, that would mean an increase of 11 miles per year over the city's current pace, according to DPW statistics [PDF]. Denverites have reason to be skeptical given the lackluster pace of new bikeways combined with the sorry state of maintenance on existing ones (see below).
In his speech, Hancock reiterated support for safety fixes to Federal Boulevard and Colfax Avenue, but rested those hopes partly on the shoulders of voters.
"And if voters this fall approve a statewide transportation measure — and we hope you will," Hancock said, "that would give us additional funding to get more aggressive in making major congestion and Vision Zero-focused safety improvements to major corridors like Colfax and Federal."
The mayor also announced a hyper-local initiative to calm traffic via the Neighborhood Transportation Management Program.
"City crews will be walking neighborhoods with residents and working together to immediately fix what needs fixing," Hancock said. "It could be replacing a stop sign at an intersection, improving a neighborhood bikeway, or addressing potholes and curbs." DPW will start with Sun Valley and West Colfax, according to the mayor.
Denver Public Works responds to rotting bike lanes
After some public shaming that revealed Denver Public Works' incompetence when it comes to maintaining bike lanes, the streets department responded with a more concrete timetable for fixing and replacing the missing infrastructure.
Eight days after Streetsblog reported the problem, KDVR, the local Fox affiliate, picked up the story. DPW spokesperson Nancy Kuhn sent this email the next day:
Estimated time frames for installation of protected bike lanes downtown:

Week of 7/22: Arapahoe Street, Speer to Park Ave (striping and bollards)
Week of 7/22: Stout Streets, 19th to Park Ave (striping and bollards)
Week of 7/29: Champa Street, Speer to Park Ave (striping and bollards)
Week of 7/29: Lawrence Street, Speer to Park Ave (striping and bollards)
Twenty-third Avenue, which has gone months without bike lane stripes after getting repaved, will be repainted the week of August 5, Kuhn said. Each stretch will take about a week to complete, weather permitting. Kuhn added vaguely that DPW is "working to make future improvements to shorten the time frames between paving work and protected bike lane reinstallations."
Eighteen RTD candidates throw hats into ring

The deadline to register as a candidate for the RTD Board of Directors has passed, and 18 candidates will try to fill seven open seats this November, reports Colorado Politics.
Five of those seats — districts B, C, K, L, and N — are competitive. Districts J and O each have just one candidate running. Check which district you live in on this map.