Denver Public Works Is Letting the City's Bike Lanes Rot
Hard-won improvements to the bike network have gone missing for weeks at a time because the city hasn't restriped bike lanes after paving projects.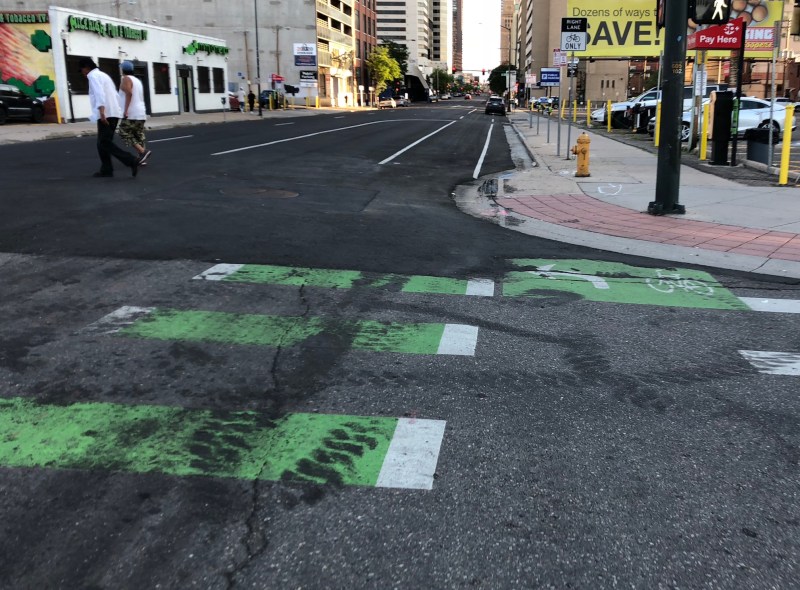 Maybe no one told Mayor Michael Hancock that it's okay to bike commute wearing work clothes before he threw on some Spandex for a Bike to Work Day photo op last month. It was a trivial display of solidarity from a mayor whose streets department can't even keep the city's meager bike network in good condition.
If Hancock biked to work more than one day a year, he might notice that Denver Public Works has let several bike lanes go to seed, removing protective posts from some of its bike lanes and neglecting to restripe others after a repaving.
These are not minor hiccups. Some of the city's most important bike routes have been rendered useless for weeks, and in some cases more than a month has gone by without DPW restriping bike lanes on fresh asphalt. The bike map depicts a network that simply doesn't match reality right now.
In an email, DPW spokesperson Nancy Kuhn blamed the delays on coordination with contractors and the complexity of protected bikeways "compared to a simple striped bike lane." This from the city department that brags about filling every single pothole within three days of a complaint.
It's not a good excuse. It takes days, not weeks or months to stripe a bike lane or put down some plastic posts. Whatever system is in place to follow up a paving project with bike lane markings needs to be improved immediately. It's time to flood 311 to get these lanes fixed, if you haven't already. (Tweet or email us if you spot others).
The 23rd Avenue bike lane is straight up gone
So much for "complexity." This is just a simple, striped, unprotected bike lane. It's been more than a month since DPW paved 23rd Avenue east of Colorado Boulevard. The bike lane still hasn't been repainted.
The Arapahoe Street "bike lane" isn't protected anymore
One of Denver's first parking-protected bike lanes, on Arapahoe Street, is gone.
The correct markings for the bike lane, let alone the green bike markings and plastic posts to keep cars out, are nowhere to be seen on most blocks. In their place are some errant and confusing white lines.
Arapahoe is especially dangerous east of Broadway, where a contraflow section of the bike lane is supposed to enable people to bike safely against car traffic. Bollards and markings are still missing here.
The Lawrence Street bike lane isn't doing much better
The Lawrence Street protected bike lane opened at the same time as the Arapahoe Street lane to great fanfare. When they were new, both lanes attracted lots of bicyclists. But three years later, Lawrence is missing almost all of its plastic posts and some pavement markings. It's nowhere near as good as it used to be.
Kuhn said DPW staffers "anticipate" reinstalling the Lawrence and Arapahoe Street bikeways by the end of July, but there's no hard date.
Squiggly spray painted lines on Stout
When it was first conceived, the Stout Street bike lane was supposed to be physically protected from traffic with a row of parked cars for its entire length. Those hopes were dashed when DPW watered it down after the city caved to NIMBYs.
Now riders are dealing with a joke of bikeway with intermittent striping and no protective bollards. Instead of legitimate street markings, it looks like a 4-year-old spray-painted the bike lane back on after a repaving.
Motorists have reverted to parking right up against the curb, as they have on most of these bikeways.
Champa Street's missing pavement markings
For weeks, Champa Street was a complete mess, with the bike lane totally missing. It's less of a mess now, but it's still missing pavement markings.
Champa and Stout may return to normal by the end of July, Kuhn said, or maybe August. Who knows?!
While other cities are adding more and better protected bikeways, DPW is letting Denver's bikeways deteriorate. Despite their simplicity and low cost, these bikeways take an inordinate amount of time, advocacy, and political energy to build. After all that effort, Denver is showing that maintaining its bike network just isn't a high priority.