Denver Public Works Clearing a Path for Dockless Bike-Share, Scooter-Share Companies
The rules are still in development, but the city says companies will be able to apply for permits on June 29.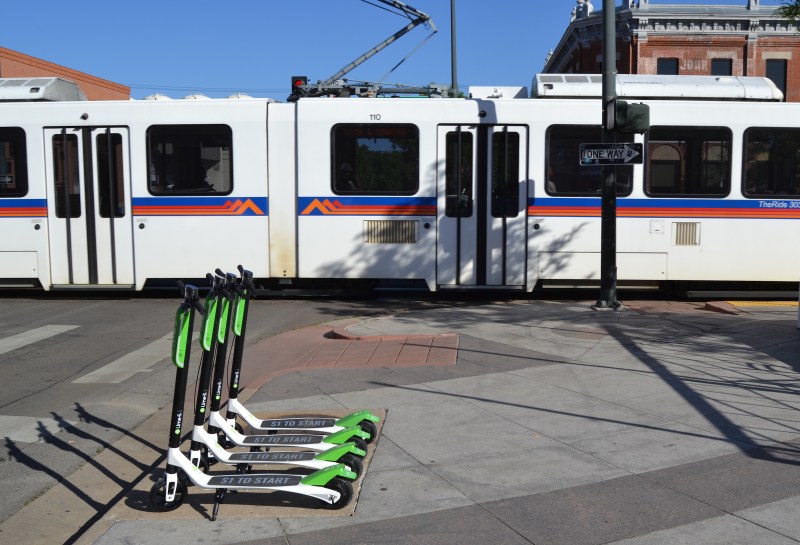 Denver Public Works will let dockless bike-share and scooter-share companies operate on city streets under a new set of rules, the agency announced in a statement late Friday.
Details will be "determined in the coming weeks," according to DPW spokesperson Nancy Kuhn, though she said companies will be able to apply for permits on June 29.
DPW will "develop a pilot program that would allow for the operation of dockless mobility technology in Denver (including but not limited to dockless bicycles and e-scooters) in a way that respects our public spaces and meets Denver's mobility goals, as outlined in the city's Mobility Action Plan," Kuhn wrote.
In light of the path to legalization, Lime announced Monday that it will remove all of its scooters from the streets.
After Lime and Bird deployed hundreds of their small free-floating vehicles around the city late last month, DPW is scrambling to create a regulatory framework for them. People immediately took to the scooters, but neither company got permission to launch and the Hancock administration wasn't ready.
DPW, concerned about scooters impeding movement on sidewalks, began confiscating them, citing a law that forbids storing private property in the public right of way (funny how we've made room for the storage of huge quantities of spatially inefficient cars on the public right of way, but can't squeeze in the much less obtrusive scooters).
People are allowed to ride the scooters on sidewalks, but at a max speed of 15 mph, they're better suited for the roadbed. If only Denver's streets had a complete network of streets safe for vehicles traveling at 15 mph.
Expect fees, caps, and data agreements
DPW will probably take cues from other cities that have set up regulations limiting fleet sizes, imposing operating fees, and requiring data-sharing.
San Francisco legalized the scooters with permits for up to five companies, and capped each fleet at a size of 2,500 scooters. Austin capped fleets at 500. Santa Monica created a permit with a "dynamic cap" that grows as more people use the scooters.
Denver will likely impose a cap on scooters and dockless bike-share, even though the vehicles produce no emissions and occupy a tiny fraction of the space consumed by services like car-share companies, which have no limits on their fleets (but do pay fees per vehicle).
It's also likely that Denver will impose operating fees on the dockless companies. Cities like Aurora have been designating parking spots for scooters and dockless bike-share to curb clutter, and the fees help the city recoup staff time that goes into this.
San Francisco is charging companies $30,000 for a general permit plus $10,000 for a fund to cover costs to the city, Curbed reports. Santa Monica will charge $20,000 for the permit and $130 per scooter, according to the Los Angeles Times.
To ensure that the public gets an accurate picture of how the new services are used, Denver could require the release of real-time trip data, as Santa Monica has done.
Citywide dockless bike-share earlier than expected?
DPW had been waiting on the results of a small dockless bike-share pilot, operated by the University of Denver and Ofo, before creating a framework for a citywide rollout. But the scooter companies' rogue launch may have impelled Denver to permit dockless bike-share earlier than expected.
It's possible dockless bike-share services could be on the streets well before the year-long Ofo pilot is over. In an email, Kuhn refused to confirm or deny that possibility.