Electric Scooter-Share Arrived in Denver This Morning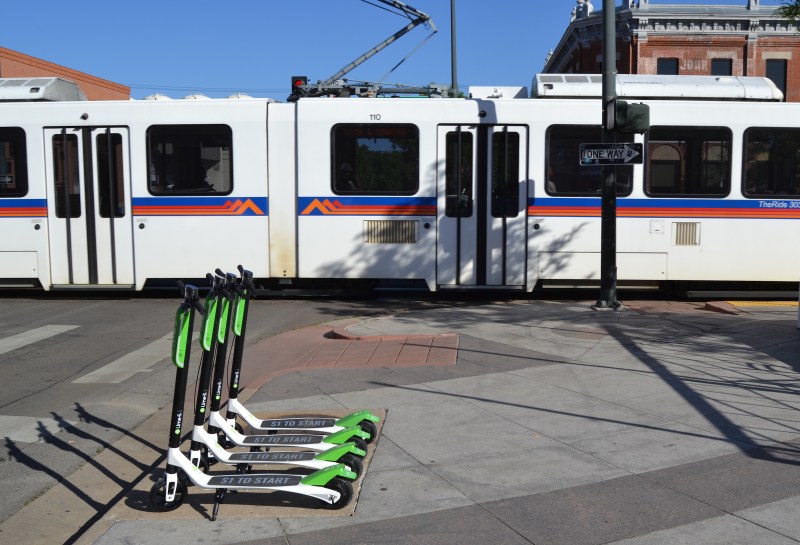 Before dawn on Friday, Lime deployed nearly 500 electric scooters throughout Denver.
The first 30 minutes on the scooters, dubbed Lime-S, cost $1, and the price is 15 cents per minute after that. They max out at about 15 mph.
Like the company's bikes, which are available in Aurora but not Denver, the scooters aren't tethered to stations — they're "dockless." Riders unlock them with a smartphone app. Unlike the company's bikes, Lime will round up the scooters each night and redeploy them each morning.
That model could ease concerns about cluttering sidewalks and getting in the way of people walking or using wheelchairs. Lime Director of Strategic Development Sam Sadle said the scooters will "have much less of an impact" on the public right of way than bikes.
But Denver Public Works spokesperson Nancy Kuhn said the streets department was "not notified of LimeBike's plans to deploy in our community today until a couple of days ago." DPW will be "removing scooters that are blocking sidewalks and other public spaces," she said.
"While Denver Public Works is supportive of new alternative transportation options, we feel these technologies should be deployed in a way that works with the city's goals of increasing pedestrian safety and mobility," Kuhn said in a statement. "Specifically, we are concerned about the use, placement, and quantity of these scooters operating on Denver's sidewalks, particularly in areas of high pedestrian activity."
The department is creating a permit for scooter-share, Kuhn said.
Lime is pitching scooter-share as a tool to meet the Hancock administration's mode share goals, which call for no more than half of all trips citywide to be taken by car, and to help people cover the "first and last mile" to access transit.
"We understand that we're in the business of mode shift," Sadle said. "We're in the business of changing people's perspectives on how to get around."
Scooter riders must be at least 18 years old. They're not supposed to ride on the sidewalks, and should use bike lanes where available, according to Lime. They should be parked at bike racks and in the curbside buffer area between the sidewalk and the street — without blocking curb ramps, sidewalks, or other pedestrian passages.
Some business owners have signed on as hubs where people can expect to find scooters. They'll help monitor parking, said Sadle.
Lime says it got the go-ahead from Denver Public Works before launching and has the support of the mayor's office and City Council. DPW says the company launched without permission — but it's unclear if Lime needed any. Council members Paul López and Jolon Clark will be at a launch event later today, according to Sadle.
Lime will hold demos for the public and the media at 12:30 pm at Mutiny Information Cafe, 2 South Broadway.
With scooter-share, Denver joins Washington, D.C., Miami, San Jose, San Diego, and Charlotte. But it hasn't been smooth riding everywhere. Yesterday, San Francisco officials, citing sidewalk clutter, ordered scooter-share companies including Lime to remove the vehicles by June 4. They'll be able to redeploy the scooters if and when they pass a permitting process.
"Some people will be more than excited, some people will be less excited," Sadle said. "We want to hear about what's working, what's not."