In a Bike-Share Desert, Elyria Swansea Bicycle Library Gives Kids, Families Freedom to Ride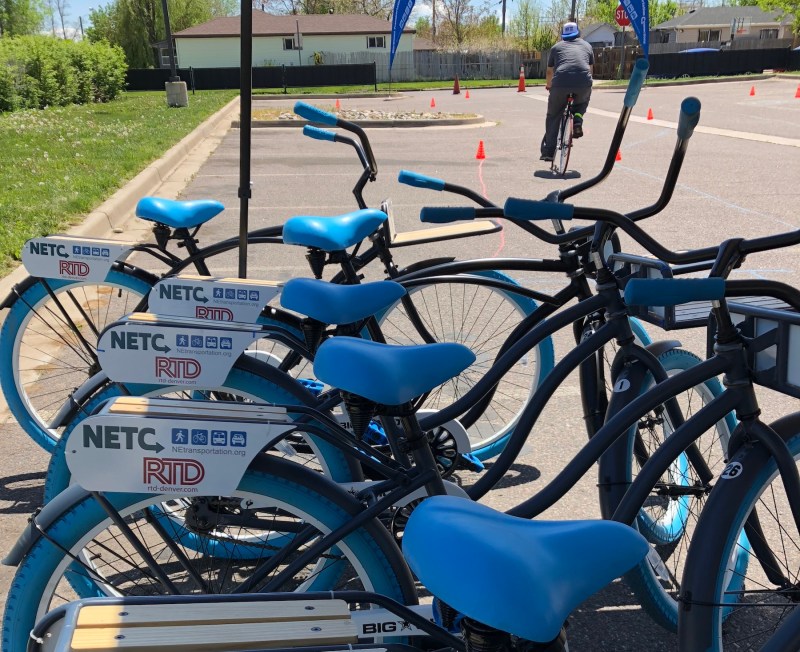 When Grace Soulen tells some families about the new bike library in north Denver's Elyria Swansea neighborhood, it literally doesn't translate.
"I think it's a great resource but I've noticed that people don't seem to know right off the bat what a bike library is, especially in Spanish," Soulin said Tuesday during the grand opening of a small-scale bike-share operation at Focus Points, a family resource center at 48th and Columbine. Soulin works there as a family development specialist. "So I've had to explain to people a couple times how you can rent a bike and come use it whenever you want."
It's that simple. For just $20 a year anyone can check out one of 40 or so bikes for two days at a time (or more, with permission). Customers don't need a credit card, which can be a hindrance for unbanked residents. They just fill out a form — in either English or Spanish — and receive a membership card that entitles them to a bike, a lock, a helmet, and independence.
"A lot of residents in this area don't actually have their own personal transportation," says Sheridan Castro, the interim executive director of Focus Points. "So bikes are a great economical, affordable and healthy way for people to get around."
Focus Points helps manage the bike library, but it's also made possible through an initiative spearheaded by Northeast Transportation Connections, along with grant funding from the Regional Transportation District and a contract with the Colorado Department of Transportation. (CDOT's I-70 widening, which will shove more cars through the mostly low-income, mostly Latino neighborhood, includes, ironically, an attempt to add biking options during construction.)
The bike library is one of two operations NETC has going. The other is out of Prodigy Coffee near the 40th and Colorado RTD station. B-cycle, the city's traditional bike-share system, doesn't serve either area, and the nonprofit doesn't seem to be growing. Hence the hyper-local analog model.
"I'm trying to provide the community access to biking with no strings attached," says Angie Rivera-Malpiede, NETC's executive director. "I wanted to have a program for the working poor. To be part of B-cycle you had to join, you had to have a credit card, and the folks I was working with were the working poor — they didn't have access to that."
NETC and Focus Points are going beyond access, though. They aim to help people feel more comfortable riding in a neighborhood left behind by the bike lane boom of downtown and other wealthier neighborhoods. Reps from both organizations hope to activate lifelong bicyclists with group rides that help kids and their families navigate intimidating streets that will only get worse during CDOT's freeway expansion.
"Globeville-Elyria-Swansea is not easily traveled," Castro says. "It's not easy to travel over a lot of the area because of all the industrial locations and infrastructure that we have around here — train tracks, highways, sound walls. It's not very accessible in a lot of ways."
Focus Points will lead a group ride every Wednesday morning over the summer, and NETC plans on scheduling group rides as well.
The bike library model has created at least one lifetime rider. Travis Robinson uses the Prodigy library and helped NETC get the Focus Points location off the ground. He says bike-share has opened him up to a healthier way of getting around and reduces his reliance on a car — and his family.
"I see it as in inspiration for children to do something else," Robinson says. "You don't have to wait until your parents are ready to drive you… and you also get to learn the lay of the land, get a good sense of where everything is."
In a word, independence.