Colorado Senate Could Pass Bill to Subsidize Highways, Snub Transit
Known as SB 1, the bill would also make toll lanes harder to build and threatens to undermine a more transit-oriented funding measure on the November ballot.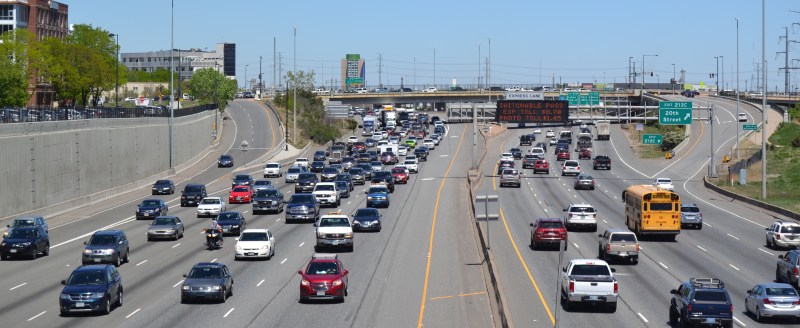 Correction: An earlier version of this article erroneously stated that the Senate passed the bill, but the full Senate has not yet voted.
Last week Colorado senators reached a compromise on a transportation bill that would subsidize roads while setting aside table scraps for transit projects and making it harder to add tolled lanes. Known as SB 1, the bill would be a step backward for Colorado transportation policy and it threatens to undermine a more transit-oriented funding measure on the November ballot.
SB 1 is decidedly about expanding freeways and doubling down on driving [PDF]. CDOT would get $500 million from the state's general fund for expansions of I-25 and I-70, among other highway projects, feeding the state's vicious cycle of road widenings and rising traffic. Then in 2019, it would put a $2.5 billion road bond on the state ballot.
"We've found that sinking more money into new highways often does little to address congestion and hampers our fight against global warming," said Alana Miller, a Denver-based policy analyst with the environmental nonprofit Frontier Group. "Funding maintenance of existing infrastructure, while expanding public transportation, biking, and walking will best serve Colorado now and in the future."
The legislation would also forbid the addition of toll lanes on new or existing roads unless project managers prove that other options for "capacity expansion" are not feasible. "It creates a set of bars that are so high I don't think you could ever pass them," says Will Toor, director of transportation programs for the Southwestern Energy Efficiency Project.
Toor believes the managed lane amendment is meant to preempt toll lanes, which help pay for the true cost of roads, on a southern portion of I-25 in El Paso County.
The Senate could vote on the bill this week. In the House, SB 1 has a Republican sponsor, minority whip Perry Buck, but no co-sponsors among the Democratic majority. That could change, however, and if SB 1 is signed into law by Governor Hickenlooper, it could weaken the prospects for a transportation spending measure on the November ballot with a better funding mix for transit, biking, and walking.
A coalition led by the Denver Metro Chamber of Commerce has been leading the campaign for a ballot measure, which could allocate 40 percent of the revenue from a sales tax hike to cities and counties, and 60 percent to CDOT, with 15 percent of CDOT's share reserved for transit.
There are multiple scenarios, each with a different sales tax increment, and the Chamber is waiting to decide which version it wants to put on the ballot. On Friday, just before the deadline, the Chamber filed yet another version, which would raise the statewide sales tax by .35 cents, bringing in a projected $350 million per year, known as Initiative 182 [PDF].
Initiative 182 would raise less than other versions of the sales tax measure — the largest of which would be set at 1 cent and raise $1 billion per year. The idea is to make it more palatable in the event that SB 1 is enacted first. While the Initiative 182 funding formula is more generous to cities and counties, giving them 80 percent of the pie, it's a smaller pie, and it comes attached to the roads-heavy SB 1.
The Chamber will wait to see what happens in the legislature before deciding which version of the sales tax measure it will put on the ballot.
"As a member of the coalition, the chamber continues to work with our partners throughout the state and closely monitor the Legislature's efforts to ensure we address our state's critical transportation needs," Kelly Brough, president and CEO of the Denver Metro Chamber, told the Durango Herald last week. "It's important to keep all options on the table."