Political Ad from 100 Years Ago Mirrors Colorado GOP Approach to Transportation: More Roads, More Traffic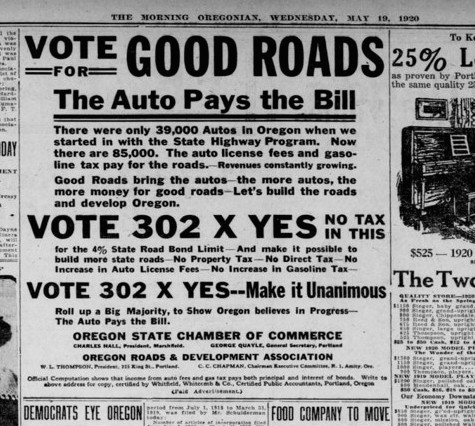 Four Republican lawmakers introduced a bill Wednesday, the first day of the 2018 Colorado General Assembly session, that would ask voters' permission to bond against a budget surplus in order to widen highways and expand roads.
House Minority Leader Patrick Neville "says there's no reason why nearly all of the new revenue shouldn't go to widening highways, adding lane miles throughout the state and rebuilding traditional infrastructure," according to the Associated Press. Senate Bill 1 would raise up to $3.5 billion.
The idea is straight out of 1920. Look no further than the above ad from a century-old Morning Oregonian for proof. "The Auto Pays the Bill," it declares. "Good Roads bring the autos — the more autos, the more money for good roads — Let's build the roads and develop Oregon."
In a way this ad was ahead of its time. It implies what we now know: More and wider roads attract more drivers, which means more traffic — like on I-25, where the Colorado Department of Transportation widened the highway and congestion came back with a vengeance after a short reprieve.
There's nothing wrong with good roads. The problem is that CDOT cannot afford to maintain the ones it has. Yet the bond measure would fund an expansionist's buffet of freeway blowouts and highway lanes, including widening I-25 and I-70 in metro Denver, according to CDOT's "Tier 1" project list [PDF].
Transit projects, which would actually move more people in limited space, account for just 15 percent of the total cost of projects on this list. What Colorado needs is a ballot measure a la Washington and California that prioritizes transit with billions, not chump change.
Politicians may score easy political points by repeating how bad traffic is, but their so-called solutions would make it worse. SB1 would continue the vicious cycle of road-building, and the traffic and pollution that has followed thanks to this 1920s mentality.