To Raise Funds for Transit, Denver Can Follow the Lead of Seattle and LA
At a Rail~Volution panel, the people who helped pass a transportation funding measure explained how they got it done.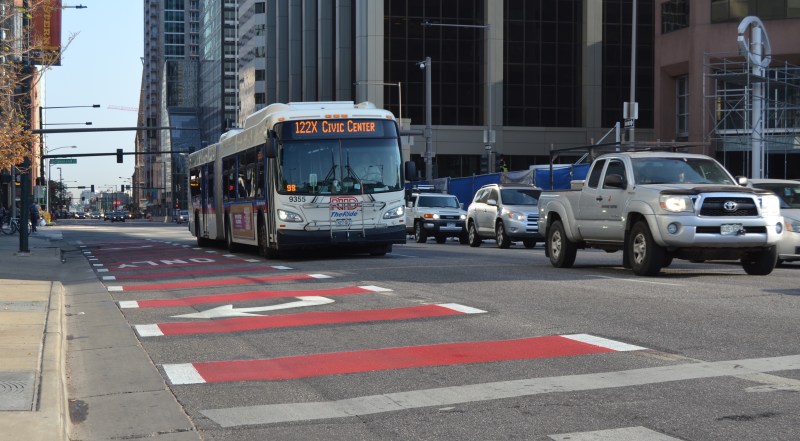 The Hancock administration is working on big plans to expand and improve the city's bus and train network with its Denveright planning initiative. One of the key questions going forward is how to pay for these upgrades. RTD, the region's transit provider, doesn't have the resources on its own to provide all the transit service that Colorado's densest population center needs.
Denver's November bond measure won't be enough either. It will generate $431 million for streets and transportation, which will be a boon for sidewalks, bike lanes, and the East Colfax bus rapid transit project, but pales in comparison to the resources other cities are generating.
A ballot measure enacted by voters in metro Seattle last November will raise $54 billion for transit and complementary walking and biking connections. In Los Angeles, 71 percent of voters approved Measure M, which will generate at least $120 billion for transportation.
Denver could learn a thing or two from the campaigns to overhaul the transportation systems in these cities. Fortunately, leaders from both cities are in town this week for Rail~Volution, a national conference about all things transit. Streetsblog heard directly from the people who helped pass those ballot measures in LA and Seattle — here's a digest.
Denver needs a political champion
The first thing you need is a leader dedicated to getting the job done in the face of inevitable push-back, said Phil Washington, CEO of the Los Angeles County Metropolitan Transportation Authority. (Washington formerly helmed RTD and oversaw the implementation of Denver's FasTracks program.)
"Everyone knows you need a political champion when trying to do something like this," Washington said. "Mayor [Eric] Garcetti was that political champion."
A transit ballot measure would also need the support of Denver community leaders. An earlier ballot measure in LA, Measure J, failed, Washington said, in part because proponents didn't have important constituencies on board. Neither black churches nor the Sierra Club supported Measure J.
"I made a point to go out and reach out to minority communities — specifically the African American clergy community in south LA," Washington said. "We actually asked and convinced the African American clergy in support of Measure M."
The Sierra Club also came around on Measure M because unlike Measure J, which included a lot of funds for roads, it focused heavily on transit.
Good transit is a "must-have" not a "nice-to-have"
People who don't ride transit don't always grasp how essential it is. They see it as an amenity for a few, not a cornerstone of economic prosperity, opportunity, and fairness that benefits the whole city. If that's how most voters view transit, a big ballot measure will be in trouble.
"One of the common pieces of push-back we got is that transit is a shiny nice-to-have, not a must-have," said Abigail Doerr, who helped get the Seattle region's tax passed as advocacy director for Transportation Choices Coalition. "We had to make sure that we were making the case that this wasn't a nice-to-have but a must-have for our region to prosper and move forward."
In a city like Denver, there simply isn't enough space for bigger roads. We need to make more efficient use of the street space we have — and that means moving people with transit, not cars. Even Denverites who never ride transit will benefit from the continued growth that good transit will make possible for years to come.
"We talked a lot about this idea of leaving an infrastructure inheritance for our children like the infrastructure our forefathers left us," Washington said. "And that actually resonated."
Be honest about congestion
Transit does not eliminate congestion. But frequent buses and trains with dedicated right-of-way give people options to bypass it.
"'Removing traffic' was not something that we could say," said Jessica Duboff, who helped run LA's campaign with the Center for Business Advocacy. "It actually isn't true. What we were doing — building light rail — won't reduce the amount of cars on the road. As our region grows, it's not going to get less congested. So we were very disciplined about saying this is a reliable option to get out of traffic and get to where you need to go. It's a small distinction but a really important one."
Denver's traffic isn't even that bad compared to other cities, despite the hyperbole you may have heard. The question is whether the city will invest in solutions before it gets much worse.
"If you don't like what congestion you've been facing the last five years, you really need to think about where it's heading, and get ahead of it to the extend that you can," said Peter Rogoff, CEO of Sound Transit in the Seattle region. "And that's what really expected our board of directors to go big. The core catalyst in our region, I believe, was the fact that congestion had worsened to a community that was not accustomed to it."