Do Medians Actually Make Streets Safer for Pedestrians?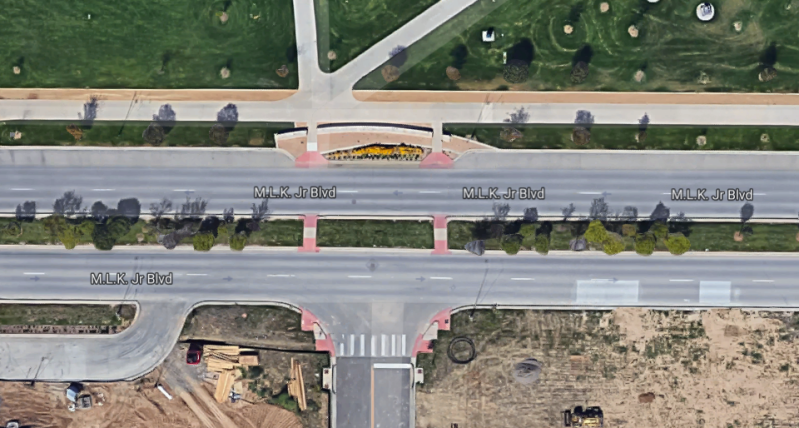 Some transportation engineers believe that raised medians — concrete strips dividing one side of a street from the other — are all you need to make a street safe for walking. But data from Denver Public Works shows it's not that simple.
While medians can help, they're no substitute for other aspects of safe street design, like lane widths that reduce speeding and crossing distances that aren't too long for vulnerable pedestrians. Drivers still hit, injure, and kill people walking at locations with medians.
Take the project to widen Federal Boulevard between 5th Avenue and Howard Place. The Colorado Department of Transportation and DPW will add a sixth driving lane and widen the existing lanes on this stretch of Federal. Both changes will lead to more speeding on what's already the deadliest street in the city.
But CDOT and DPW claim people on foot will benefit, despite the increase in speeding and longer crossing distances, thanks to medians. The idea is that people will use them as refuges halfway across the street, and drivers will have to turn more carefully to avoid going over them.
The data on medians in DPW's Pedestrian Crash Analysis indicates that the safety benefit of existing medians on Colfax Avenue, Colorado Boulevard, and Federal may be real, but is definitely limited.
All three streets double as state highways. On each street, some stretches have medians and others do not. Eight of the 24 pedestrians killed on these streets between 2011 and 2015 lost their lives at locations with medians. Drivers hit pedestrians 43 times at the most common crash sites on Colorado, according to DPW's analysis. A median was present each time.
As you can see in this diagram, the median did not guarantee pedestrian safety — quite the opposite:
It's important to distinguish between different types of medians, says Wes Marshall, a civil engineering professor at the University of Colorado Denver.
"I have mixed feelings," he said. "Some [medians] are good and useful — such as when they provide a curb-cut and pedestrian refuge, which is especially important for mid-block crossings. Some are bad and create mini-highways — and without a curb cut, they can make for barriers — especially for bikes."
Monaco Parkway is one example where the median makes the street a "mini-highway." Here, the median is like a highway divider that induces higher driving speeds by eliminating "friction" between on-coming vehicles. Drivers can just step on the gas without a care.
The median also creates another barrier for pedestrians at some intersections, where traffic engineers have determined that people on foot don't merit an official crossing:
One way to make medians more pedestrian-friendly, Marshall says, is to add crossings, like on Martin Luther King Jr. Boulevard in Stapleton (shown at the top of this post). Still, it's a superficial improvement. The street is primarily designed to move cars at high speeds.
Marshall is a fan of Octavia Boulevard, an arterial street in San Francisco where trees and medians — three of them — slim down the roadway. The posted speed limit is 25 mph:
There's a difference between accommodating pedestrians and prioritizing them. Medians can be part of a street engineering strategy that puts safe walking front and center, or they can be half-measures that merely mitigate an inherently dangerous design.