Denver's Deadliest Streets for Walking Are Built for Speeding Traffic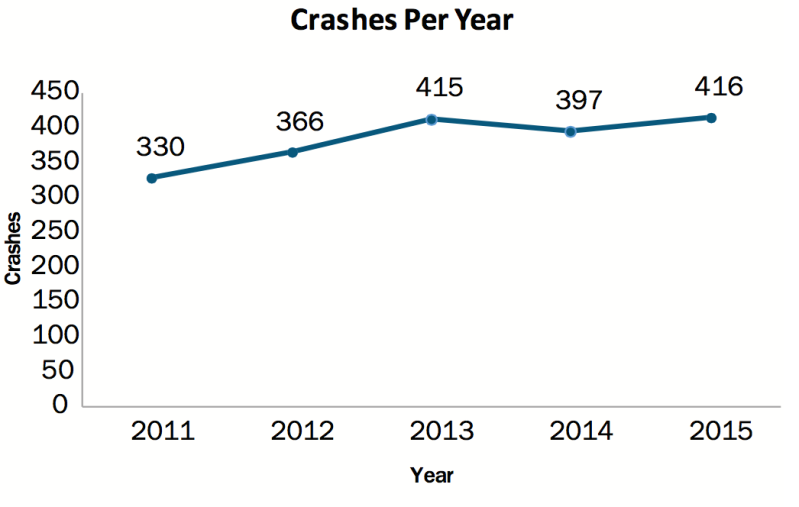 Car crashes involving pedestrians are more likely to cause injury or death on Denver's wide, high-speed streets, according to a new report from Denver Public Works.
DPW's Pedestrian Crash Analysis [PDF] also indicates that in nearly half of all crashes, pedestrians, not drivers, had the right of way.
The report analyzed 1,924 police reports of crashes involving pedestrians on Denver streets between 2011 and 2015. Of those crashes, 1,154 caused injury, and 88 resulted in death. Not one of those fatalities occurred on a street with a speed limit of 20 mph or less.
DPW's analysis will be used as a reference to guide physical changes to streets to make them safer for walking, in support of the Hancock administration's
Vision Zero plan
. Here's a look at some of the major takeaways.
Speed kills
While Denver Police Department crash reports do not consistently include data on driver speed, the share of crashes resulting in pedestrian injuries or fatalities rises as the posted limit speed increases.
This table shows how the likelihood of a crash resulting in injury or death varies with a street's speed limit:
Colfax Avenue, Broadway, and Federal Boulevard are some of Denver's widest streets. It's no coincidence that of all the streets in the city, they're also the site of the most pedestrian injuries and fatalities per mile, according to the report.
Pedestrians often have the right-of-way when they are struck
Pedestrians had the right-of-way in nearly half of all crashes for which DPW could determine who was following traffic signals.
The most frequent scenario where a motorist hits someone walking with the right of way is the left hook, in which a left-turning driver strikes someone crossing the street. That type of crash accounted for nearly a third of the pedestrian collisions where DPW assigned the right-of-way.
Intersections with traffic signals are the most frequent site of pedestrian injuries
While media outlets and police reports often blame pedestrians for crossing mid-block, more than half of the crashes occurred at signalized intersections. As noted above, pedestrians often have the right-of-way in these crashes.
A significant share of pedestrian crashes do happen mid-block — 27 percent. But DPW notes that mid-block collisions are "common where there is a lack of marked or unmarked crossing locations."
The implication is that an effective strategy to improve pedestrian safety should include the addition of safe crossings to CDOT-controlled state highways like Colfax, Federal, and Colorado Boulevard, which run through urban parts of Denver and force pedestrians to walk several blocks out of their way to cross legally.
Room for improvement in police reports
A weakness of the analysis is the shoddy quality of the police reports the data is based on. In about 70 percent of crashes, police listed "no apparent contributing factor" on their reports, leaving DPW to determine the cause based on other aspects of the report, like the crash diagram. In 38 percent of crashes, DPW could still not deduce who had the right of way.
If Denver is going to get a better understanding of what causes pedestrian crashes and how to prevent them, police reporting will have to improve.