AARP: Denver Can Do More to Help Older Residents Afford Homes Near Transit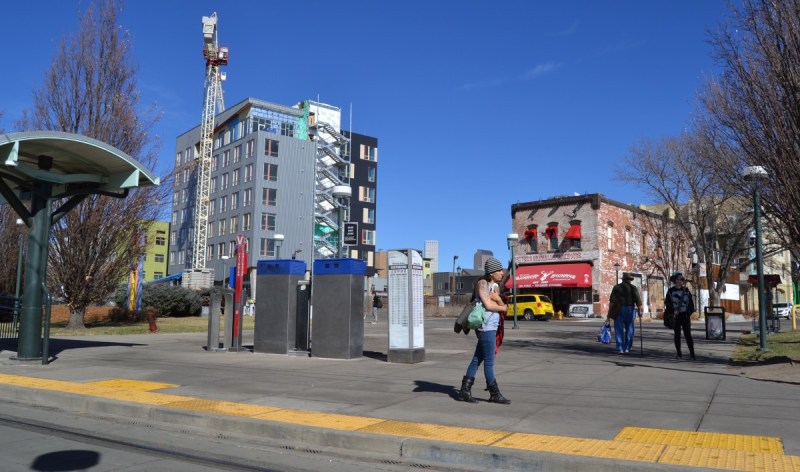 When older people can easily reach places like the doctor's office or the grocery store without a car, they're more mobile and independent. Walkable development near good transit service, with a mix of homes and businesses, can offer that independence.
In Denver, the city isn't doing enough to ensure that older residents have access to homes with good transit access, according to a new report from AARP, "Communities Are Embracing Development Near Transit."
It's no secret that many of the areas around RTD stations aren't walkable. But even where transit-oriented development (TOD) does exist, local governments did not plan well to preempt displacement before the region's light and commuter rail expansion raised property values, according to AARP. And when housing near transit becomes less affordable, the means the region's low-income residents, who are disproportionately 65 and older, lose out.
In a meeting at AARP's DC headquarters, Mayor Hancock acknowledged that "the city did not adequately anticipate the potential for displacement when it began TOD planning efforts," according to the report.
The city is making progress, however. The main mechanism to subsidize housing near transit in Denver is the $24 million Denver Regional Transit-Oriented Development Fund, a pot of money created by the city, philanthropists, and nonprofits that helps developers acquire property to build homes near rail and bus stations.
Homebuilders can take out fixed-interest loans from the fund to build rental apartments for families making 60 percent or less of the area median income (about $50,000 for a family of four) or condos for families making 95 percent AMI or less (about $80,000 for a family of four) near transit.
The fund is partly responsible for 1,200 subsidized rental units in the pipeline within a quarter-mile of frequent bus routes and a half-mile of rail, according to AARP. The Medici Communities and the Urban Land Conservancy used the fund to build Evans Station Lofts, for example.
AARP says the public sector can do more to facilitate compact, walkable development near transit. The state of Colorado, for instance, does not support TOD in any way, the report found.
This article was updated to clarify the TOD fund's parameters. The fund helps developers acquire land, but cannot be used for construction costs.