Fixing Denver Transit: Making It Easy to Walk or Bike to the Station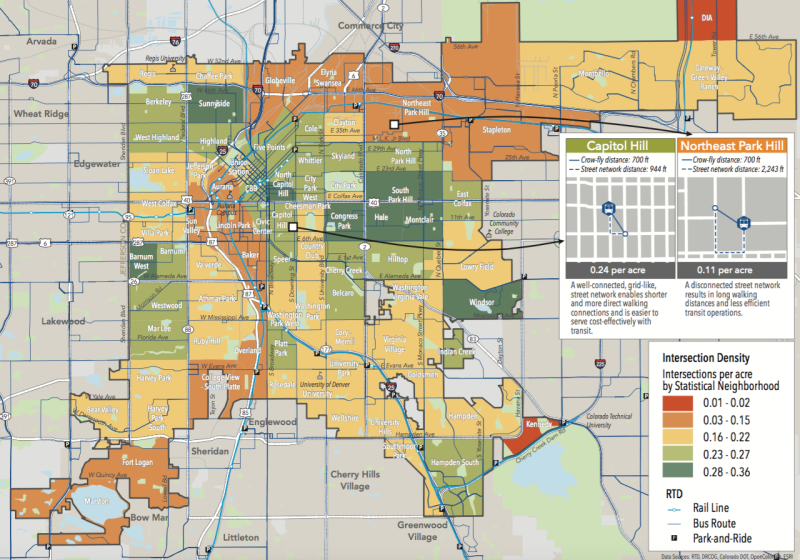 Transit doesn't do people much good if it's hard to get to. And in much of Denver, getting to RTD buses and trains by walking or biking isn't exactly easy.
It doesn't help that the city is missing sidewalks on a quarter of its streets. But another big problem, according to the Denveright "State of the System" report, is that street grids in too many neighborhoods are too disconnected to be walkable even if they have perfect sidewalks:
When deciding whether to use transit, one of the most important factors people consider is the distance to a transit stop. What matters for the traveler is not the straight-line or "as the crow flies" distance but rather the actual walking distance using the available streets and paths. A lack of street connectivity — longer block lengths and fewer intersections per square mile — can make it less convenient to access transit and can deter people from using transit.
Neighborhoods with walkable street networks — Congress Park and Capitol Hill, for example — have between .28 and .36 intersections per acre, and according to the Denveright report, those neighborhoods "show a higher than average percentage of residents that commute by transit."
In less walkable neighborhoods like Northeast Park Hill and Stapleton, there are only between .03 and .15 intersections per acre.
Highways and rail tracks also form barriers to walking and biking access in several areas:
Several neighborhoods north of the A-Line do not have easy access to stations because of I-70.
Railroad crossings at the Alameda and I-25/Broadway stations make it "nearly impossible" for walkers and bikers to access the stations from the west side of the tracks.
I-25 makes it inconvenient to use the Colorado, DU, Louisiana-Pearl, Yale, Bellview, and Southmoor stations — unless you're in a car.
The report includes maps that indicate the area within walking distance of rail stops, as well as bike connections to transit.
Check out the full report for six more rail access maps.
Catch up on Streetsblog's Fixing Denver Transit series with our posts about the shoddiness of Denver's bus stops, the lack of dedicated bus lanes on city streets, and the need for fairer fares.