Mayor Hancock Still Doesn't Get It — Widening Roads Hurts Denver
A $27 million project to widen 56th Avenue is currently on the shortlist for funds from November's transportation bond measure, but Mayor Hancock still has time to fix that.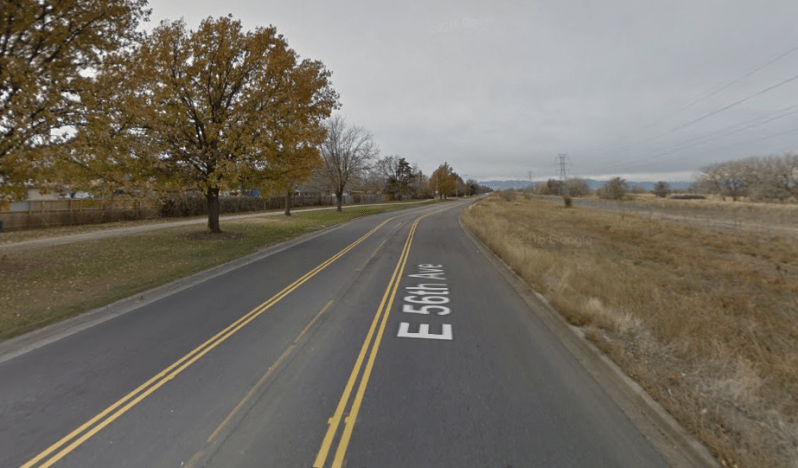 Back in February, Michael Hancock told a room full of sustainable transportation advocates, "We need to absolutely transform our city from a car-focused, automobile-centric system, to a people-centric transportation and mobility network."
Fast forward four months, and Hancock and the Denver City Council may do the exact opposite by spending $27 million to widen 56th Avenue through Montbello. The project, which would expand 56th to four lanes between Peoria Street and Peña Boulevard, is on the shortlist for funding from a bond measure that voters will consider in November [PDF].
It's not too late for Hancock and the Council to adjust the list. However, the mayor seems bent on funding the project. At an event last Monday where the committee that generated the shortlist presented it to Hancock, the mayor singled out the 56th Avenue widening, calling it an economic development opportunity.
It's hard to overstate just how backwards it would be to widen an urban street in this day and age. Decades of experience have shown that wider roads are a recipe for more traffic, dangerously high motor vehicle speeds, and an increase in injuries and deaths. But expanding 56th is an especially egregious affront to logic and the city's efforts to build a modern transportation system.
There are smarter projects that deserve funding
The committee that recommended the final shortlist for Hancock's consideration decided to slash funding for the city's sidewalk and bike networks, as well as funding for better bus infrastructure on Alameda, MLK Boulevard, West Colfax, and the Speer-Leetsdale corridor. All those projects would be a better use of funds than widening 56th Avenue.
The stretch of 56th in question is three miles long. For the cost of this counterproductive road widening, the city could build 67 miles of protected bike lanes and 90 miles of sidewalks.
Widening 56th undercuts transit investments
Four RTD rail stations (A-Line and R-Line) are near this stretch of 56th Avenue. One of those stations is 61st and Peña, the future home of Hancock's oft-touted "smart city," a neighborhood defined by the ability to get around without having to own a car.
Fewer people will use those transit stations if the capacity of the road system is expanded. What if $27 million paid for faster and more frequent transit service to and from these stations instead?
When Hancock decides what projects to ultimately put up for a vote, he should take his own advice from February, when he compared the ballot measure to other touchstones in Denver's transportation history, like the construction of the intercontinental railroad and FasTracks.
"I believe in 2017 we have the same opportunity," Hancock said. "And all of us who are blessed to be able to serve as elected officials, and all of us who are blessed to live in this great city and region, now have a clear call to summon the moral courage once again be bold and be visionary."
There's already an autobahn there called I-70
According to Colorado DOT, which envisions 56th Avenue eventually as a six-lane road, the street needs more asphalt in order to "manage future congestion." Because every decision should enable a future with more cars, of course.
But forget for a moment that widening this road would generate more traffic — just look at where the project is located. I-70 runs parallel to 56th, just 1.5 miles away, or a few minutes by car. CDOT and Hancock already want to add between two and four lanes to the section of freeway between Peoria and Peña. That's as many as eight new car lanes in one corridor.
So much for the mayor's bid to "transform" our "automobile-centric system."