DPW's About to Flub an Important Part of the Upper Brighton Redesign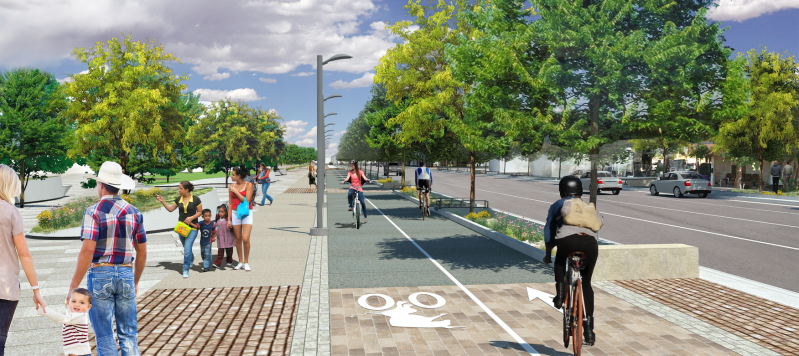 A raised two-way bike lane and new sidewalks are in the works for upper Brighton Boulevard from 44th Avenue to Race Court. But as with so many other street projects under Mayor Michael Hancock, there's a catch: The Department of Public Works plans to widen the street — making it more susceptible to speeding and less safe to cross — right next to a new RTD station, where walkability is most important.
The new walking and biking infrastructure will connect the redesigned section of Brighton Boulevard in River North to Elyria Swansea, two areas divided by I-70. The redesigned streets, with planters and trees to buffer people from traffic, will replace roads with crumbling and missing sidewalks.
The project should get underway next year in preparation for the Hancock administration's massive National Western Center redevelopment and RTD's N-Line, with a station at 48th and Brighton expected to anchor lots of new homes and businesses.
The problem with the street design is on the block right next to the station, between 47th and 48th avenues. Creating a welcoming pedestrian experience here will be critical to the success of RTD ridership at this station. If walking here isn't safe and comfortable, fewer people are going to opt for the train.
But this block is also where DPW will be tacking on an extra southbound traffic lane, for a total of four moving lanes and one parking lane. The roadbed will have to be widened to make room for it.
Upper Brighton Boulevard needs these traffic lanes, a consultant said during a public meeting Wednesday, because National Western Center "will be a draw."
But more people will be drawn to take transit, instead of drive, if the street right by the RTD station makes them feel comfortable on foot.