GO Bond: Which Transportation Projects Will Get Funded?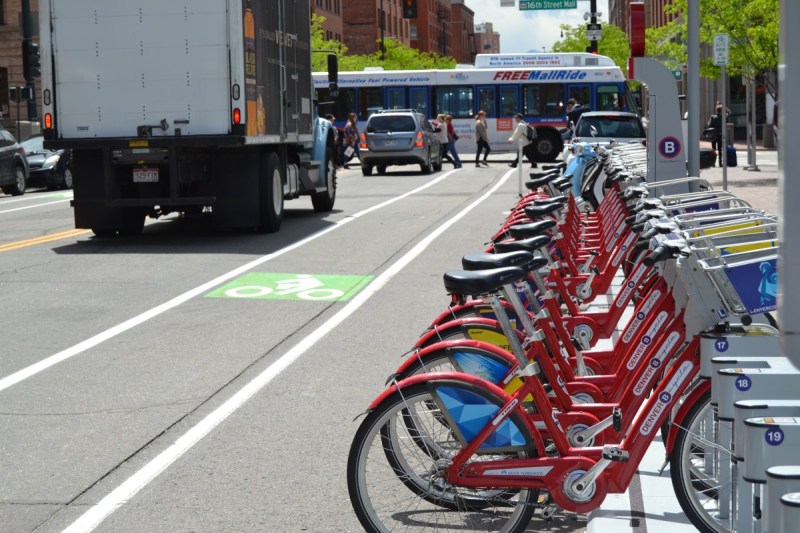 Mayor Michael Hancock's administration will ask Denver voters to approve a bond package worth $550 to $600 million in November, and the mayor has given some love to what he calls "transportation and mobility" projects.
Exactly what that means remains to be seen. Here's a look at the type of projects that are on the table, and the process that will dictate what makes the cut for what's known colloquially as the "GO bond," or general obligation bond.
There are 95 projects under the transportation and mobility header
And the majority of them relate to transit, walking, and biking infrastructure. The ratio is squishy, because some projects include elements that are good for pedestrians — like widening sidewalks — as well as elements that create hostile environments for biking and walking — like widening Quebec Street to induce speeding and increase crossing distances.
Still, a read-through of the potential project list [PDF] shows that pure transit, walking, and biking projects come out slightly ahead.
Things like "Cherry Creek Trail improvements" are listed too, but under the parks and rec banner.
The good and the bad
There's a lot of good stuff on the table. Some projects are unspecified, like citywide crosswalk improvements, protected bike lanes, "corridor transit implementation," sidewalks to transit, and two-way street conversions. Other projects are itemized, like bus rapid transit on East Colfax, a more walkable Morrison Road and Santa Fe Boulevard, and the downtown biking and walking loop. Plus pedestrian and and bicycle bridges. Lots of those.
Projects like these are competing with mid-20th-century transportation concepts, like the Quebec Street widening and the expansion of 56th Avenue from Havana Street to Peña Boulevard.
Mundane but necessary maintenance projects like street paving and bridge rehabilitation also made the list.
The competition
While Hancock has publicly guaranteed a "significant portion" of the bond for transportation and mobility, that category is competing with other capital projects, like new libraries, police stations, and rec centers. The tally for potential projects outside of the transportation and mobility category stands at 136.
Who decides what gets funded? How and when?
More than 60 mayoral appointees, broken into five committees — transportation, safety, city-owned facilities, parks and rec, and arts and culture — will deliberate over the next few months. They'll finalize their preferred lists in May, based on project readiness, cost, and socioeconomic and geographic equity. Then they'll hand over the lists to an executive committee, which will make recommendations to Hancock. The City Council will have to approve the projects before sending them to the ballot in November.
Former Colorado Department of Transportation director Don Hunt chairs the transportation group. Hunt was a big proponent of widening I-70 during his tenure. Here's what he told the Denver Post in 2015, when asked whether Colorado needs more highway capacity given the availability of transit, walking, and biking. "There's some truth to it if you isolate the facts. But when you look at the impact of walking, bicycling and transit on the overall travel in the north and south Front Range, it is minute at this point."
Stewart Tucker Lundy, an advocate for disabled Denverites, is the co-chair. Advocates for walking, biking, transit, the disabled community, and affordable housing are also on the committee — including reps from WalkDenver, Bicycle Colorado, Transportation Solutions, RTD, Groundwork Denver, and the Downtown Denver Partnership.
These meetings are public, and you can comment
The committees will meet weekly through April. The transportation group meets Thursdays at 4 p.m. at the Webb Building, with a 15-minute public comment period to start. Sign up through the city's website.