It Shouldn't Take Years to Complete the Broadway Bike Lane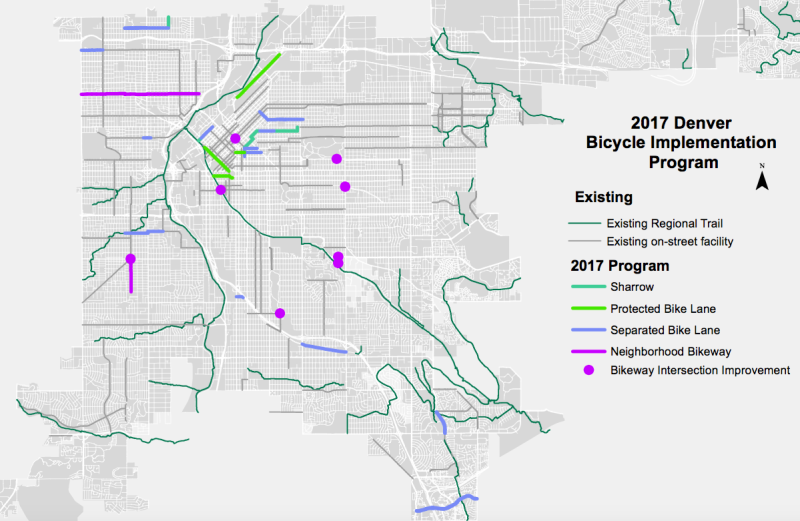 Back in 2015, BikeDenver released this map of bike lanes to nowhere. Though Denver's bike network has grown over the last couple of years, there's still no safe, comfortable north-south bike connection through the heart of the city. That's why the Broadway bike lane is so important to complete — and soon.
Denver Public Works made the above map to show where it plans to install protected bike lanes, "separated" (striped) bike lanes, and other bike improvements this year. The map reveals how much work remains to be done to turn the city's sparse collection of bike lanes into a complete network that lets people get places on a bike without stress.
The lack of good north-south routes stands out especially:
Right now there's a half-mile segment of a two-way protected bike lane on Broadway, between Bayaud and Virginia avenues, disconnected from any other bike lane. It's a DPW demo project that's been in place six months, but has been in the works for more than two years.
The streets department purportedly wants to extend it from I-25 to at least Colfax — and hopefully, eventually, Brighton Boulevard, where it would connect to a great raised bike lane (that bright green, slanted line on the map).
But the latest on Broadway is that the city will study the demo project longer before designing a permanent version. That's a long time to wait to fill a huge gap in the bike network that the city knows is problematic. At what point does the Hancock administration pick up the pace and make a real difference for bicycling in Denver?
Since BikeDenver released its map in 2015, various organizations including Bicycle Colorado have brought influential thinkers on transportation planning to speak about bike infrastructure. The mayor should take it from them…
Gabe Klein, former DOT chief in D.C. and Chicago:
"Denver should be a national leader in active transportation. And it can be, and I think you can do it in one year to two years."
Charles Montgomery, author of "Happy City":
"Bike lanes are a great baby step from the 1990s. Cities around the world who have success by creating more freedom by giving more people the opportunity to move in various ways by bike, you only succeed if you build a connected network of safe, separate bike lanes — places where people aren't scared about getting run over."
Brent Toderian, former Vancouver chief planner:
"If you want to get serious about mode share for cycling, you're going to need a much faster and more robust approach to building separated, protected bike lanes. I've seen your built examples. It's kind of like what Vancouver was doing, which was building them really slowly, and not in enough of a complete system to actually see the gains that you're going to need to show in order to convince more people that this is a great idea."
Mikael Colville-Andersen, "bicycle urbanism" expert and founder of Copenhagenize:
"The greatest thing about bike infrastructure today is very, very simple. It's all been invented. It's all ready to use, off the shelf, like in a supermarket."