While Other Cities Cut Parking Mandates, Denver's Poised to Require More Parking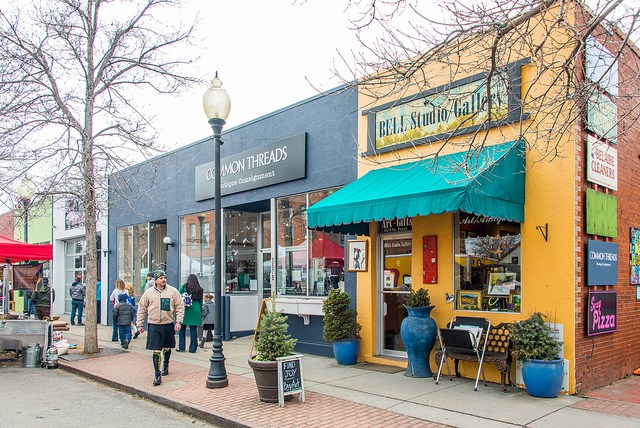 It looks like the city will require parking for new homes and businesses on lots where parking wasn't required before, and the new mandates will be especially burdensome for taller buildings. That's the takeaway from a task force meeting today led by City Councilman Albus Brooks.
A few vocal neighbors freaked out over various projects earlier this year when developers began planning apartment buildings without parking spaces on parcels of 6,250 square feet, a common lot size in Denver. The opponents' argument was that newcomers will "take" "their" on-street space for private car storage.
The buildings are legal. (Well, they were.) The city doesn't require parking for these lots because car-lite development in mixed-use neighborhoods is a good thing — it makes the city more walkable and cuts down on traffic. Building parking also isn't cheap — it runs to $18,000 to $26,000 per stall, costs that constrain how much housing will be built and result in higher rents for tenants.
Making housing less affordable while increasing car traffic goes directly against the City Council's stated priorities — not to mention the Hancock administration's massive planning process that's supposed to free Denverites from car dependence.
Other American cities are reducing parking minimums in an attempt to lower barriers to housing construction and cut traffic. Denver did so with Arapahoe Square, but with this rezoning, the city will be going in the opposite direction.
City Council buckled to the all-powerful parking lobby and pressed pause on the parking requirement exemption this summer, after grandfathering in projects already in the pipeline. The Council formed a task force to hammer out a compromise, which was the subject of today's meeting.
The proposed rezoning will result in a net increase in parking spaces if the City Council adopts it next year, but home builders will still have some outs. Here are the basics:
For properties along frequent transit corridors, the first three stories are exempt from parking minimums. After that, the city will require .25 parking spaces per unit.
For properties outside of frequent transit corridors, the first two stories are exempt from parking minimums. After that, the city will require .25 parking spaces per unit.
Developers of these small lots can negotiate their parking spaces down to zero if they build near good transit and bike-share, for instance, or provide trade-offs like car-share spaces on- or off-site. Currently developers can only negotiate down to half of the required parking in a given district, but this change allows them to eliminate it altogether.
Existing buildings are exempt from providing parking.
The 100-home developments at 16th and Humboldt that sparked this debate would be required to have 26 parking spaces if they weren't grandfathered in.
The new proposal isn't enough for some task force members who want parking mandates. Bob Hickman of the Humboldt Street Neighborhood Association said the proposal is "weighted too heavily towards transit."
"It's too heavily trying to solve transportation issues, which was not our main goal," he said. But Hickman's goal revolves entirely around transportation, in the form of private cars.
Hickman and his cohorts don't think the proposal does enough to lessen the "impact" car-free developments have on neighborhoods.
Parking, of course, imposes its own impacts. "Neighborhood impact has only been defined as a parking spot," said Frank Locantore, head of the Colfax Business Improvement District. "That's really limiting, because there other types of impact as well."
The impacts of car-free development that Hickman overlooked include more affordable housing and walkable streets, not to mention more transit and biking options if developers opt for them instead of building parking spots.
In the end, Brooks stood his ground, and the proposal will move forward for public review more or less as is.