Denver's Shared Streets Are a Change Worth Preserving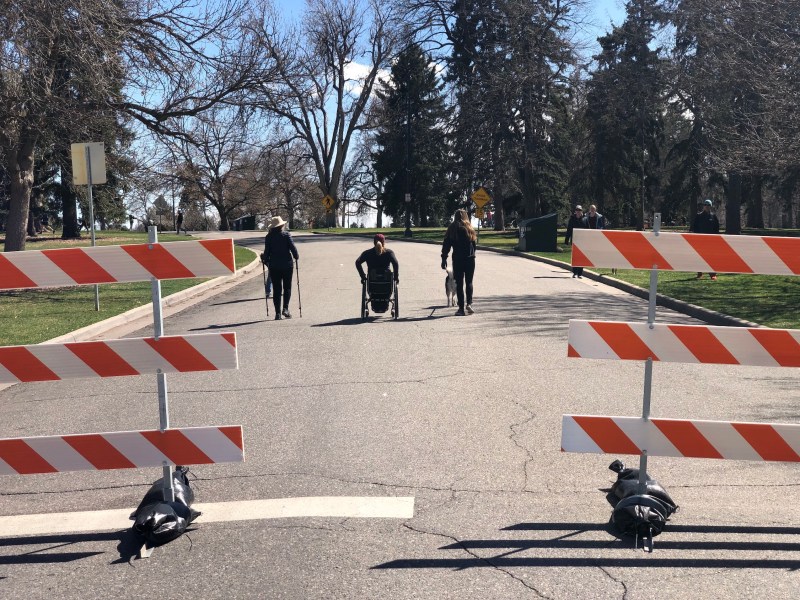 Originally published in the Denver Post 9/4/20
Last week my kids were captured by the local TV news joyfully riding their bikes along the shared street through Capitol Hill a block from our home. This was in celebration of over 1300 Denver residents petitioning the city to make these shared streets permanent. The next day the Department of Transportation and Infrastructure, at the request of the Denver Fire Department, reconfigured the intersections, eliminating their traffic calming effect and allowing cars to once again speed down the street. That moment on television, sadly, could be the last time my girls bike through our neighborhood in safety and comfort.
Denver established its shared streets program five months ago by placing barricades in front of intersections to slow and divert traffic so that people walking, running, biking and rolling could safely enjoy the street. This was initially done to allow for social distancing and outdoor activity at the height of the COVID 19 pandemic in Colorado. Once in place however, we have seen benefits that far exceed the mandates of social distancing. Long time residents have noted that these streets have restored the feel of the neighborhood they experienced in their youth, long since sacrificed to congestion and speeding traffic- young children playing and biking in the street, elderly couples partaking in a quiet stroll and neighbors enjoying chance encounters despite the burdens of social distancing.
Before placing barricades along the shared street, the Department of Transportation and Infrastructure appropriately consulted with the Fire Department to ensure that they did not hinder emergency response. As a physician at Denver Health who spends a significant time in the Emergency Department, I understand the importance of maintaining response times by our fire department.  I also know the toll that traffic violence has taken on Denver residents and the importance of streets that encourage slow speeds through our residential neighborhoods. A parent shouldn't have to clutch their child's hand in fear when they step off the curb.
Denver's Department of Transportation and Fire Department owe it to their citizens to maintain these shared streets thoughtfully and with studied design that continues to slow traffic and allows us to walk, bike and roll in comfort and safety.  The updated configuration, altered without community notice or data robbed the neighborhood of an asset, a bright spot in an otherwise bleak time. I urge the Department of Transportation and Fire Department to bring together its engineers, planners and emergency responders to implement a safe and long lasting design for these streets.
Update – since this article was submitted, DOTI has responded with some street changes aimed at more effective traffic calming. While we appreciate this effort, there is still a long way to go to make these streets safe for all users.
---
David Mintzer is a Denver Health physician and safe streets advocate. Please visit http://sharedstreetsdenver.com to add your voice of support for shared streets.
---
Better walking. Better biking. Better transit. Support the nonprofit mission of Streetsblog Denver. Give $5 per month.