To People Who Walk, Bike and Ride Transit: CDOT Is Listening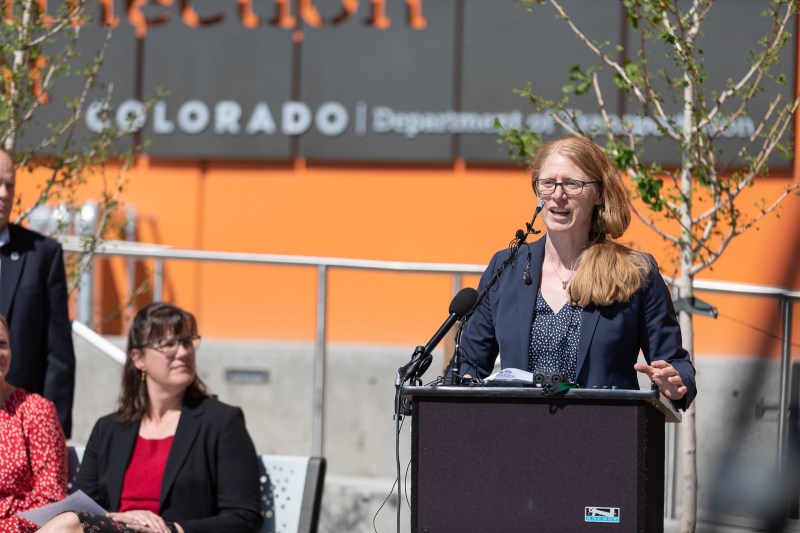 Transportation officials launched a statewide listening tour that will give Coloradans the chance to sound off on how the state should spend limited transportation dollars. But even in the heavily car-dependent Centennial State, officials at the Colorado Department of Transportation say they want to hear from people interested in making the state a better place for walking, biking and transit.
"Part of the reason we're doing this is to have an active conversation with people about the challenges they have and how you can solve them with different types of transportation," said CDOT Executive Director Shoshana Lew in an interview after a press event Friday that kicked off the "Your Transportation Plan" tour.
When asked how the listening tour would deal with inevitable public support for widening freeways — despite the phenomenon of induced demand where newly expanded roads soon result in worse traffic than before — Lew said that the outreach process will help Coloradans understand how public transportation could help solve congestion.
But given what we know about induced demand, why are multiple highway expansions happening now, like "I-25 South Gap" project from Monument to Castle Rock?
Lew said that the region needs road capacity there, in part for safety reasons, but acknowledged that the corridor is nearing its limit.   
"85% of our population lives along I-25, and we know that we can't widen our way out of that corridor," she said. "We have to start a serious conversation about multimodal options along the Front Range."
How about a train along the corridor?
Lew says that under Gov. Polis' administration, CDOT has already accelerated the planning process at the Front Range Passenger Rail Commission, which the State Legislature formed in 2017.
And along the traffic-choked I-70 corridor to the mountains, why doesn't CDOT add significantly more Bustang service?
"Thinking about how we use buses and transit to get people to where they need to go, particularly in high tourism season, is a very important conversation and one that we're quite committed to looking at," she said.
Lew says the listening tour will continue through the summer and the agency could start making decisions guided by public comments as soon as this winter. But first people need to offer feedback.
The tour will visit every county in the state, with a full list of events at the Your Transportation Plan website. People can also offer input via a quick survey or through telephone town hall meetings.